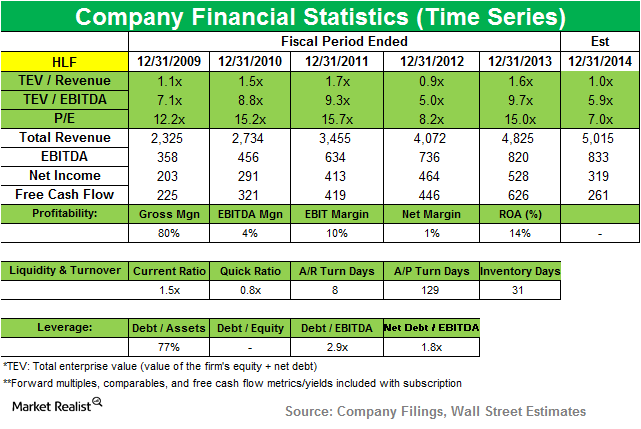 Soros Fund Management significantly lowers position in Herbalife
Reduced Herbalife position
Soros Fund Management significantly lowered its position in Herbalife (HLF) in the quarter ended on September 30. The position accounts for 0.62% of the fund's third quarter of 2014 portfolio. The fund currently owns 1,888,288 shares, down from 4,736,337 shares in 2Q14.
Article continues below advertisement
Article continues below advertisement
Overview of Herbalife
Herbalife is a global nutrition company that sells:
Weight management products
Nutritional supplements
Energy, sports, and fitness products
Personal care products
As of 3Q14, Herbalife sold its products in 91 countries to and through a network of 3.9 million independent members, including 0.2 million in China. Its products are grouped in four principal categories: weight management, targeted nutrition, energy, sports and fitness, and outer nutrition, along with literature and promotional items.
Herbalife targeted by William Ackman
Herbalife has been targeted by activist investor William Ackman of Pershing Square Capital Management since December 2012, when he issued a critical research report on Herbalife's multilevel marketing business model. He accused the company of being a "pyramid scheme" that would be shut down.
Ackman also disclosed that he was shorting 20 million shares, or $1 billion worth, of Herbalife stocks with a price target of $0. In an investor letter last year, Ackman said the fund has "restructured the (Herbalife) position by reducing its short equity position by more than 40% and replacing it with long-term derivatives, principally over-the-counter put options" to "mitigate the risk of further mark-to-market losses on Herbalife."
Article continues below advertisement
FTC investigation of business practices
Ackman's campaign has prompted investigations into the company's business practices by the Federal Trade Commission (or FTC), the US Securities and Exchange Commission, the US Department of Justice, the Federal Bureau of Investigation, and even Canadian regulators. Some analysts are bullish on the stock due to the business model and potential expansion in emerging markets. However, others remain cautious about concerns of regulatory risk.
Herbalife has denied Ackman's allegations and has previously said that Ackman's campaign was a "cynical, self-serving attempt to manipulate the market by buying his way into an investigation to cover his own reckless $1 billion dollar bet."
Shares fall on disappointing results
Herbalife's shares have been falling and are down almost 50% year-to-date. Its latest 3Q14 results saw revenue and earnings missing estimates. Stock fell post disappointing results and a forecast that was below expectations. It posted a third-quarter profit of $11.2 million, or $0.13 a share, a 90% drop from $142 million, or $1.32 a share, a year earlier.
Sales increased 4% to $1.26 billion from $1.21 billion. The net income included charges of $139.5 million, or $0.97 a share, related to the "remeasurement" of its assets denomination in the Venezuelan currency and $0.13 a share related to a legal reserve. Its sales in North America fell 2.3% to $223.5 million, while revenue declined 15% to $205.2 million in South and Central America. Herbalife agreed to a $15 million settlement of a lawsuit by its former distributor Dana Bostick, who alleged the company's business model is a "pyramid scheme."
Soros positions traded in 3Q14
During 3Q14, Soros Fund Management added positions in Yahoo! (YHOO), Alibaba Group Holding (BABA), Travelport Worldwide (TVPT), and Netflix, Inc. (NFLX). Top positions that saw an increase were Level 3 Communications, Inc. (LVLT), Phillips 66 (PSX), and Dow Chemical Company (DOW). Soros sold its stakes in Halliburton (HAL) and CONSOL Energy Inc (CNX) and reduced its position in Herbalife (HLF).
For 2015, Herbalife anticipates per-share earnings of $5.45 to $5.75. The company forecast net sales between a decline of 1% and a growth of 2%.