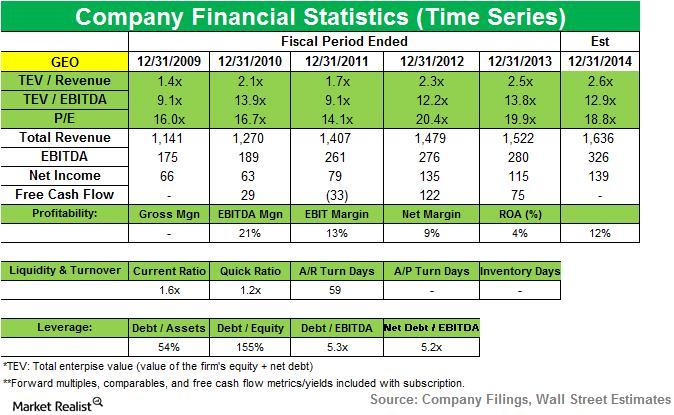 Why AQR Capital exits its position in Geo Group Inc.
AQR Capital and Geo Group Inc.
AQR Capital Management added new positions in AstraZeneca (AZN), Navient Corp. (or NAVI), and Equinix (or EQIX). It sold positions in Tableau Software Inc. (DATA) and Geo Group Inc. (GEO). AQR increased positions in Apple (AAPL) and DIRECTV (DTV).
AQR Capital sold a position in GEO Group Inc in 2Q14. The company accounted for a 0.0206% position in the fund's first quarter U.S. long portfolio.
Company profile
The GEO Group Inc. (GEO) is the world's leading provider of correctional, detention, and community re-entry services. It has 98 facilities, ~78,500 beds, and 18,000 employees around the world. GEO's facilities are located in the United States, the United Kingdom, Australia, and South Africa.
GEO is the first fully-integrated equity real estate investment trust (or REIT) specializing in the design, development, financing, and operation of correctional, detention, and community re-entry facilities worldwide.
GEO Group's services include:
Correctional facilities
Detention centers
Mental health services facilities
Community re-entry programs
Youth rehabilitation services
Electronic monitoring services
Facility design
Infrastructure financing
Turnkey construction
Other government services
Revenue increased because of improved occupancy and new contracts

GEO reported total revenues for 2Q14 of $412.8 million—up from total revenues of $381.7 million for 2Q13. Net income was $38.9 million, or $0.54 per diluted share—up from $34.2 million, or $0.48 per diluted share for 2Q13.
Article continues below advertisement
Strong financial results were driven by improved occupancy across diversified business units. Since the beginning of 2014, GEO's Corrections and Detention division activated new contracts totaling more than 6,000 correctional and detention beds in the U.S. and internationally. Also, GEO's Community Services division opened 12 new day reporting centers. It started electronic monitoring services in several new markets.
During the second quarter, GEO announced a 640-bed expansion to the company-owned, 1,300-bed Adelanto Detention Facility in California. GEO will finance, develop, and manage the $45 million expansion. The expansion will increase the facility's total capacity to 1,940 beds. This will generate ~$21 million in additional annualized revenues. The company expects to complete the 640-bed expansion and begin intake by July 2015.
GEO wins contract from U.S. immigration and customs enforcement

The contract will have a term of five years—with the wholly-owned subsidiary BI Incorporated (BI). It will be effective September 8, 2014. It's expected to generate ~$47 million in annualized revenues.
The Intensive Supervision and Appearance Program (or ISAP) is the core component of the Department of Homeland Security's Alternatives to Detention program. It provides case management and supervision services for individuals in immigration proceedings. ISAP employs a comprehensive case management system and location monitoring systems to facilitate attendance at immigration hearings and compliance with court orders. BI has provided case management and supervision services under ISAP since 2004.
In the next part of series, we'll discuss AQR's increased position in Apple.