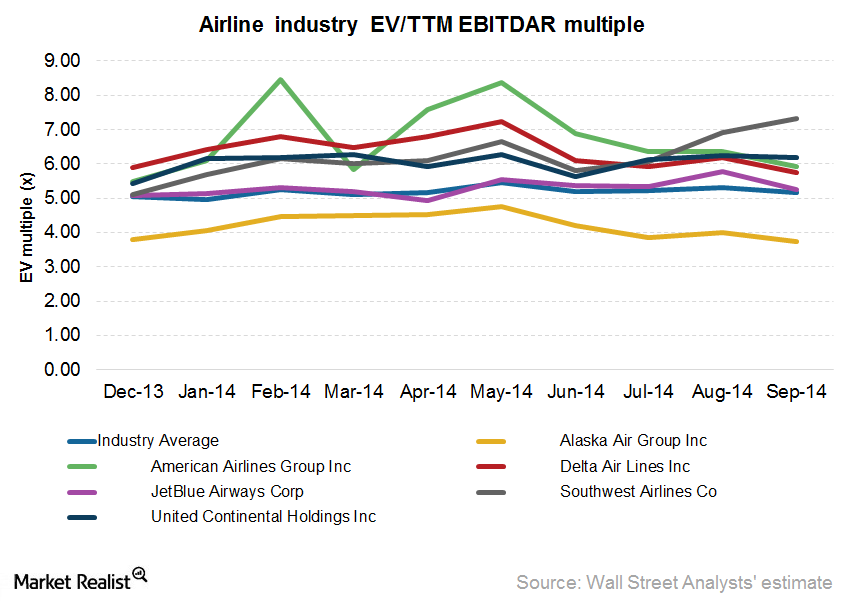 US airline industry: Summary of share prices and valuations
Share price performance in September
Share prices of all airline companies decreased during September because of concerns about the spread of the Ebola virus and economic weakness in Europe and China. The S&P 500 index fell by 1.5% and the NYSE ARCA AIRLINE INDEX (XAL) lost 9% in September.
Of the top six U.S. airlines, share prices declined for all except Southwest Airlines Co (LUV). Other airline share prices, including Delta Air Lines, Inc. (DAL), United Continental, Inc. (UAL), American Airlines Group Inc (AAL), JetBlue Airways Corporation (JBLU), and Alaska Air Group Inc. (ALK) decreased by 11.7%, 6.4%, 12.4%, 16%, and 9.7%, respectively.
Southwest outperformed all its peers. Its share price increased 2.6% to $33.77 in September. That said, year-to-date results are positive overall. The XAL index increased by 16.21%, more than double the growth seen in the S&P 500 index.
Valuation
Article continues below advertisement
A rising trend in the valuation of airline company stocks has developed this year. The industry average EV to EBITDAR (trailing twelve month EBITDAR) multiple has increased from 4.96 in January 2014 to 5.16x in September 2014. The recent decline in share prices resulted in September's lower EV multiple compared to August. EV to EBITDAR declined by ~3% in September from 5.31x in August. This was primarily due to the overall decline in share prices during the month.
Alaska Air has the lowest multiple of 3.74x and is the only company whose valuation is well below the industry average multiple of 5.16x. Its share price decreased by 9.7% and EV multiple decreased by 6.7% in September.
JetBlue experienced the steepest decline in share price and EV multiple in September. Its share price fell by 16% and its EV multiple declined by 9.1% to 5.24x. JetBlue's multiple was closest to the industry average during the year.
United Continental experienced the smallest decline. Its EV multiple was reduced by 1.3% for a 6.4% decrease in share price.
Delta and American's multiples declined by ~7% and their share prices declined by ~12%.
Southwest was the only airline to see positive growth in September. Its share price increased by ~3% and its EV multiple increased to 7.32x from 6.92x in August.