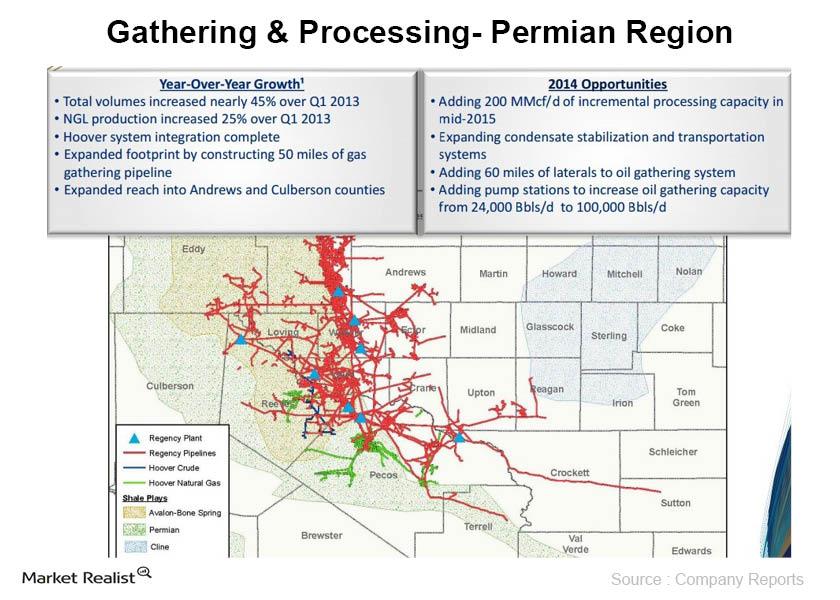 Overview: Regency's growth projects in 2014
Growth projects
For the full year of 2014, Regency (RGP) announced growth capex expenditures of $1.2 billion. This includes $860 million to be spent on the Gathering and Processing segment, $250 million to be spent on the Contracts Services segment, and $110 million to be spent on the Lone Star Joint Venture in the NGL Services segment.
For the Gathering and Processing segment, several projects are lined up in the Permian region. These include adding 200 MMcf/d (million cubic feet per day) of incremental processing capacity, expanding condensate stabilization and transportation systems, and adding pump stations to increase oil gathering capacity from 24,000 Bbls/d to 100,000 Bbls/d (barrels per day). This oil gathering capacity is thanks to the addition of Hoover Energy's assets which have provided Regency with an oil gathering footprint.
Growth projects will also focus on expanding the PVR Partner (PVR) and Hoover Energy's assets.
Article continues below advertisement
For Regency's eastern business assets, RGP continues to move forward with the Utica Ohio River Project, which was announced late last year. The project includes construction of a 52-mile trunk line along with wellhead gathering and associated compression. The trunk line will be increased to a minimum diameter of 24 inches with a minimum capacity of 750 million a day.
This project, which is backed by fee-based commitment, creates a first mover advantage and will be a main takeaway option for the Utica lean gas development. The trunk-lining is expected to be in service in the third quarter of 2015.
Several other projects are lined up for the Gathering and Processing segment. These include continued volume ramp up across all systems as well as an increase throughput on oil gathering systems in the segments' south Texas region; construction of a new 200 MMcf/d cryogenic processing facility at Dubberly in the north Louisiana region; and a 500 MMcf/d trunk line expansion, along with gathering and compression in the eastern region.
For the Contract Services segment, RGP expects demands to remain strong for 2014, even as they evaluate opportunities coming from the Permian Basin, Eagle Ford, Niobrara, and Appalachian shales.
Expansions are also underway at Lone Star where RGP will continue the volume ramp up on the Gateway pipeline, FRAC I, and FRAC II facilities. The company is also evaluating expansion of NGL transportation capacity from the Permian Basin.
RGP has several growth projects lined up for the remainder of 2014 and well into 2015. Regency expects strong volumes and earnings growth from these projects.
It is important to note that RGP is a part of several ETFs including the Alerian MLP ETF (AMLP), the Global X MLP ETF (MLPA), and the Global X MLP & Energy Infrastructure ETF (MLPX).