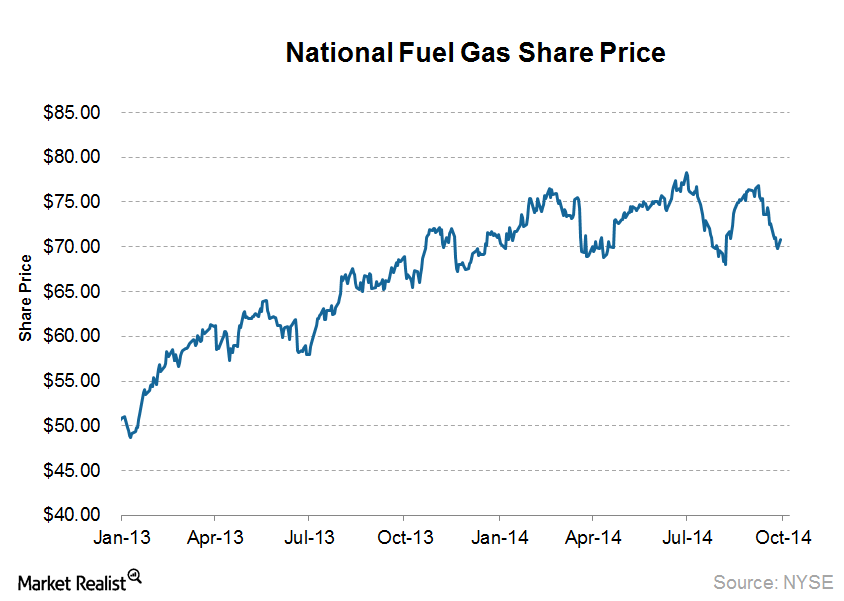 Mario Gabelli's GAMCO Investors goes activist on National Fuel Gas
GAMCO Investors pressures National Fuel Gas Company
Activist investor Mario Gabelli's GAMCO Investors, which owns a 9.1% in National Fuel Gas (NFG), is pressuring the company to spin off its gas utility segment from its natural gas exploration and midstream assets. In this series, we'll discuss National Fuel Gas' businesses and why GAMCO thinks NFG is undervalued.
NFG, which has a ~$5.6 billion market cap, is a diversified natural gas company. Its headquarters are in Buffalo, New York. The company's assets are distributed among five business segments:
Exploration and Production

Pipeline and Storage

Gathering

Utility

Energy Marketing

GAMCO proposes a spinoff of NFG's utility segment
Article continues below advertisement
In an amended 13D filing on September 12, Gabelli disclosed a proposal that was sent to National Fuel Gas for inclusion in the proxy and proxy statement for the company's 2015 annual meeting of stockholders. The proposal stated that NFG's board and management are requested to "act expeditiously, consistent with effective tax considerations, to engage an investment banking firm to effectuate a spin-off of the company's utility segment, which represents the operations of National Fuel Distribution Corporation, into a separate publicly traded C-corporation." The spinoff proposal was also previously suggested in GAMCO's 13D amended filing in April.
At Barron's 2014 Roundtable earlier this year, Gabelli added that by spinning off its utility segment, NFG could follow the example of another diversified energy company, ONEOK (OKE). ONEOK shares have rallied since it created a new standalone publicly traded company earlier this year called ONE Gas (OGS) by separating its natural gas distribution business.
NFG is part of the VanEck Vectors Unconventional Oil & Gas ETF (FRAK). ONEOK is part of the Energy Select Sector SPDR Fund (XLE).
Spinoffs are popular among activist investors
Spinoffs have gained popularity as a method to unlock shareholder value—especially among activist investors. Earlier this year, Casablanca Capital pushed Cliffs Natural Resources (CLF) to spin off the company's international assets. Pinnacle Entertainment (PNK) has seen activist investor Orange Capital LLC urge the casino operator to spin off its properties into a real estate investment trust (or REIT).
You can gain exposure to spinoffs by investing in the Guggenheim Spin-Off ETF (CSD) that tracks companies that have been spun off within the past 30 months. The ETF has outperformed the SPDR S&P 500 (SPY) since 2009.
In the next part of this series, we'll discuss National Fuel Gas' business segments.