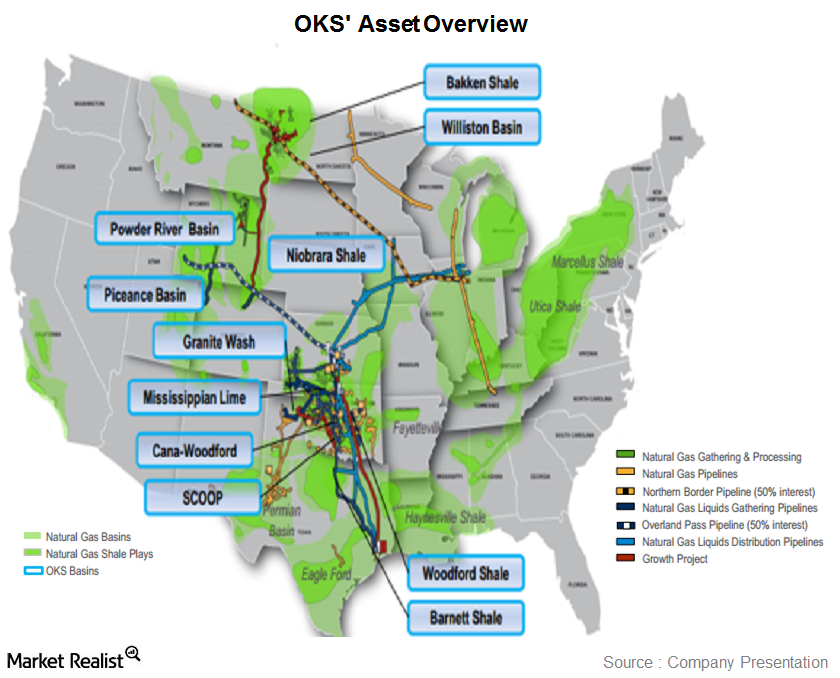 Overview: ONEOK Partners and its 3 operating segments
ONEOK Partners
ONEOK Partners (OKS) is a master limited partnership (or MLP) engaged in gathering, processing, storing, and transporting natural gas and natural gas liquids (or NGLs) in the U.S.
Check out our primer on MLP basics here.
ONEOK Partners GP, L.L.C., a subsidiary of ONEOK (OKE), serves as the general partner of ONEOK Partners. ONEOK Partners GP, L.L.C. owns a 2% general partner interest and a 39.2% limited partner ownership interest in OKS.
Asset overview
The company operates in three segments:
Natural gas gathering and processing
Natural gas liquids
Natural gas pipelines
Through the natural gas gathering and processing segment, the company gathers and processes natural gas produced from wells located in the Mid-Continent region and natural gas in the Williston Basin.
The natural gas liquids segment's operations—which include gathering, treating, fractionating, transporting, and storing NGLs—are focused in the Oklahoma, Kansas, Texas, and Rocky Mountain region.
Article continues below advertisement
The natural gas pipelines segment provides interstate natural gas transportation and storage services. These interstate natural gas pipelines transport natural gas through FERC (or Federal Energy Regulatory Commission) regulated interstate pipelines located in North Dakota, Minnesota, Wisconsin, Illinois, Indiana, Kentucky, Tennessee, Oklahoma, Texas, and New Mexico.
The segment also transports intrastate natural gas through its assets in Oklahoma and owns underground natural gas storage facilities in Oklahoma, Kansas, and Texas.
We'll be covering OKS's assets in greater detail in the following parts of this series.
Key ETFs
OKS is a component of several MLP ETFs, including the Alerian MLP ETF (AMLP) and the Global X MLP ETF (MLPA). OKE—which holds general partner interests through its subsidiary ONEOK Partners GP, L.L.C.—is a component of the Energy Select Sector SPDR Fund (XLE).
Continue on to read about OKS' business segments in detail.