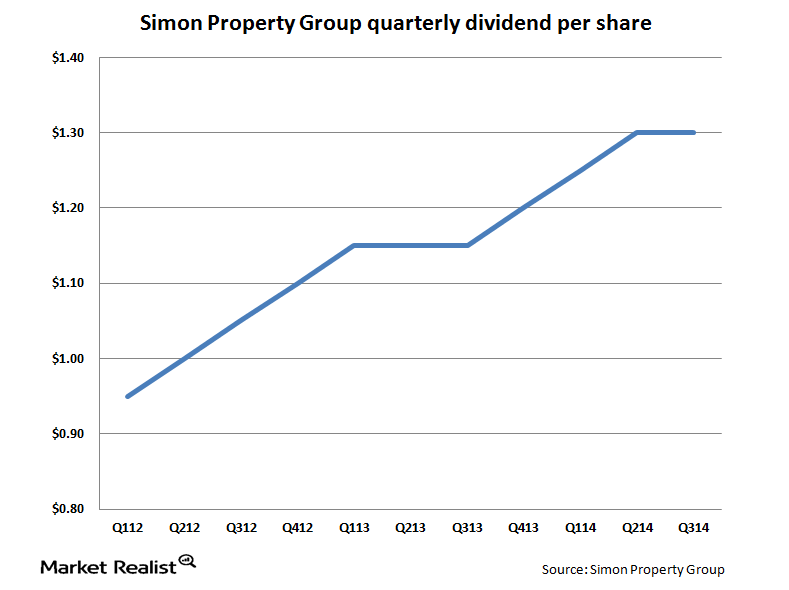 Simon Property Group faces competition from online retailers
Simon Property Group is one of the largest mall REITs in the U.S.
Simon Property Group (SPG) owns, develops, and manages real estate properties that consist of malls, premium outlets, mills, and community or lifestyle centers. Currently, the company owns or has an interest in over 228 properties, representing over 189 million square feet. Some of its properties include the King of Prussia Mall in Pennsylvania, the Woodbridge Commons in New York, and the Town Center in Boca Raton, Florida.
Simon recently spun off its smaller malls into a new real estate investment trust (or REIT)—Washington Prime Group (or WPG). WPG started trading in May.
Article continues below advertisement
Simon Property also has a large international presence. It owns premium outlets in Japan, South Korea, Malaysia, and Mexico. It also has a 29% stake in Klepierre—a publicly traded Paris-based real estate company that owns or has an interest in more than 260 shopping centers located in 13 countries in Europe.
Simon's place in the industry
Simon Property Group is by far the biggest shopping center REIT in the U.S., with a market capitalization of $53 billion. The next biggest REITs are less than half Simon's size—the Australia-based Westfield, which has a relatively illiquid ADR, and General Growth Properties (GGP), which has an $21 billion market cap. Other big retail REITs include Kimco Realty (KIM) and Realty Income Corporation (O).
Investors can also gain exposure to the REIT sector through the Vanguard REIT ETF (VNQ).
Competition from online retailers
The most irritating problem for shopping centers, particularly shopping malls, is competition from Internet retailers. Given the almost perfect price discovery online, malls have to find other ways to compete and draw traffic. Some malls have tried to enhance the shopping experience with large food courts and other services. While shopping malls will probably never go away entirely, online retailers remain a constant challenge for the shopping center REITs.
Premium outlet centers are one area of growth. Also, more retailers are launching outlet stores to capture more traffic.