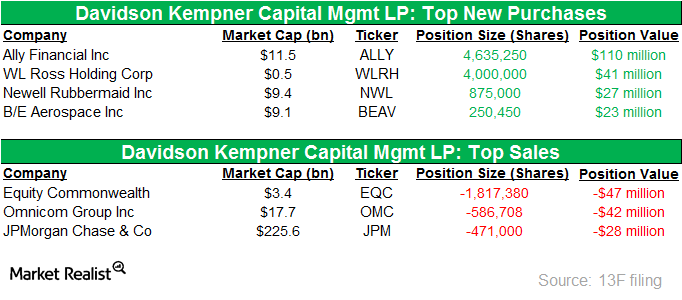 Overview: Davidson Kempner Capital Management's 2Q14 positions
Davidson Kempner Capital Management's 2Q14 positions
Davidson Kempner Capital Management LLC is a hedge fund manager. It's led by president Thomas Kempner, Jr. He joined the firm in 1984. It manages ~$22 billion in assets. In this series, we'll discuss some of the top positions traded during 2Q14.
The company's reportable second quarter portfolio totaled $2.21 billion— slightly up from $2.20 billion in the 1Q14. Click here to review the company's 1Q14 portfolio.
Davidson Kempner Capital added new positions in Ally Financial Inc. (ALLY), WL Ross Holding (or WLRH), Newell Rubbermaid (NWL), and B/E Aerospace (BEAV). It exited positions in Equity Commonwealth (EQC), Omnicom (OMC), and JPMorgan Chase & Co. (JPM).
We'll discuss Davidson Kempner's new position in Ally Financial in the next part of this series.
Article continues below advertisement
Article continues below advertisement