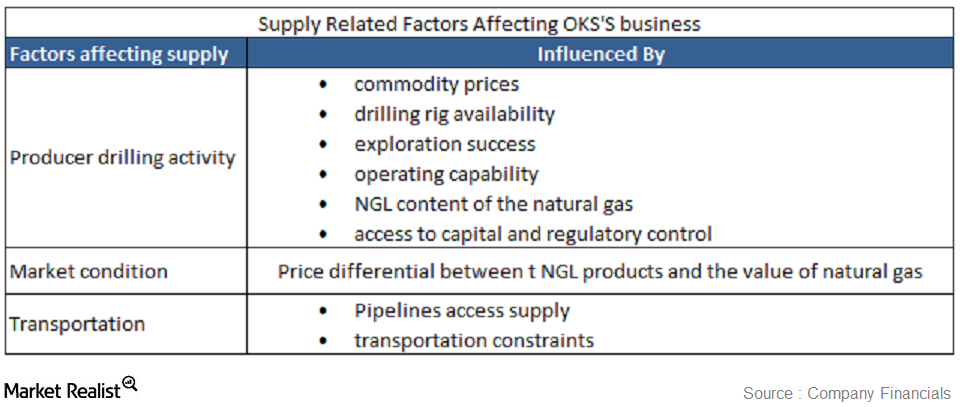 Must-know: Supply-related factors that affect ONEOK Partners
Supply factors
Natural gas, crude oil, and NGL (or natural gas liquid) supply is affected by several factors that could be supply related or demand related.
Let's take a look at supply related factors that affect ONEOK Partners' (OKS) business.
Article continues below advertisement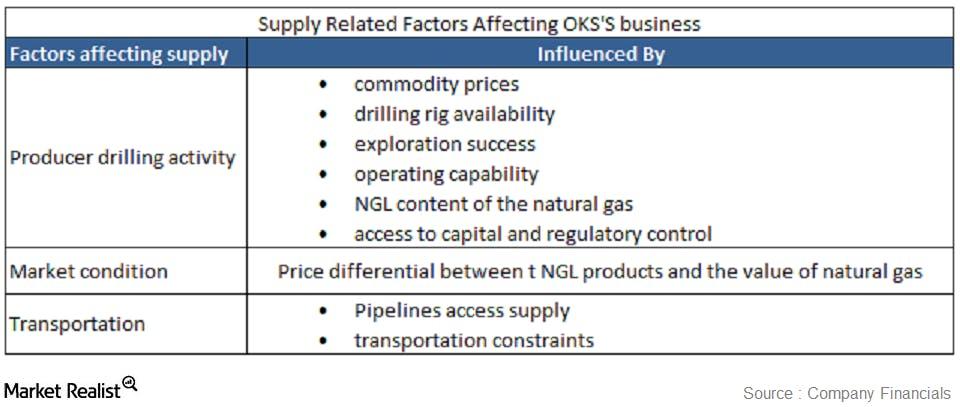 Producer drilling activity
Producers base their drilling activity on several factors. These include commodity prices, drilling rig availability, exploration success, operating capability, the NGL content of the natural gas that is produced and processed, as well as access to capital.
Weather conditions also influence producer drilling activity. For instance, extremely cold weather, when heating demand is at its highest, affects natural gas volumes.
But NGL supply depends on the pace of crude oil and natural gas drilling activity and the NGL content of the natural gas that's produced and processed.
Article continues below advertisement
ONEOK Partners' natural gas liquids business has seen rapid NGL supply growth, as producers continue to drill extensively in a number of NGL-rich resource areas in the Mid-Continent and Rocky Mountain regions. In fact, increased NGL focus is a growth strategy for OKS, which we'll cover in a later part in this series.
Market condition
Market-driven changes also affect OKS' business. Market conditions affect the output of natural gas processing plants to which ONEOK Partners' assets are connected.
The price differential between the typically higher valued NGL products and the natural gas value influences the volumes that the natural gas processing plants make available to be gathered by OKS.
The impact from negative price differential was the primary reason why OKS separated its natural gas distribution business into a separate company. Read Part 5, which covers this in greater detail.
Low natural gas price realizations discourage producers to drill for natural gas. Producers include Chesapeake Energy (CHK), Cabot Oil & Gas (COG), and EOG Resources (EOG). All of these companies are components of the Energy Select Sector SPDR Fund (XLE). To read articles related to this fund, click here.
In turn, reduced supply affects midstream players, such as OKS, whose natural gas assets are utilized less as a result.
Transportation
Pipeline access constraints from major producing regions affect the throughput of natural gas processing plants. In turn, this affects OKS' businesses, which are connected to these processing plants.
Continue reading on to know about other factors that OKS' business is dependent on.