Must-know: An overview of Appalachian coal
By Mike Sonnenberg

Sep. 26 2014, Updated 9:00 a.m. ET
The oldest coal region in the U.S.
The Appalachian coal region is the oldest coal producing region in the U.S.—geologically and commercially. The Appalachian's coal seams are ~300 million years old. They're the oldest coal seams in the U.S. Appalachian coal fueled most of the Industrial Revolution after the Civil War in the 19th Century.
The Appalachian coal region mainly extends from Alabama to Pennsylvania. It extends across seven states. However, West Virginia, Kentucky, and Pennsylvania account for 90% of the region's total production. The region is sub-divided into Northern Appalachian (or NAPP), Central Appalachian (or CAPP), and Southern Appalachian. The region produced 270 million tons of coal—steam and met—in 2013. It accounted for 27% of the total production in the U.S.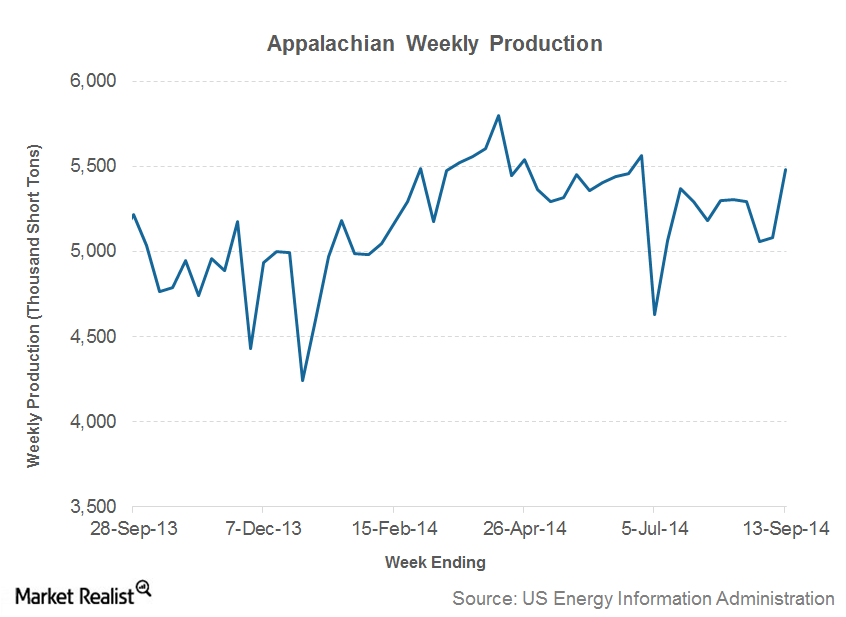 Article continues below advertisement
Northern Appalachian holds almost all the anthracite reserves in the U.S. Most of the mines in the Appalachian produce medium and high volatile bituminous. They also produce some low volatile bituminous coal. The heat rate for Appalachian coal is high at over 12,500 British thermal units per pound (or Btu/lb) compared to 8,500 Btu/lb for Powder River Basin (or PRB) coal. However, the sulfur content is higher—0.8% to 4%—in Appalachian coal. It was exposed to sea water. Sulfur is commonly found in sea water.
Unlike PRB, where the mines are huge—remember Peabody's (BTU) North Antelope Rochelle or Arch Coal's (ACI) Black Thunder from Part 5—the Appalachian has many small mines scattered around the region. The PRB produced 423 million tons of coal from just 16 mines during the 12 months ending September 13, 2014. Hundreds of mines were active in the Appalachian. They produced 269 million tons of coal. Appalachian coal is located in the mountains. The mines are usually underground. In the PRB, all the mines are surface mines.
Alpha Natural Resources (ANR) and Walter Energy (WLT) are two of the major coal producers (KOL) in the region.
What kind of coal is produced in the Appalachian? How are major coal producers in the region different from each other? We'll discuss this in the next part of the series.