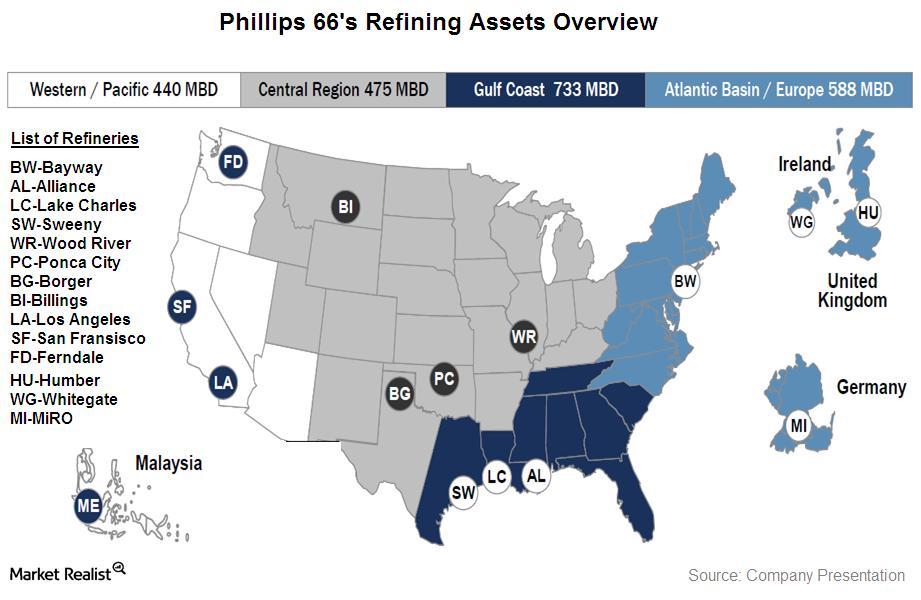 Must-know: An introduction to Phillips 66
Phillips 66
Phillips 66 (PSX) is an energy company. It's based in Texas. The company mainly focuses on the refining, chemical, midstream, and marketing of refined and specialties products. PSX manufactures gasoline, distillates, jet fuel, asphalt, lubricants, petrochemicals, and other refined products.
Phillips 66 started operating independently as a publicly-traded company on April 4, 2012, when it separated from ConocoPhillips (or COP).
PSX's segments
The company has four operating segments:
Midstream
Chemicals
Refining
Marketing and Specialties
In 2013, PSX formed Phillips 66 Partners (or PSXP)—a master limited partnership (or MLP). PSXP will operate its midstream functions—like the transportation of crude oil and petroleum products though pipelines and terminals. PSX owns the general partnership and 73% of PSXP's limited partnership.
To learn more about MLPs, click here.
PSX's midstream segment includes 50% equity investment in DCP Midstream LLC—a subsidiary of DCP Midstream Partners (DPM).
PSX's Chemical segment consists of 50% equity investment in Chevron Phillips Chemical Company LLC (or CPChem). CPChem is a joint venture between Chevron Corporation (CVX) and Phillips Petroleum Company (now Phillips 66).
Valero Energy Corp. (VLO) is another major refining and marketing company in the U.S. PSX and VLO are components of the Energy Select Sector SPDR ETF (XLE).
PSX's international operations
The company has operations in the U.S., United Kingdom, Germany, and other foreign countries.
In 2013, PSX generated 67%, 13%, and 6% of its revenues from the U.S., United Kingdom, and Germany, respectively. The company's other foreign operations contributed ~14%.
Stock up in past year

PSX was trading at ~$86 on September 17. Its share is up ~50% in the past year.
The company's market capitalization at ~$48 billion (on September 17) is one of the largest in the U.S. downstream industry. Its enterprise value was ~$49 billion.
Check out our Energy & Power sector page for more interesting articles on the industry. Learn what's been happening lately in the sector.
Article continues below advertisement