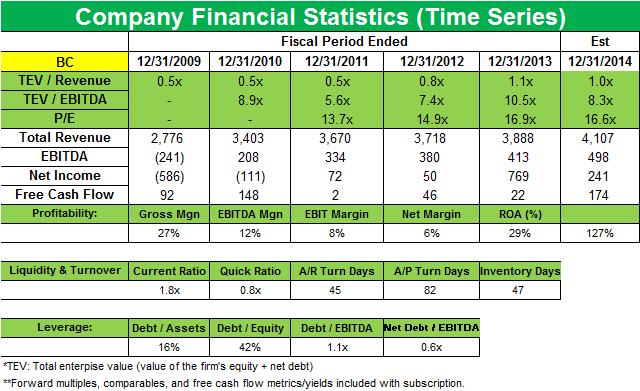 Why Davidson Kempner initiates new position in Brunswick Corp.
By Samantha Nielson

Jul. 1 2014, Published 9:00 a.m. ET
Davidson Kempner and Brunswick Corp.
Davidson Kempner added new positions in Omnicom Group Inc. (OMC), Alpha Natural Resources Inc. (ANR), JPMorgan Chase (JPM), Brunswick Corporation (BC), and Vitamin Shoppe Inc. (VSI). It exited positions in Perrigo Co. Plc. (PRGO) and Apple Inc. (AAPL).
Davidson Kempner initiated a new position in Brunswick Corporation (BC) that accounted for 1.23% of the fund's 1Q portfolio.
Article continues below advertisement
Brunswick is a leading global designer, manufacturer, and marketer of recreation products including marine engines, boats, fitness equipment, and bowling and billiards equipment. It also owns and operates Brunswick bowling entertainment centers in the United States and Canada. Its Marine Engine segment, which is its largest segment consisting of the Mercury Marine Group, manufactures and markets a full range of outboard engines, sterndrive propulsion systems, and inboard engines. The segment saw net sales of $2.08 billion in 2013. The Boat segment consists of the Brunswick Boat Group, which manufactures and markets fiberglass pleasure boats; yachts and sport yachts; offshore fishing boats; aluminum fishing boats; pontoon boats; deck boats and inflatable boats. Brunswick's Fitness segment is comprised of its Life Fitness division, which designs, manufactures, and markets a full line of reliable, high-quality cardiovascular fitness equipment. The Bowling and Billiards segment is comprised of the Brunswick Bowling and Billiards division.
Brunswick posted a 5% increase in net sales to $3.8 billion in 2013 from $3.71 billion in 2012 driven by the Marine Engine, Fitness, and Boat segments, partially offset by sales decreases in the Bowling and Billiards segment.
Brunswick said in its annual filing that "In 2013, Brunswick focused on executing its strategic growth initiatives and debt reduction strategy as well as achieving cost reductions and operating efficiencies throughout the company in order to sustain earnings growth." The company sold its Hatteras and Cabo boat businesses last year.
Mercury Marine segment to be boosted with the acquisition of Whale
Brunswick recently announced the acquisition of Whale (formerly Munster Simms), a leading manufacturer of water movement and heating systems for the marine, recreational vehicle, industrial, and other markets. The release said based in Bangor, northern Ireland, Whale had more than $30 million in sales in 2013, and will be integrated into Brunswick's marine parts and accessories business at Mercury Marine. The management said, "this transaction is consistent with our strategy to utilize our free cash flow to grow our core businesses."
1Q14 revenue declined as sales were impacted by severe weather
Article continues below advertisement
The company said its 1Q14 revenues declined by 3%, "primarily due to harsh weather conditions that have adversely affected sales activity in our Marine and Bowling and Billiards segments." Brunswick reported net earnings that topped estimates of $57 million, or $0.60 per diluted share, compared with net earnings of $54.9 million, or $0.59 per diluted share, for the 1Q13.
The Marine Engine segment's marine service, parts, and accessories businesses' sales in the 1Q14 were flat when compared with the 1Q13, but benefited from contributions from new products and market share gains. Fitness segment net sales increased due to sales growth in the U.S. to health clubs, local and federal governments, and hospitality customers. International sales for the company decreased 3% driven mainly by the net unfavorable impact from changes in foreign currency exchange rates and lower demand in certain markets, including Canada, partially offset by increased sales for Boat segment products in Europe.
Brunswick said "We are targeting 5%–7% sales growth in 2014. This improvement in our top-line growth rate results from our increasing investment in growth initiatives in all our businesses and is supported by the continuation of the solid growth demonstrated in 2013." In 2014, Brunswick said its "focus will be to drive consistent, profitable growth through product leadership resulting from investments in capital projects, research and development programs and sales and marketing resources in an effort to generate strong earnings and greater free cash flow."
NMMA forecasts "continued momentum" in recreational boating
As part of its U.S. Recreational Boating Statistical Abstract, the National Marine Manufacturers Association (or NMMA) said that the recreational boating industry saw healthy growth in 2013, generating $36.7 billion in retail expenditures (new and pre-owned boats and engines, trailers, accessories, and services)—a 3.2% increase from 2012. It expects continued momentum with an additional 5%–7% increase in retail sales of new boats in 2014. NMMA President Thom Dammrich said in a statement that "As the nation's economic recovery matures and boating businesses prepare for summer, a peak selling season for recreational boats, accessories, and services, we expect to see continued stable growth in sales. Following a year of inclement weather throughout the U.S. driving pent-up demand and Americans taking to the water in record numbers, the industry is primed for a busy selling season."