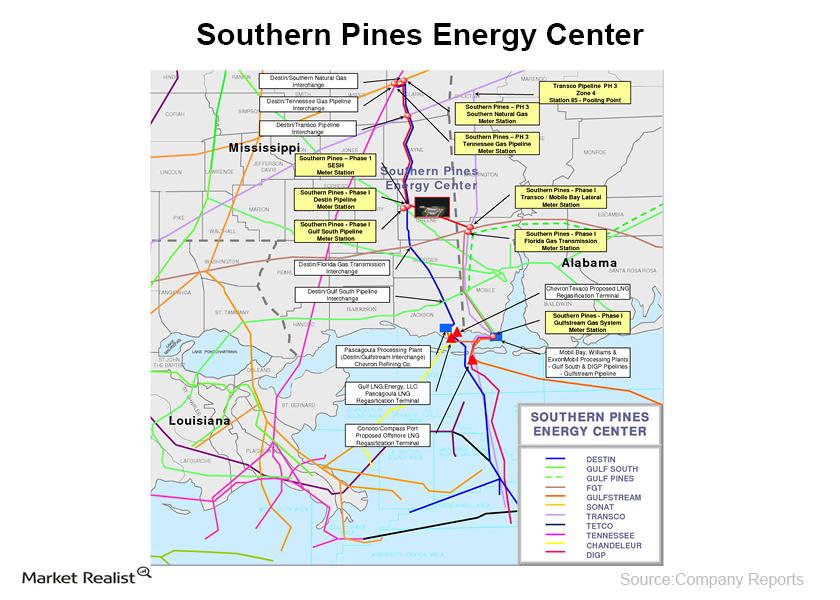 Overview: Plains All American Pipeline's gas storage services
PAA Natural Gas Storage
Plains All American Pipeline L.P. (PAA) is a publicly traded master limited partnership (or MLP) that provides midstream energy infrastructure and logistics services for crude oil, natural gas liquids (or NGLs), natural gas, and refined products. PAA owns an extensive network of pipeline transportation, terminalling, and storage and gathering assets in key crude oil and NGL producing basins and transportation corridors and at major market hubs in the United States and Canada. ETFs that include PAA are the Alerian MLP ETF (AMLP), the Global X MLP ETF (MLPA), the Global X MLP, the Energy Infrastructure ETF (MLPX), and the First Trust North American Energy Infrastructure Fund (EMLP). PAA currently owns and operates three natural gas storage facilities located in Louisiana, Mississippi, and Michigan.
Pine Prairie Energy Center – located in south Louisiana, this facility is positioned to serve growing markets in the Southeast, Mid-Atlantic, and Northeast with nine interstate pipeline interconnects to it.
Blue Water Gas Storage – located in St. Clair County Michigan, this facility serves eastern Canada and midwest and northeast U.S. markets. It has six pipeline interconnects.
Southern Pines Energy Center – located in eastern Mississippi, this facility provides direct or indirect access to eight major natural gas pipelines and serves primarily markets in Florida and southeast U.S.
Article continues below advertisement
Through these three facilities, PAA provides storage services to customers in the Gulf Coast, Midwest, Southeast, Mid-Atlantic, and Northeast. Customers include electric utilities, local distribution companies, pipelines, natural gas producers, LNG importers, aggregators, marketers, and industrial and commercial end use customers. Most of their revenues are derived from the provision of firm storage services under multi-year, fee-based contracts.
Financial performance
PAA's storage facility falls under its supply and logistics segment, which is primarily a margin based segment, which makes it more volatile. Because of this volatility, PAA's storage business was negatively impacted in the 1Q14 by natural gas storage costs incurred to meet delivery requirements, due to the severe winter conditions during that period.
PAA's management has provided a 2014 adjusted earnings before interest, taxes, depreciation, and amortization (or EBITDA) guidance as $2,150 million at mid-point—$142 million below the $2,292 million achieved in 2013. This reflects management's expectation of a "return to baseline" in the Supply & Logistics segment's performance. Return to baseline refers to circumstances and conditions when a company has been very profitable and without those conditions they would have been as profitable. Baseline means more or less "normal." For PAA, the result of incremental revenues in 2013 was attributable to working gas storage capacity expansions at Pine Prairie and Southern Pines facilities as well as the sales of crude oil associated with liquids removal activities at the Bluewater facility.
Continue reading the next section in this series to learn about a pure play natural gas storage operator.