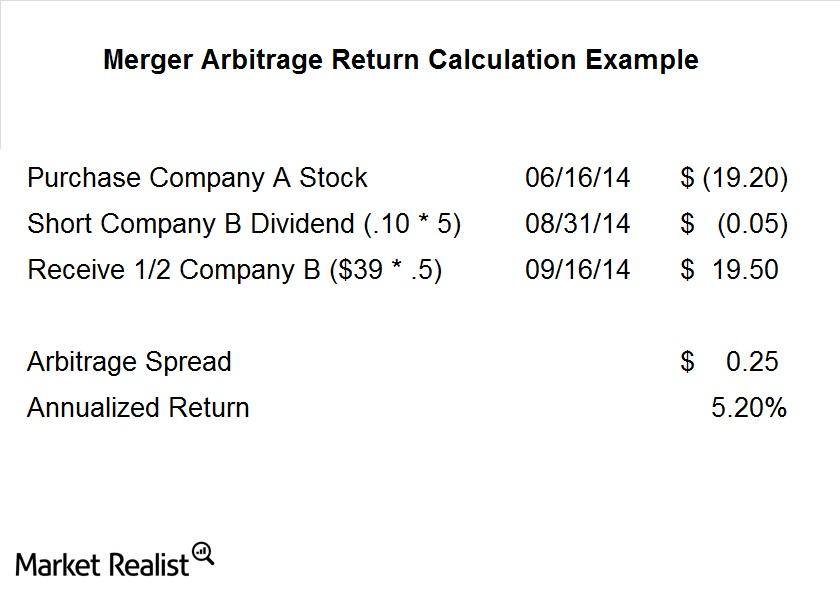 Merger arbitrage must-knows: A typical stock merger spread
The typical stock merger spread
Not all deals are cash deals, however. Often companies will issue stock in lieu of giving cash for a deal. This adds a layer of complication to the process and also some risk factors we need to consider. Here are the things that will drive a risk arbitrage spread for a stock deal.
The probability of closing
Hostile or friendly
Strategic buyer or private equity
The time it will take to close the deal
The downside if the deal breaks
Any dividends during the pendency of the deal
The probability of a higher bid
Tax implications of the deal
The need for a vote on the acquirer
The cost to borrow the acquirer's stock
Any dividends you are short
Cash and stock election
So, let's use the same deal idea as before. Company A agrees to a merger with Company B and you see the deal in the Wall Street Journal on Monday morning. Company A's stock closed Friday at $15 a share, and Company B's stock closed Friday at $40 a share. Company A's stock will exchange for 0.5 shares of Company B's stock. Let's also assume Company B pays a 10 cent dividend. On Monday morning, Company B is trading for $39 a share. Where should Company A trade? Well, you're going to get 0.5 shares of Company B, which is trading at $39 a share, so you'll get $19.50 a share. However, you're going to be short a ten cent dividend over the course of the deal, so that takes another nickel out of the spread. So your proceeds from the deal are going to be $19.45, which means Company A will probably trade around $19.20 or so.
Current deals
Right now, the biggest deals on Wall Street are between Time Warner (TWC) and Comcast (CMCSA) and between DirectTV (DTV) and AT&T (T). Investors who want to invest in M&A deals via an ETF should look at the IndexIQ ETF (MNA).
For access to premium risk arbitrage content, please email singh@marketrealist.com.
Article continues below advertisement