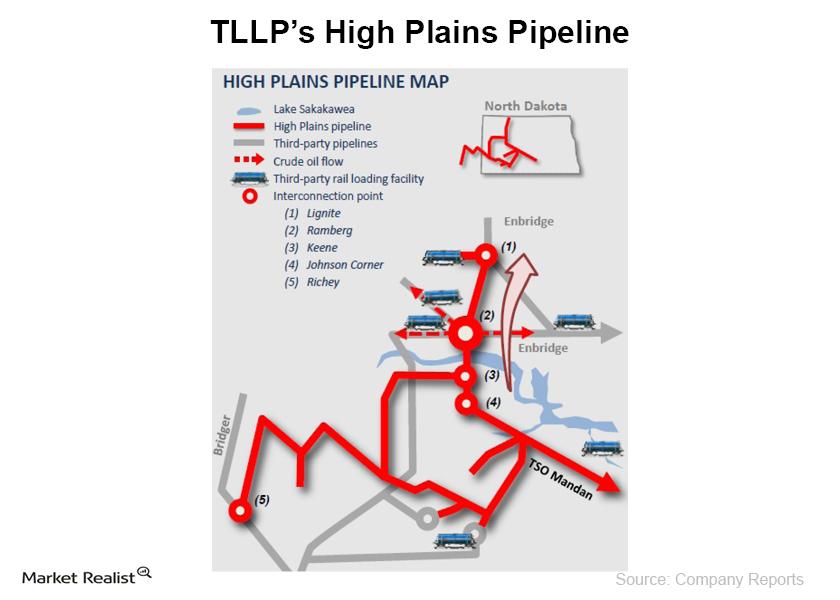 Why Tesoro's crude oil gathering and pipeline segment is positive
Operations
Tesoro Logistics' (TLLP) operations are organized into the Crude Oil Gathering segment and the Terminalling and Transportation segment. TLLP's general partner is Tesoro Corporation (TSO). TLLP is part of the Alerian MLP ETF (AMLP) and TSO is part of the Energy Select Sector SPDR ETF (XLE) and Vanguard Energy ETF (VDE).
The Crude Oil Gathering segment consists of a 700-mile common carrier pipeline, the High Plains Pipeline, which operates out of the Williston and Bakken areas in North Dakota and Montana. TLLP transports almost all the crude oil processed at its North Dakota refinery via the High Plains Pipeline.
Article continues below advertisement
Article continues below advertisement
Tesoro has been spending a significant portion of its capex on expanding the High Plains Pipeline. The proposed expansion is stated to be executed in two phases. As per the press release, "Phase I will provide incremental capacity to transport up to approximately 70,000 barrels per day (bpd) of crude petroleum from various locations south of Lake Sakakawea, including Johnson's Corner, Keene, Blue Buttes and Charlson Station, to Ramberg Station by July 1, 2014. Phase II will provide incremental pipeline capacity of up to 90,000 bpd from Ramberg to Stampede, with an expected in-service time frame of second half of 2015."
TLLP announced open season at the High Plains Pipeline Expansion project on February 4, 2014, which concluded on April 4, 2014. TLLP said it received commitments from shippers for all the offered capacity of 70,000 barrels per day to move crude oil from various locations. TLLP is currently progressing through the open season regulatory process and expects to commence shipments during the third quarter of 2014.
Plus, TLLP also announced the launch of a separate open season on a proposed new pipeline on April 9, 2014. The pipeline system in Dunn County, North Dakota, also known as the "Dunn Center Gathering System," will gather crude oil from various points in Dunn County to a central delivery point at the existing Connolly Station on the High Plains Pipeline system. The proposed capacity of the gathering system's main delivery line is estimated to be 40,000 to 60,000 barrels per day. This also depends on shipper commitments. Construction of the proposed Dunn Center Gathering System is expected to start in the second quarter of 2014 and is scheduled for completion by the end of 2015. TLLP's estimated capital investment is $140 million to $160 million. Open season will end on May 12, 2014.
To read about TLLP's other capex trends in 2014, see the Market Realist series Tesoro's outlook for 2014 and 2015: A growth capex of $100 million. For more key MLP analysis, see Market Realist's Master Limited Partnerships page.