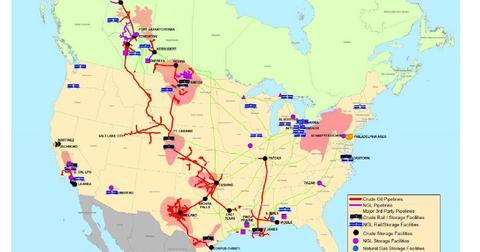 Must-know: An introduction to Plains All American Pipeline
By Alex Chamberlin

Updated
Plains All American Pipeline L.P. (PAA) is a master limited partnership that operates in the midstream energy business. PAA provides energy infrastructure and logistics services for crude oil, natural gas liquids (or NGLs), natural gas, and refined products. The company owns and operates pipeline transportation, terminalling, storage, and gathering services. Through the pipeline, PAA connects the key crude oil and NGL producing and major market hubs in the United States and Canada. PAA GP LLC, Plains AAP L.P., and Plains All American GP LLC are the general partners of PAA and own 2% general partner interest in PAA. Plains GP Holdings L.P. (PAGP) operates through Plains All American GP LLC. PAA GP Holdings LLC is the general partner of PAGP.
Article continues below advertisement
PAA has three operating segments. Its Transportation segment offers fee-based services for transporting crude oil and NGL on pipelines, gathering systems, trucks, and barges. As of December 31, 2013, it owned 16,900 miles of crude oil and NGL pipelines and gathering systems, 24 million barrels of pipeline throughput, 744 trailers, and a number of transport and storage barges. The transportation segment has its pipeline and storage assets at various oil and gas rich areas like the Permian Basin (located in west Texas and southern New Mexico), south Texas and Eagle Ford Area, Western (consisting of All American Pipeline System and intrastate crude carrier system of Line 63 and Line 2000), Rocky Mountain (consisting of Bakken Area Systems in eastern Montana and western North Dakota, Salt Lake City Area Systems, and White Cliffs Pipeline that operates between Platteville, Colorado and Cushing, Oklahoma), Gulf Coast (between Louisiana and Illinois), Central (consisting of Mid-Continent Area Systems and transports crude oil in the Cleveland Sand, Granite Wash, and Mississippian/Lime resource plays of western and central Oklahoma). The segment also operates various pipeline systems in Canada.
PAA's Facilities segment provides fee-based storage and terminalling services in the crude oil, refined products, and NGLs. It also offers NGL fractionation service. As of December 31, 2013, PAA owned storage capacity for approximately 74 million barrels of crude oil and refined products, 23 million barrels of NGL, 97 billion cubic feet of natural gas, 11 natural gas processing plants, a condensate stabilization facility, seven fractionation plants, and 24 crude oil and NGL rail terminals. PAA owns approximately 1,250 miles of active pipelines. PAA's other segment is the Supply and Logistics segment. The segment offers marketing activities like the purchase of U.S. and Canadian crude oil and NGLs from the producers, storage of inventory, resale or exchange of crude oil and NGL to refiners or other resellers, and transportation of crude oil and NGL from various delivery points to the end users. The purchase and resale of crude oil is on an index-related basis. As of December 31, 2013, the segment owned 16 million barrels of crude oil and NGL linefill in pipelines owned by the company and third parties, and a number of trucks, trailers, and railcars.
Article continues below advertisement
As of May 16, 2014, PAA had a market cap of ~$20.8 billion and an enterprise value of ~$28.5 billion. The company's adjusted EBITDA for the last 12 months was $2 billion. PAA is currently trading at the EV–to–EBITDA of ~14.1x—the same as the previous 12 months. Distribution per unit declared on April 7, 2014, was $0.63 per unit, or $2.52 per unit annualized. This amounts to a distribution yield of ~4.4% for a stock price of $57.18 as of May 16, 2014.
Plains All American Pipeline (PAA) is a master limited partnership operating in the midstream energy space. The general partner of PAA is owned by Plains GP Holdings L.P. (PAGP). PAA is a component of the Alerian MLP ETF (AMLP), the Global X MLP ETF (MLPA), and the Global X MLP & Energy Infrastructure ETF (MLPX).