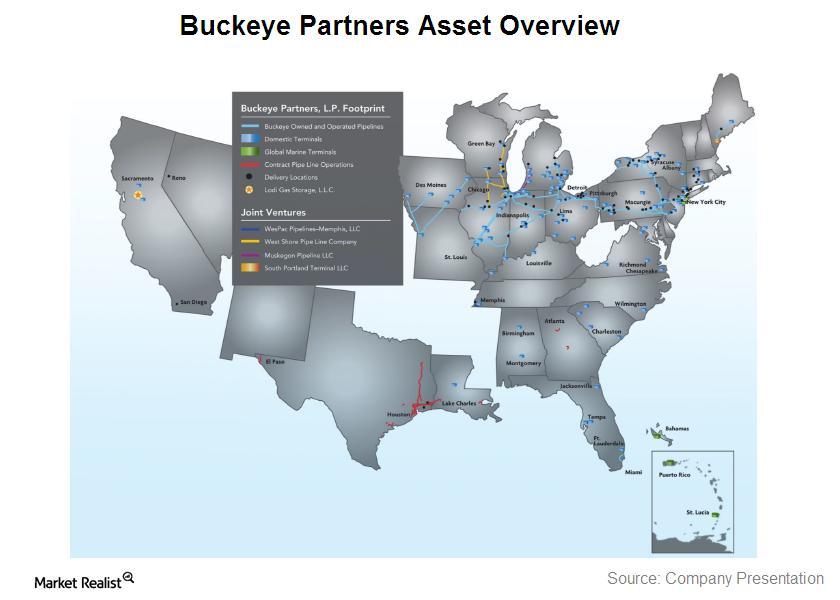 Must-know: An introduction to Buckeye Partners
By Alex Chamberlin

Dec. 4 2020, Updated 10:53 a.m. ET
Introduction to Buckeye Partners
Buckeye Partners L.P. (BPL) is a master limited partnership operating in the midstream oil and gas industry in the United States. BPL owns and operates an independent liquid petroleum products pipeline system with approximately 6,000 miles of pipeline. The company has a storage capacity of over 110 million barrels in more than 120 liquid petroleum products terminals that it owns. Buckeye GP LLC, which is a subsidiary of Buckeye GP Holdings L.P., is the general partner of BPL.
Article continues below advertisement
BPL has four operating subsidiaries—Pipelines and Terminals, Global Marine Terminals, Merchant Services, and Development and Logistics. The Pipelines and Terminals segment transports liquid petroleum products, including gasoline, jet fuel, diesel fuel, heating oil, and kerosene. The pipeline system also transports natural gas liquids (or NGLs), refined petroleum products, and crude oil. The segment has 6,000 miles of pipeline located primarily in the northeast and upper Midwest United States. The Global Marine Terminals segment has six liquid petroleum product terminals located in The Bahamas, Puerto Rico, St. Lucia in the Caribbean, and in the New York Harbor. It provides services such as marine terminal throughput services and marine bulk storage. The segment had a total storage capacity of 56.6 million barrels as of December 31, 2013.
The Merchant Services segment provides wholesale distributor service of refined petroleum products in the U.S. and the Caribbean. The segment has an aggregate storage capacity of approximately one million barrels in five terminals in Pennsylvania. These terminals are operated by the Pipelines and Terminals segment. BPL also provides turn-key operations and maintenance, asset development, and construction services for third-party pipelines through its Development and Logistics segment. The segment operates primarily in Texas and Louisiana.
Article continues below advertisement
As of May 22, 2014, BPL had a market cap of ~$9.2 billion and an enterprise value of ~$12.7 billion. The company's adjusted EBITDA for the last 12 months was $637.7 million. BPL is currently trading at the previous 12 months EV–to–EBITDA of ~19.9x. Distribution per unit declared on May 2, 2014, was $1.10 per unit or $4.40 per unit annualized. This amounts to a distribution yield of ~5.6% for a stock price of $78.84 as of May 22, 2014.
Buckeye Partners L.P. (BPL) is a master limited partnership operating in the midstream energy space. Buckeye Partners is also part of the Alerian MLP ETF (AMLP) and the MLP ETF (MLPA). BPL is also a component of the JPMorgan Alerian MLP Index ETN (AMJ) and the ETRACS 2xMonthly Leveraged Long Alerian MLP Infrastructure Index (MLPL).