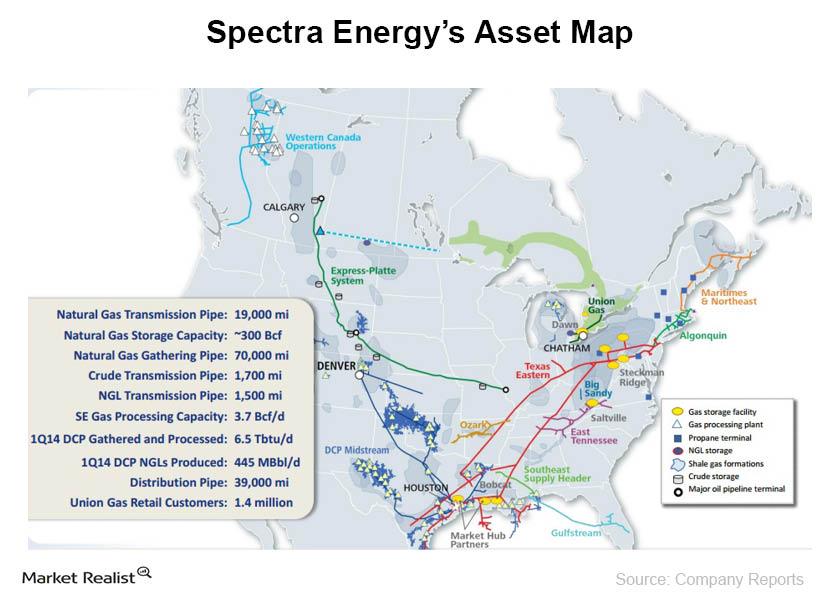 An investor's guide to Spectra Energy Corp. and its earnings
Spectra Energy Corp.
Spectra Energy Corp. (SE), headquartered in Houston, Texas, owns and operates a large and diversified portfolio of natural gas–related assets in North America. It carries out its operations in three key areas—gathering and processing, transmission and storage, and distribution—for customers in various regions of the midwestern, northeastern, and southeastern United States and Canada. SE's operations are divided into four main segments: Spectra Energy Partners (SEP), Distribution, Western Canada Transmission & Processing, and Field Services.
Energy's business segments
Article continues below advertisement
Spectra Energy currently has an 84% equity interest in Spectra Energy Partners (SEP), which is a master limited partnership (or MLP) through which the company engages in natural gas transmission, storage, and gathering services for customers in the U.S. and Canada. SEP also engages in the storage of crude oil and natural gas liquids (NGLs). Assets in this segment include natural gas transportation and transmission pipelines of approximately 17,000 miles and storage capacity of 305 billion cubic feet (bcf). The majority of assets under this segment are under long-term fixed contracts through which customers reserve capacity (of volume to be transported) in the company's pipelines.
Through its Distribution segment, Spectra Energy offers natural gas storage, transmission, and distribution services for residential, commercial, and industrial customers in Canada via its subsidiary, Union Gas Limited. This segment has approximately 39,000 miles of main and service pipelines, storage capacity of approximately 160 Bcf, and a transmission system of approximately 3,000 miles of high-pressure pipeline and mainline compressor stations.
The Western Canada Transmission & Processing segment provides natural gas transmission and gas gathering and processing services to natural gas producers. It also extracts, fractionates, transports, stores, and markets NGLs for western Canadian producers and NGL customers. This segment serves local distribution companies, industrial and commercial customers, marketers, and exploration and production companies.
Lastly, Field Services consists of SE's 50% equity investment in DCP Midstream (DPM), which is a diversified MLP engaged in gathering, compressing, treating, processing, and transporting and storing natural gas. DPM also produces, fractionates, transports, stores, sells, markets, and trades NGLs.
Note that SE is part of the Energy Select Sector SPDR ETF (XLE), while both SEP and DPM are a part of the Alerian MLP ETF (AMLP).
Earnings
On May 7, 2014, Spectra Energy announced its earnings for the first quarter of 2014, ended March 31, 2014. To find out how SE performed in this quarter, continue to the following part of this series.