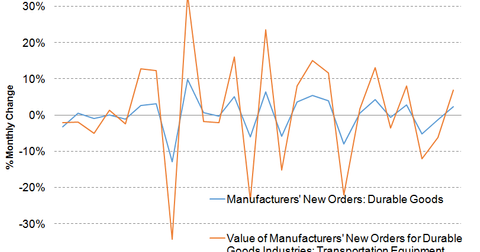 Why did the durable goods orders beat the analysts' expectations?
By Sandra Nathanson

Updated
Durable goods perform well
The latest durables orders report exceeded the analysts' expectations with the headline figures at 2.2% in February 2014, compared to 1.0% growth projected by the analysts. This also compares to a negative 1.3% growth in the durable goods order for January 2014. The headline figures show more stability as they often leave out transportation and defense orders due to higher volatility associated with those industries. Excluding transportation, durables orders increased at 0.2%, slightly slower than the 0.9% boost in the prior month.
Article continues below advertisement
Usually released during the fourth week of every month, the Durable Goods Order Index provides an indication on how busy factories will be in the months to come, as manufacturers work to fill the orders. The index provides data on new orders received from more than 4,000 manufacturers of durable goods, which are generally defined as higher-price capital goods, such as cars, semiconductor equipment, and turbines. More than 85 industries are represented in the sample, which covers the entire U.S.
Transportation
The transportation component increased by 6.9%, after dropping 6.2% in January 2014. Within transportation, the gain was led by increases in orders for defense aircraft, although nondefense aircraft and motor vehicles were also strong.
Other subcomponents
Outside of transportation, other subcomponent orders were up slightly at 0.2%, but very mixed. Gains were seen in primary metals, fabricated metals, computers and electronics, and other areas. Notable offsetting factors were declines in machinery and electrical equipment.
There was slippage in investment plans. Nondefense capital goods orders, excluding aircraft decreased, 1.3% in February, following a rebound of 0.8% the month before. Shipments for this series advanced 0.5%, following a 1.4% drop in January.
Increase in the durable goods may positively impact the stock markets (SPY), with rise in the sales price and valuation of capital goods companies such as Boeing Company (BA), Caterpillar, Inc. (CAT), and Lockheed Martin (LMT) to name a few. Bond markets (BND) fall with the rise in the durable goods orders, as strong orders leads to the economic expansion and initiates higher demand for goods and services. This leads to a rise in price inflation and the market interest rates. When interest rates increases, the bond prices decline and vice versa.