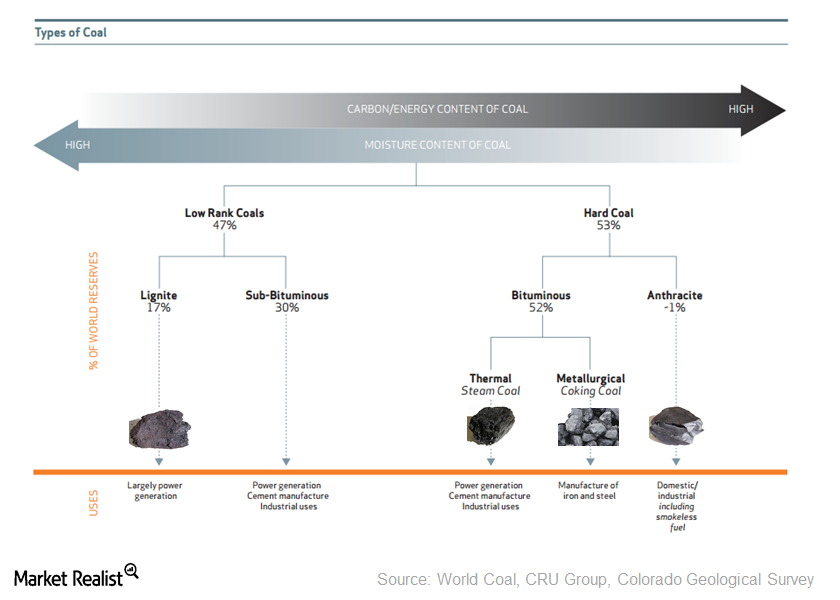 The "buried sunshine"—the coalification process and coal types
By Xun Yao Chen

Apr. 28 2014, Published 9:00 a.m. ET
The buried sunshine
Coal is often called the "buried sunshine" because it developed from the remains of plants and greens that existed as long as 400 million years ago. According to Kentucky Education Television, most of our coal was formed 300 million years ago, when much of Earth was covered in "steamy swamps." As these greens died, they fell to the bottom of the floor, forming peat.
Coalifciation
The coalification process (transformation into coal) begins when the peat is physically and chemically altered. This happens when geographic landscape changes and the peat becomes buried by layers of rocks and sands. As this occurs, pressure and heat builds on the peat, squeezing and drying most water out. When more pressure and heat is applied over long periods, the peat becomes more compact and the chemical structure changes, forming lignite, bituminous, anthracite, and graphite—in that order—during the coalification process.
Coal ranks
Article continues below advertisement
The carbon component of coal is what primarily makes up the substance's energy. Naturally, lignite (the farthest to the left on the chart above) has the lowest energy content or heating value per weight. Lignite, sometimes called brown coal, has a chocholate-like color, and is largely used for powering electricity. Caution, we don't know if it tastes like chocolate!
On the right side of the chart above, we have higher-ranked coal with higher energy and lower moisture content, which is used for industrial and steel production purposes. This coal is darker and shinier. Coal used for electricity purposes is often called steam or thermal coal, while that used to make steel is called metallurgical (met) or coking coal.
Thermal coal focus
In this series, we'll focus on thermal (steam) coal, which is most applicable to companies such as Alpha Natural Resources (ANR), Arch Coal (ACI), Peabody Energy (BTU), Cloud Peak (CLD), and Consol Energy (CNX). Learning about industry fundamentals that drive these companies will also help investors understand the VanEck Vectors Coal ETF (KOL).