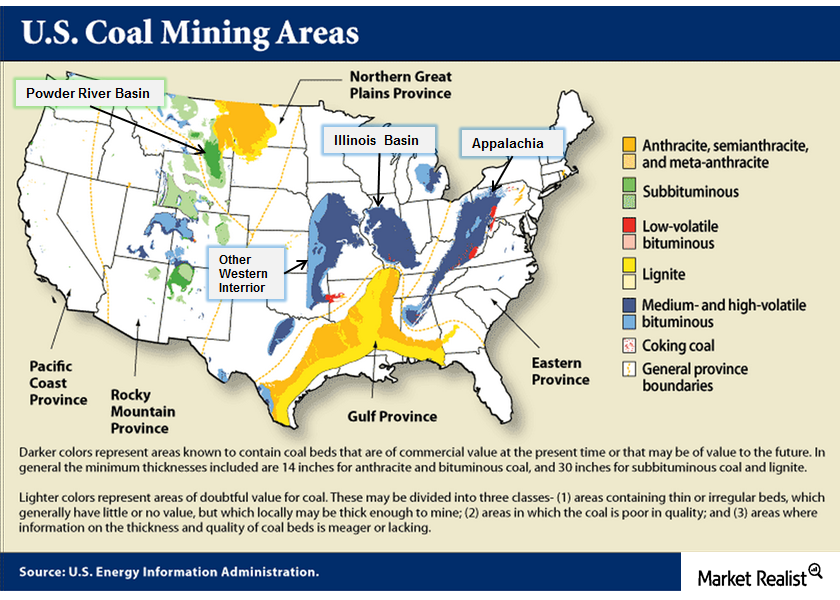 Must-know: The US coal mining areas and coal specifications
The U.S. coal mining areas
Coal mining in the U.S. can be segregated into three main areas: Appalachia, Interior, and West. The Appalachia region can be broken down into North, Central, and South regions. The Interior region comprises of the Illinois Basin, Other Western Interior, and the Gulf Province. The West is primarily made up by North Dakota lignite in Northern Great Plains Province, Powder River Basin, and Rocky.
Appalachia region
The Appalachia is the oldest mining region, where mining companies primarily mine medium-volatile and high-volatile bituminous, and some, low-volatile bituminous coal. Metallurgical (coking) coal is also found in the Central and Southern Appalachia regions.
Article continues below advertisement
Appalachia coal has higher energy content than the rest of the U.S. Northern coal has heating content of 10,300 to 13,500 BTU/lb (British-thermal-unit per pound), and sulfur content of 0.8% to 4.0%. Energy content for Central coal ranges from 11,400 to 13,200 BTU/lb, while sulfur content is on the lower range of 0.2% to 2.0%. Some of Central Appalachia's high grade coal can be sold as metallurgical coal. Alpha Natural Resource (ANR) and Walter Energy (WLT) are two companies with heavy exposure to the Appalachia region, while about 40% of Arch Coal's (ACI) revenue in 2013 came from Central Appalachia.
Illinois Basin
Energy content for coal found in the Illinois Basin (sometimes called the Midwest by companies) is slightly lower than Appalachia's—10,100 to 12,600 BTU/lb, with sulfur content of 1.0% to 4.3%. Despite its high sulfur content, coal from the Illinois Basin can generally be used by electric power generation facilities that have installed emissions control devices, such as scrubbers. Arch Coal and Peabody (BTU) are two companies with some exposure in this area.
West region
The majority of coal in the West region is mined from the Powder River Basin and Rocky Mountain. Coal mined from Powder River Basin is low in energy content—8,000-9,500 BTU/lb. However, it enjoys low sulfur of 0.2% to 0.9%. The Rocky Mountain coal has energy content of 10,000-12,200 BTU/lb, and low sulfur content of 0.4% to 0.8%. Peabody and Arch Coal have large exposure in this region, while Cloud Peak (CLD) is only exposed to the Powder River Basin.