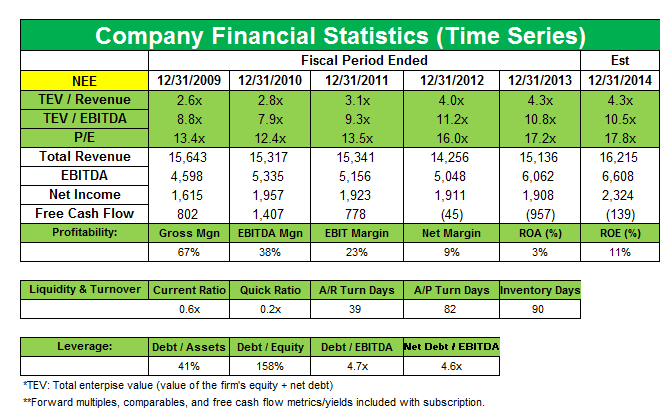 Millennium Management increases its stake in NextEra Energy
By Samantha Nielson

Mar. 26 2014, Published 9:00 a.m. ET
Millennium Management and NextEra Energy

Some of the notable positions traded by Millennium Management during the fourth quarter include new positions in Endo International PLC (ENDP), Crown Holdings (CCK), and SunTrust Banks (STI). The fund also saw stake increases in Perrigo Company PLC (PRGO) and NextEra Energy Inc. (NEE).
Millennium Management increased its stake in renewable energy generator NextEra Energy Inc. (NEE) from 1,789,954 shares to 3,333,627 shares. The position currently accounts for 0.89% of the fund's 4Q portfolio.
Article continues below advertisement
NextEra is one of the largest electric power companies in North America, with approximately 42,500MW of generating capacity in 26 states in the U.S. and four provinces in Canada. NEE is the largest generator of renewable energy from the wind and sun. It owns and operates approximately 17% of the installed base of U.S. wind power production capacity and owns or operates approximately 14% of the installed base of U.S. utility-scale solar power production capacity as of December 31, 2013. NEE also owns and operates one of the largest fleets of nuclear power stations in the U.S., with eight reactors at five sites located in four states, representing approximately 6% of U.S. nuclear power electric generating capacity.
NEE's operating performance is driven primarily by the operations of its two principal subsidiaries, Florida Power & Light Company (or FPL), which serves approximately 4.7 million customer accounts in Florida and is one of the largest rate-regulated electric utilities in the U.S., and NextEra Energy Resources, LLC (or NEER), which, together with affiliated entities, is the largest generator in North America of renewable energy from the wind and sun.
NextEra Energy missed on earnings estimates, as adjusted earnings fell to $414 million, or $0.95 per share, from $433 million, or $1.03 per share, in the fourth quarter of 2012. Revenue was $3.63 billion, up 7.6% from $3.37 billion in the same period a year before.
Article continues below advertisement
FPL reported fourth-quarter net income of $248 million, or $0.57 per share, compared to $256 million, or $0.61 per share, for the same quarter the year before. The decline was a result of transition costs associated with Project Momentum, the corporate-wide initiative to improve productivity. FPL averaged approximately 80,000 more customers during the fourth quarter of 2013 than in the comparable quarter the year before—the largest increase in customer count since late 2007.
NEER's earnings were $173 million, or $0.40 per share, compared to $175 million, or $0.42 per share, in the fourth quarter of 2012. The decline was due to higher corporate general and administrative expenses related to growth initiatives. NextEra Energy Resources added approximately 375 MW of new U.S. and Canadian wind capacity to its portfolio in 2013, bringing the total size of the wind portfolio to 10,210 MW. Also in 2013, the business reached wind production levels of nearly 30 million megawatt hours of generation, the highest level in the company's history.
In its development and operation of U.S. wind generation facilities, NEER depends heavily on the federal production tax credit (the PTC), which currently provides an income tax credit for the production of electricity from utility-scale wind turbines for the first ten years of commercial operation. This incentive was created under the Energy Policy Act of 1992 and, under the American Taxpayer Relief Act of 2012, was extended for wind projects whose construction began before January 1, 2014. NextEra said in its annual filing that NEER's expectations for wind development and construction will depend, in part, on whether legislation is passed to further extend the PTC.
NextEra's board declared a regular quarterly common stock dividend of $0.725 per share, up 9.8% from the earlier dividend of $0.66. The stock at present has a yield of around 3.2%.
NextEra Energy expects adjusted earnings per share for 2014 to be in the range of $5.05 to $5.45. The company continues to expect full-year adjusted earnings per share to increase at a compound annual growth rate of 5% to 7% through 2016, from a 2012 base.
To learn more about the latest 13Fs for hedge fund ownership, see the Market Realist series Renaissance Technologies' 4Q13 positions in Disney and more.