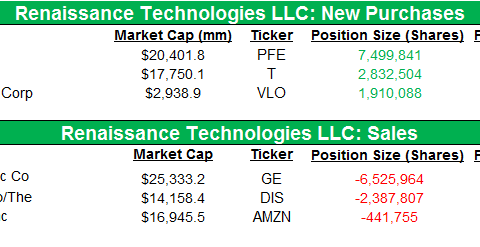 Renaissance Technologies' 4Q13 positions in Disney and more
By Samantha Nielson

Updated
Renaissance Technologies
Renaissance Technologies LLC is a New York–based "investment management company dedicated to producing superior returns for its clients and employees by adhering to mathematical and statistical methods." Founded in 1982 by mathematician Dr. James Harris "Jim" Simons, Renaissance currently has more than $25 billion in assets under management. The fund initiated positions in Pfizer Inc. (PFE), AT&T Inc. (T), and Valero Energy Corp. (VLO). It sold stakes in General Electric Co. (GE), The Walt Disney Co. (DIS), and Amazon.com Inc. (AMZN).
Article continues below advertisement
Since 1989, the company's $5 billion Medallion Fund has averaged 35% annual returns after fees. A Bloomberg report noted that Renaissance Technologies posted an 18% gain last year after remaining unchanged in December in its Renaissance Institutional Equities Fund. The company's reportable 4Q portfolio totaled $41.7 billion with 2,783 holdings.
"Quant King" Simons, a former math professor at Massachusetts Institute of Technology and Harvard, announced his retirement in 2009, but he continues as a non-executive chairman at Renaissance. The fund, which trades in markets around the world, employs complex mathematical models to analyze and execute trades—many of them automated. According to hedgefundletters.com, Renaissance Technologies, or "RenTec," employs mathematical and statistical models for high-frequency trading and tries to exploit market inefficiencies when large transactions take place. One of the fund's trading algorithms tries to establish whether large transactions have been executed and front-runs them. This in turn pushes up transaction costs and related expenses.