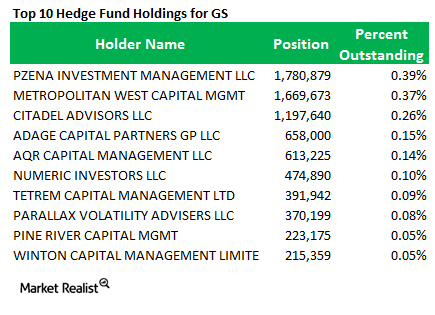 Berkshire Hathaway reveals a new position in Goldman Sachs
Berkshire Hathaway and Goldman Sachs
Berkshire Hathaway said in its year end letter that it increased its ownership interest last year in each of its "Big Four" investments—American Express (AXP), Coca-Cola (KO), IBM (IBM), and Wells Fargo (WFC). It also bought shares in Exxon Mobil (XOM), DaVita HealthCare Partners (DVA), Liberty Global (LBTYA), and Goldman Sachs (GS).
Berkshire Hathaway opened a brand new position in Goldman Sachs that accounts for 2.14% of the investment company's $104 billion portfolio.
Article continues below advertisement
Article continues below advertisement
Berkshire Hathaway Inc. revealed a 2.8% passive stake in Goldman Sachs Group Inc. in October last year as part of the conversion of warrants acquired in exchange for investment in Goldman Sachs during the 2008 financial crisis. In September 2008, Warren Buffett gave Goldman Sachs $5 billion. In return, Goldman Sachs gave preferred shares and five-year warrants allowing Buffett to purchase an additional $5 billion shares at a price of $115, even though the shares were trading at $125 at that time. Buffett's investment in 2008 was considered to be a vote of confidence in Goldman Sachs and U.S. banks in general. Goldman Sachs agreed to pay Berkshire a 10% dividend annually, with an option of buying back the preferred shares, which the bank did in April 2011 for $5.5 billion. In March 2013, Goldman Sachs amended the deal, with Buffett agreeing to exercise the warrants through a cashless transaction, and Berkshire Hathaway got the equivalent of its "paper profit" in Goldman Sachs shares.
Buffett, the "Oracle of Omaha," said in a statement back in March 2013:
"We intend to hold a significant investment in Goldman Sachs, a firm that I did my first transaction with more than 50 years ago. I have been privileged to have known and admired Goldman's executive leadership team since my first meeting with Sidney Weinberg in 1940."
In an SEC filing recently, Goldman Sachs disclosed a new regulatory investigation into the bank's "allocations of and trading in fixed-income securities." The company also reduced the top end of the range of reasonably possible legal losses to $3.6 billion from the previously estimated $4 billion.
Goldman Sachs' 4Q diluted earnings were down 19% to $4.60 per share, while revenue was down 5% from a year ago to $8.7 billion but above Street estimates. The bank reported net revenues of $34.21 billion and net earnings of $8.04 billion for the year ended December 31, 2013. Net revenues in investment banking were $6 billion for 2013, 22% higher than 2012. Goldman Sachs benefited from equity underwriting with revenue more than double the amount in the fourth quarter of 2012, reflecting an increase in client activity, particularly in initial public offerings. Fixed Income, Currency, and Commodities Client Execution revenues were 13% lower, to $8.65 billion in 2013 compared to 2012, due to lower net revenues in interest rate products and mortgages. Goldman said the business operated in a generally challenging environment during much of 2013, as macroeconomic concerns and uncertainty led to challenging market-making conditions and generally lower levels of activity.
Chairman and chief executive officer Lloyd C. Blankfein said, "We believe that we are well positioned to generate solid returns as the economy continues to heal and provide considerable upside for our shareholders as conditions materially improve."