Why natural gas gathering and processing are important for MLPs
Natural gas gathering and processing is a significant part of the operations of many midstream master limited partnerships.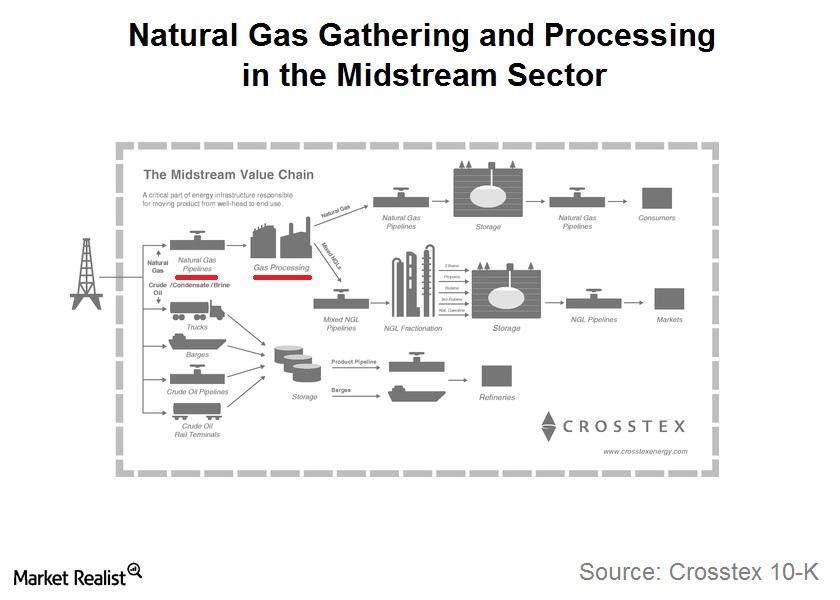 Natural gas gathering
When natural gas is produced from wells, the wells are connected to a gathering system comprising a network of smaller pipelines that collect the gas and deliver it to larger pipeline systems for longer-distance transport.
Natural gas processing
Natural gas produced from wells is often called "raw gas." A raw gas stream is mostly methane, which is often called "dry gas." A raw gas stream with a large amount of natural gas liquids, which include ethane, propane, normal butane, isobutane, and natural gasoline, is called "wet gas." Raw gas also has some impurities such as water, carbon dioxide, and sulfur.
Article continues below advertisement
Article continues below advertisement
Natural gas processing removes impurities and separates natural gas liquids (or NGLs) from dry gas. Processing is valuable because natural gas liquids, as separate components, have their own applications and are worth more extracted from the raw gas stream. Plus, long-haul natural gas pipelines have certain requirements as to the natural gas that enters the pipeline systems, and generally the gas has to be sufficiently dry (that is, it can't exceed a certain NGL content). NGLs are usually separated by cooling the raw natural gas until the NGLs condense into a liquid and separate from the dry gas (ethane). NGLs are heavier hydrocarbons, so they condense to a liquid at higher temperatures than ethane, and so they can be removed through cryogenic recovery.
Plus, the impurities in raw natural gas, such as water, sulfur, or carbon dioxide, can damage pipelines, and processing is useful to remove these impurities from the raw gas stream.
Once the natural gas is processed, the result is a stream of processed dry gas or "residue gas" and a stream of natural gas liquids. The residue gas then either enters into larger pipelines that can transport it over longer distances or into storage facilities. The natural gas liquids move by pipelines or trucks to a fractionator so that the mixed NGL stream can be separated into its individual components (such as ethane, propane, and butane). This process is called "fractionation."
Natural gas gathering, processing, and MLP companies
While natural gas gathering and processing are two different processes, they're generally referred to together as "gathering and processing" or "G&P," as companies that perform gathering generally also perform processing, and the services are closely linked.
Article continues below advertisement
Because these services relate to energy infrastructure, they can be performed by companies structured as master limited partnerships, or "MLPs." MLPs receive special treatment, as they're exempt from U.S. federal corporate taxes. This favorable tax treatment means MLPs generally trade at higher valuations than what regular C-Corp–structured entities would receive for the same asset base. For more on MLPs, see Master limited partnership (MLP) basics.
Companies involved in the natural gas gathering and processing space are often midstream energy MLP companies ("midstream" generally refers to the transportation, storage, and marketing of hydrocarbons such as natural gas and oil). These companies include Access Midstream Partners (ACMP), DCP Midstream (DPM), Regency Energy (RGP), Targa Resources (NGLS), MarkWest Energy (MWE), Atlas Pipeline Partners (APL), and Western Gas Partners (WES). Many of these companies are components of the Alerian MLP ETF (AMLP), the largest ETF with a focus on the energy MLP sector.
To learn more about investing in energy MLPs, see the Market Realist series Exterran Partners overview: Recent success and key trends.