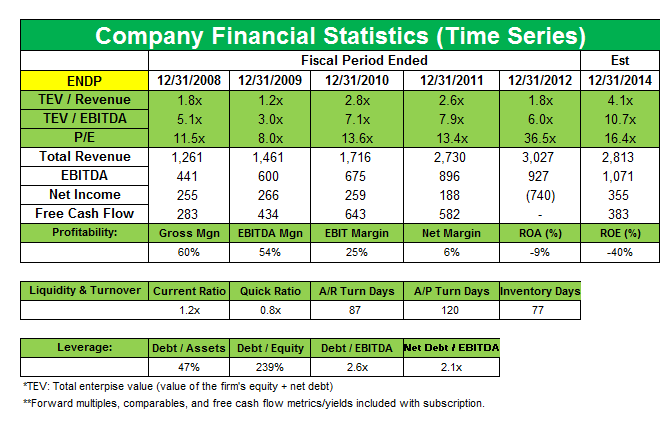 Why Lone Pine bought a new position in Endo Health Solutions
By Samantha Nielson

Dec. 4 2020, Updated 10:52 a.m. ET
Specialty pharmaceutical company Endo Health Solutions (ENDP) is a brand new 1.26% position initiated in the last quarter of 2013 by Lone Pine Capital.
Endo Health Solutions' product portfolio is mainly focused in the areas of pain management, urology, oncology, and endocrinology. Endo operates via its three arms—Branded pharmaceuticals (known as Endo Pharmaceuticals), Generic pharmaceuticals (Qualitest), and Medical Devices (AMS).
Article continues below advertisement
Shares were down last month after Endo Health Solutions said the net loss increased to $776 million in 4Q 2013 compared to a net loss of $716 million in 4Q 2012. The drug maker said the losses were related to an asset impairment charge over the acquisition of its urology-product unit American Medical Systems (AMS) in 2011, and a product liability reserve for estimated future claims over vaginal mesh lawsuits. Endo reported fourth quarter 2013 revenues of $585 million, compared to $750 million for the same quarter of 2012.
The company lost its patent exclusivity to two of its highest-selling painkillers, Opana ER and Lidoderm, last year. Endo's branded pharmaceutical revenues fell 44% as net sales of the shingles drug Lidoderm decreased 87% on account of the loss of market exclusivity in September 2013. The company recently agreed to pay $194 million to settle criminal and civil claims with the U.S. federal and state authorities over illegal marketing of Lidoderm (lidocaine) between 2002 and 2006. Opana ER sales also declined 14% due to a fall in demand. Lidoderm is facing competition from companies like Actavis (ACT), and Opana ER from Impax Laboratories (IPXL).
Article continues below advertisement
Unconfirmed news reports early last year said Endo's top shareholder Fidelity Investments was pushing for the company's sale or break up due to a fall in market value and sales declines. Potential suitors were Warner Chilcott plc or Valeant Pharmaceuticals International, Inc. (VRX). In June of last year, the company, under new CEO Rajiv de Silva, outlined some strategic, operational, and organizational steps to boost shareholder value. It identified annual cost savings totaling approximately $325 million, which included reducing headcount by approximately 15% worldwide, streamlining general and administrative expenses, optimizing commercial spend, and refocusing R&D onto lower-risk projects and higher-return investments in generics. The company expected to achieve approximately $150 million of savings in calendar year 2013, with the full $325 million run-rate achieved by mid-2014.
In view of its transformation to a global specialty healthcare company, Endo announced the completion of the acquisitions of Canadian specialty pharma Paladin Labs for $2.7 billion, and specialty generics company Boca Pharmacal for $225 million in cash. The Paladin Labs' "corporate inversion" deal is expected to create tax synergies as both Endo and Paladin Labs will be acquired by a newly-formed Irish holding company New Endo. This will help the company benefit from Ireland's significantly lower corporate tax rate. News reports said a move to Ireland will reduce Endo Health Solutions' effective tax rate to 20%, from the current 28%, increasing its annual tax savings by at least $50 million. Endo also sold HealthTronics to Altaris Capital Partners, LLC for $85 million. Boca Pharmacal has a strong presence in controlled substances which compliments Endo's generic pharma arm Qualitest.
Endo Health Solutions, in January 2014, terminated a $105 million merger agreement with NuPathe (PATH) after the latter accepted Teva Pharmaceutical Industries' (TEVA) higher offer. The deal, which was announced in November last year, would have given Endo access to NuPathe's FDA-approved migraine patch Zecuity.
Endo expects to continue to actively pursue M&A as an important component of building the business, and it's focused on increasing the value of its pipeline and launched products. The company expects the transformational acquisition of Paladin Labs and the strategic acquisition of Boca Pharmacal will help offset significant declines in the branded business due to the loss of exclusivity of Lidoderm and Opana.