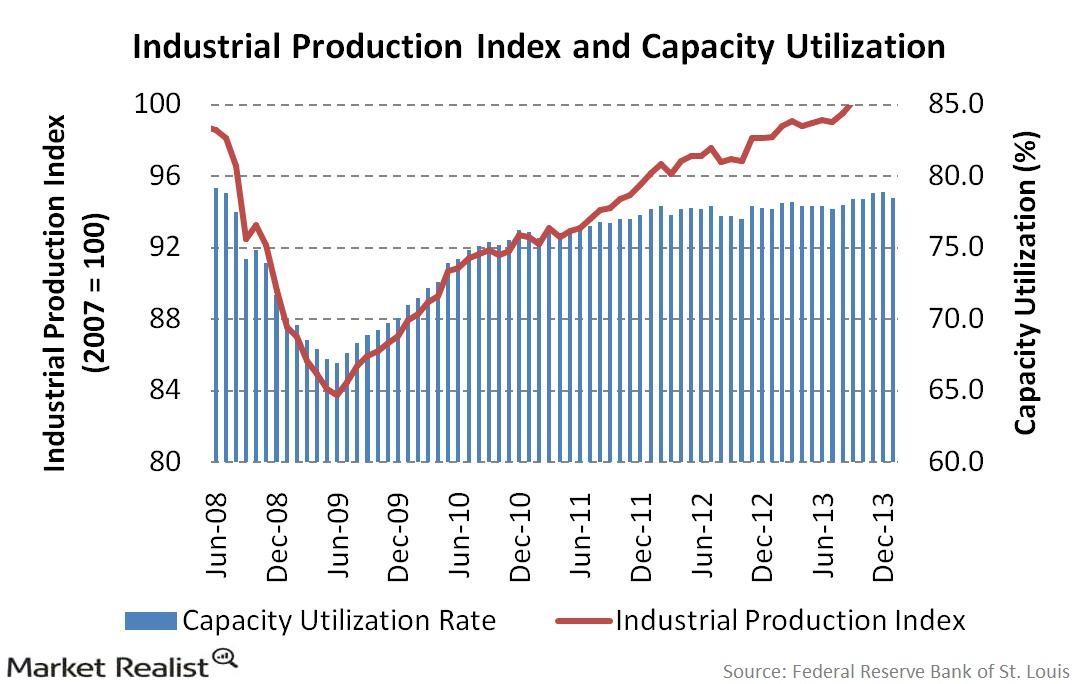 Why the bond market is affected by the Industrial Production Index
The Federal Reserve Board of Governors' monthly release of the Industrial Production Index along with the Capacity Utilization Index covers the manufacturing, mining, and electric and gas utilities sectors. The index measures changes in real output, expressed as a percentage of real output in a base year (currently, 2007). The Capacity Utilization Index, which is an estimate of sustainable potential output, is also expressed as a percentage of actual output in 2007.
Article continues below advertisement
The Industrial Production Index shows how much factories, mines, and utilities are producing, while the Capacity Utilization Index indicates whether resource utilization is strained enough to forebode inflation. Although the industrial sector accounts for less than 20% of GDP, it creates much of the cyclical variability in the economy.
Also, industrial production is an important measure of current output for the economy and helps to define turning points in the business cycle (start of recession and start of recovery). Consequently, this release has a big influence on market behavior.
As per the February release, industrial production fell 0.3% in January. The January index was hit by the manufacturing sector which saw a drop of 0.8%. However, the overall number was supported well by utilities, which climbed 4.1%, owing to adverse weather.
Investor's takeaway
The bond market will rally with slower production and a lower utilization rate. Bond prices will fall when production is robust, and the capacity utilization rate suggests supply bottlenecks. Healthy production growth is bullish for the stock market only if it isn't accompanied by indications of inflationary pressures.
In the same release, capacity utilization declined from 78.9% in December to 78.5% in January. The performance of industrials ETFs like the SPDR Industrial Select Sector Fund (XLI), which has companies like General Electric (GE) and Boeing (BA) in its portfolio, the Vanguard Industrials Index Fund (VIS), and the iShares Dow Jones US Industrial Sector Index Fund (IYJ), also serves as a good indicator with respect to the industrial sector.