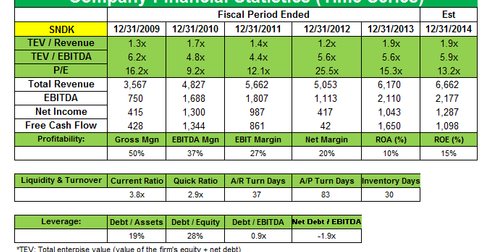 Why did Appaloosa decide to eliminate its position in SanDisk?
By Samantha Nielson

Updated
Flash memory card maker SanDisk (SNDK) was a 0.40% position in Appaloosa's portfolio that the hedge fund exited last quarter.
SanDisk's earnings and revenue for the fourth quarter were above analyst estimates. Adjusted earnings for the quarter rose to $390 million or $1.71 per share from $257 million or $1.05 per share last year. Revenue increased 12% to $1.73 billion from $1.54 billion last year.
The company, which is one of the chosen brands in NAND chips for mobile devices, saw its profits triple in 3Q, as a fire at rival Hynix led to increased prices due to a temporary supply shortage. The company also benefited due to a favorable yen rate and product mix with increasing usage of its 19-nanometer NAND flash memory chips. SanDisk has seen a shift in its strategy towards higher-margin products such as solid-state drives (SSDs) with its acquisition of SMART Storage Systems. In 4Q, the company said client and enterprise SSD sales increased sequentially to account for 21% of total revenue. SSD products include both enterprise storage drives as well as embedded storage drives, primarily shipped for usage in tablets, smartphones, and laptops. SSDs are expensive replacements for a hard drive but are generally faster and consume less power.
Article continues below advertisement
However, the guidance was below analyst estimates. The company said for 2014 it expects a healthy balance between industry demand and supply in the NAND flash memory space but expects prices to be softer as compared to 2013. The 1Q 2014 revenue estimate is at $1.45 billion to $1.525 billion while the full year estimate is at $6.4 billion to $6.8 billion.
According to data provided by IHS iSuppli, a market research firm, SSD shipments increased by 82% in 2013 and the shipments of hard drives declined by 5%. IHS ISuppli anticipates SSD shipments to increase by 50% in 2014 and is predicted to touch 260 million units in next three years. SanDisk's peers include Micron Technology (MU), Western Digital (WDC), Samsung (SSNGY), and Seagate (STX).