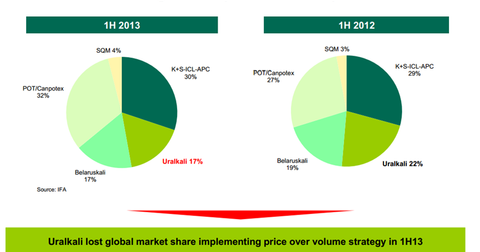 Why is Uralkali taking back—not gaining—fertilizer market share?
By Xun Yao Chen

Updated
Gaining market share
While the breakup between Uralkali and Belaruskali definitely did catch the media's worldwide attention, Uralkali's move towards a volume-over-price strategy in order to gain market share (more like taking back market share) was the more important story. But why did Uralkali make these moves?
Price-over-volume didn't work
In Uralkali's last earnings call, the company gave us the answer: revenue maximization. As the industry leader, the company said it will "grasp market opportunities to maximize revenue through either price or volume or both." In the past, Uralkali had mostly focused on a price-over-volume strategy. Naturally, this is favorable for the industry's overall profits, since it gives producers bargaining power over buyers.
Losing market share
Article continues below advertisement
But throughout the last few quarters, North American producers—like Potash Corp. (POT), Agrium Inc. (AGU), and Mosaic Co. (MOS)—had gained market share by offering lower prices. In Brazil, Canpotex (the international marketing arm of POT, AGU, and MOS) market share increased by 8%, to 38% year-over-year in the first half of 2013. In Malaysia and Indonesia, Canpotex's market share was also up 12% and 8% year-over-year, respectively—again through low prices. And in India, market share rose to 26% in 2013, compared to the historical market share of 23.5%.
The competitive environment
Other major producers—like K+S (Germany) and ICL (Israel)—were also very aggressive in terms of pricing in Brazil and Europe, according to Uralkali. Belaruskali's sale during the first half of 2013 outside of BPC also reflected a changing competitive environment.
As a result of these aggressive prices, FSU (former Soviet Union) producers' market share fell from 41% in the first half of 2012 to 34% in the first half of 2013. Uralkali's share of the global market fell from 22% to 17%, while Belaruskali's share fell by a lesser amount, from 19% to 17%.
A prolonged decline in potash prices also made the price-over-volume strategy difficult to implement, the company said.