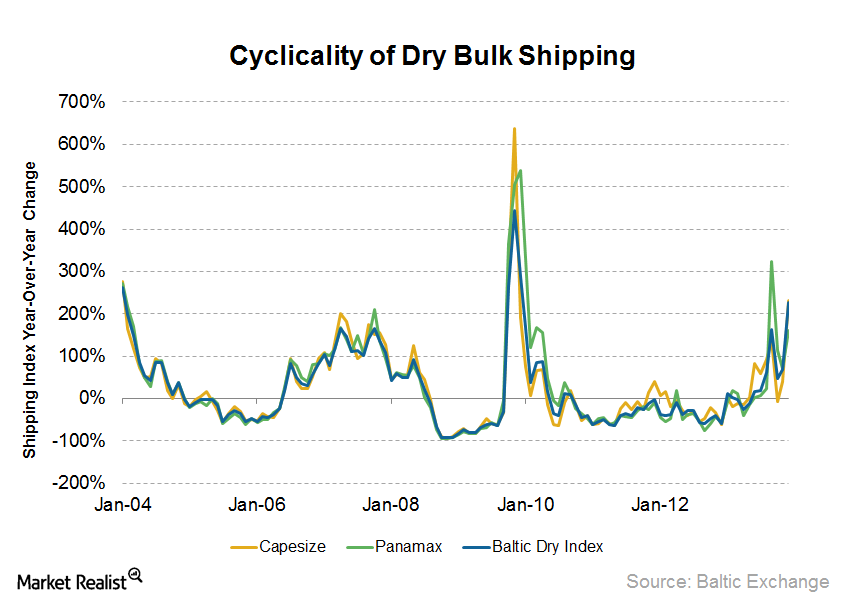 Recommendation: Capitalize on dry bulk shipping's cyclical waves
Cyclical business
The dry bulk shipping industry is cyclical mainly due to economic or business cycles as well as a long lead time between the placement of orders and the delivery of new vessels. This is a common quality of commodity companies. So the best time to invest in them is during industry troughs and when fundamentals are turning around. The best time to sell would then be when the industry and shipping rates are about to peak and they're expected to fall.
Economic and business cycles
Article continues below advertisement
Economic and business cycles move in steps because of how each one of us is interconnected with each other and how we behave. Since we're generally a social bunch, we like to do what the majority does and conform with them. What one person spends in cash is another's income. Higher income will, in turn, increase spending again. When there's enough spending happening, it will draw in more spenders. On and on we go, until the prices of goods become too expensive due to limited capacity and spending scales back.
Lagging supply additions
If shipping companies can adjust rapidly to changes in dry bulk shipping, then the industry won't see cycles. But because it takes up to two years from the time ships are ordered to the time they're delivered, shipping rates tend to rise. When those new ships are delivered, they pressure shipping rates. Unless demand remains robust, new ship deliveries will drive shipping rates and share prices down. This means investors shouldn't use a buy-and-hold strategy if they want to invest in shipping companies, and they must understand where the industry is in its overall cycle.
Key cyclical indicators
There are a few indicators that could help investors get a sense of where the shipping industry is in its overall cycle. These include ship orders, vessel prices, scrapping activity, and year-over-year changes in dry bulk rates. Investors can find these (as well as all the other indicators mentioned earlier in this series) under our Industry page with a more detailed description and explanation.
Note: This series was written to help investors understand the industry fundamentals of dry bulk shipping, applicable to DryShips Inc. (DRYS), Diana Shipping Inc. (DSX), Navios Maritime Holdings Inc. (NM), Navios Maritime Partners LP (NMM), Safe Bulkers Inc. (SB), Star Bulk Carrier Corp. (SBLK), Baltic Trading Ltd. (BALT), and Knightsbridge Tankers Ltd. (VLCCF). Specific company selections and valuations require different research and analysis, which Market Realist will publish at a later date.