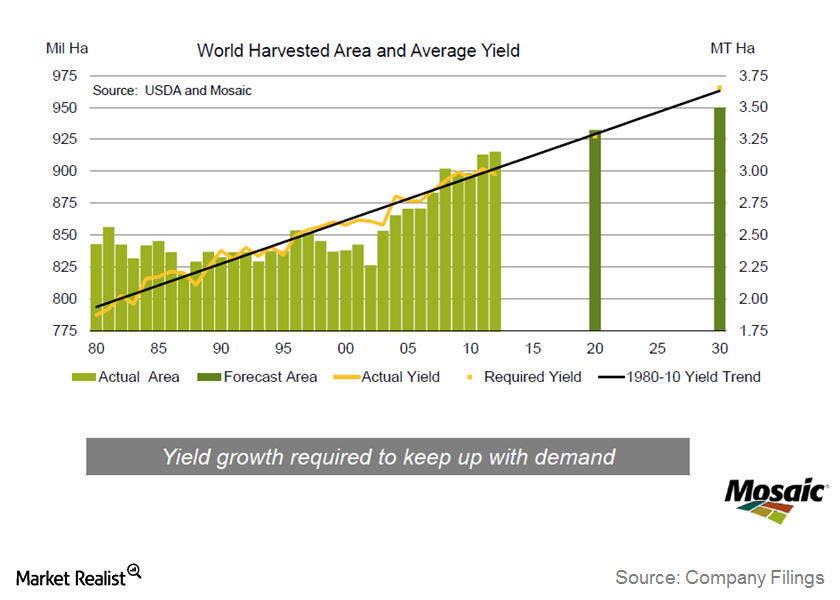 Why Mosaic shows that agriculture is always a cyclical business
By Xun Yao Chen

Nov. 21 2013, Updated 3:15 p.m. ET
Underperforming the S&P 500
Mosaic Co. (MOS) and its peers like Agrium Inc. (AGU), Intrepid Potash Inc. (IPI) and Potash Corp. (POT) have been some of the worst performers this year. While the S&P 500 rose 22.42% to date, these companies have fallen by about 16.5%.
Population and income growth
The long-term story of a growing population and food consumption is one that many investors have heard over and over again. The world population is increasing at about 75 million a year, mostly in Asia and Latin America, where incomes are growing, said Mosaic at Morgan Stanley Global Chemicals and Agriculture Conference. For these people who are at the lower end of the income distribution, higher incomes don't translate into iPad and sneaker purchases. Instead, they usually go into food for families.
Harvest area and yield increase
Article continues below advertisement
As Mosaic's management illustrated in its latest earnings call (Q3 of 2013), the world's average yield for grain and oilseeds (soybean) must rise over the next few decades in order to support population growth. Increased plantation and harvest acreage, estimated to reach 950 by 2030, isn't enough, and farmers will also have to rely on technologies and fertilizers to increase yield. Both increased plantation acreage and yield should drive higher fertilizer use over the long term.
The cyclical nature of agribusiness
But as management also noted at the conference, "Agriculture has always been a cyclical business, it will always continue to be." This is a primary reason Mosaic Co. (MOS) and its peers have underperformed this year. Whether an investor is seeking to invest for retirement or hold for a few years, it's important to know where the agriculture industry is in terms of cycle.
In this series, we'll explore Mosaic Co.'s latest discussions on its third quarter 2013 earnings results and the industry outlook for the next few quarters.