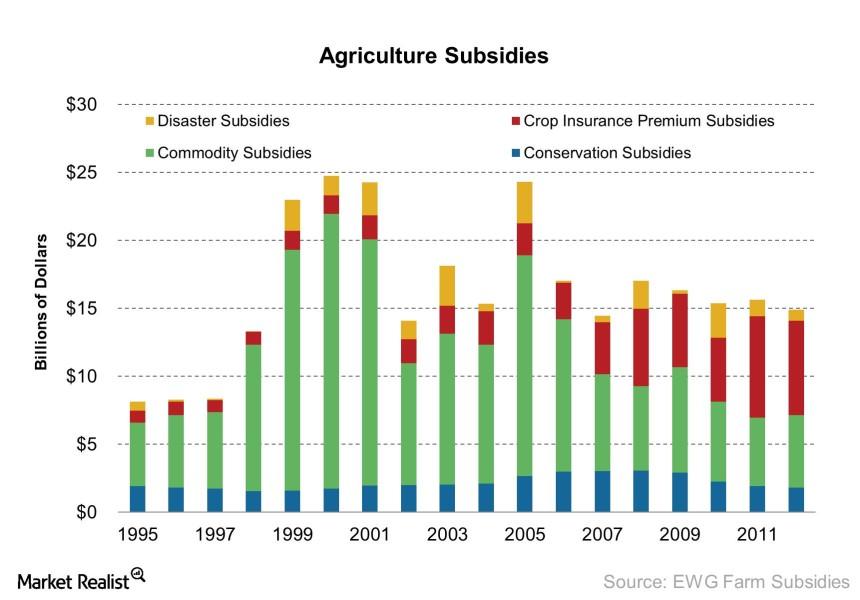 Must-know: Important types of farm subsidies in the United States
By Xun Yao Chen

Oct. 10 2013, Updated 12:02 p.m. ET
Agriculture subsidies
As a critical part of economic and social welfare, agriculture is a key industry governments around the world support. According to CATO, a think tank based in Washington, the USDA (US Department of Agriculture) spends approximately $10 billion to $30 billion in subsidies to farmers and owners of farmland each year. Changes in government policies are known to have an impact on fertilizer consumption and stocks such as CF Industries Holdings Inc. (CF), Potash Corp. (POT), Agrium Inc. (AGU), Mosaic Co. (MOS), and the VanEck Vectors Agribusiness ETF (MOO).
Article continues below advertisement
We can broadly separate the primary subsidies in the United States into five types: direct payments, conservation subsidies, price volatility and support, insurance, and disaster aid. The chart above puts direct payments and price volatility and support subsidies into a "commodity subsidies" category. Over the past few years, we've been seeing an overall increase in the share of and absolute value of subsidies based on insurance. On the other hand, we've seen a general decline in conservation and commodity subsidies.
Direct payments
Direct payments are cash subsidies to farmers or farmland owners. These subsidies are based on a formula that's itself based on the historical production of crops on a given plot of land. While originally intended to to be transitional—a way to move farmers off from the traditional price support system, the program continues to cost the government about $5 billion each year even as price supports continues.
Conservation
Article continues below advertisement
The USDA conservation programs give out $3 billion each year to the nation's farmers. It was created in 1985 to idle millions of acres of farmland, likely to preserve land. Under the Conservation Reserve Program, farmers are paid on a per-acre basis not to grow crops. About one-third of the idled land via the program is owned by retired farmers.
Price volatility and support
Analysts use price volatility and support programs—marketing loans, LDP (loan deficiency payment), and counter-cyclical payments—to moderate supply and price fluctuations. The program assists farmers by giving them the ability to hold onto their crops and sell when the crops prices and demand are higher. Alternatively, farmers could receive cash equivalent to a price level that's supported by the government.
Insurance premium
Insurances are used to protect farmers from loss in crop yields or decline in revenue. These are great for protecting farmers against poor weather or disasters. They're sold and serviced through 16 private insurance agents across the United States. According to the Congressional Research Service, taxpayers generally cover 60% of the premiums across major crop options available. The government further reimburses these insurance companies for their operating cost, which is between 22% and 24% of total premiums.
Disaster programs
Disaster payments are given to farmers when Congress declares "disasters" whenever a slight adverse event occurs. These are special payments distributed to farmers regardless of whether they were substantially damaged.