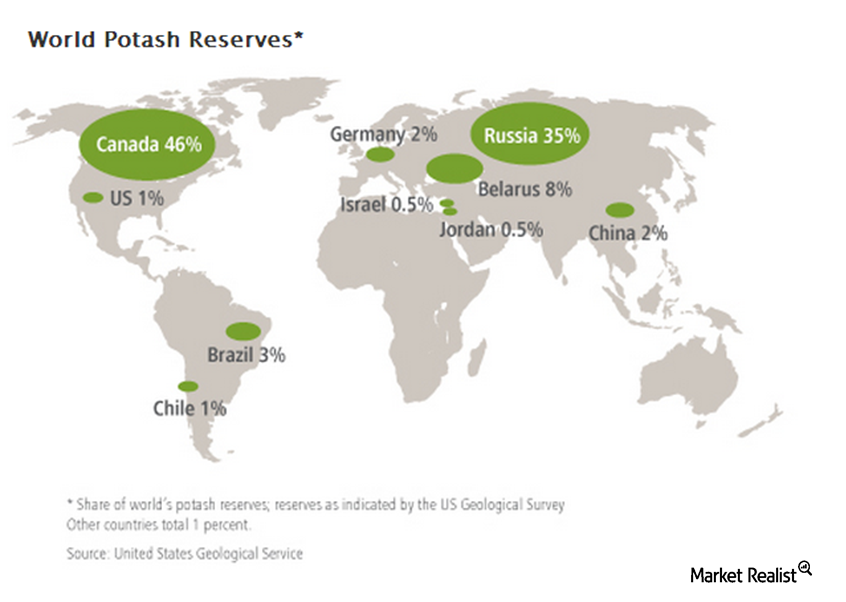 Must-know: Why cost and location affect potash production
By Xun Yao Chen

Oct. 17 2013, Updated 9:00 a.m. ET
Where potash is found
Of all the fertilizer sub-industries, potash is the most concentrated. Mineral deposits of potash are more geographically concentrated than phosphate rock. Most of these resources are found in Canada, Russia, and Eastern Europe. Because of this, a large chunk of the world potash supply is controlled by companies like Potash Corp. (POT), Mosaic Co. (MOS), Agrium Inc. (AGU), Uralkali, and Belaruskali.
Potassium chloride found in nature
Article continues below advertisement
Unlike phosphate rock, which needs to be converted into phosphoric acid and then to commonly used DAP and MAP by farmers, potash ores that are mined from deep in the Earth are often rich in potassium chloride, which is a common fertilizer used as a source of potassium nutrient. All producers have to do is grind the ores into a powder.
Russia and Belarus have the cheapest mining sites
The cheapest potash deposits are located in Russia and Belarus at the moment, with companies like Uralkali and Belaruskali producing potash below a cost of $100 per metric tonne. Note that these costs don't include costs to develop mines, since those expenses are recorded on a depreciation basis. The second cheapest place to mine potash is in Saskatchewan, Canada, where the average cost of extracting potash is currently ~$130 per metric tonne.
Geography is a key factor that affects production cost
While there are some variations in costs among North American producers, particularly between Mosaic Co. (MOS) and Agrium Inc. (AGU) or Potash Corp. (POT), prices generally don't differ much. This is similar to what we've seen for the phosphate industry. As with other materials industries, geography is one of the most important factors that influence production costs.
Intrepid potash: Higher cost but closer to farmers
Article continues below advertisement
Intrepid Potash Inc. (IPI), for example, is primarily a potash company that operates five mines in New Mexico and Utah, unlike other American producers that have assets in Saskatchewan. The average cash cost for producing a tonne of potash has been ~$180 over the past three years—much higher than what its Canadian peers produce at. However, because IPI's mines are situated closer to US farmers, the company is able to sell potash at a higher price due to lower transportation costs. This difference can be very substantial and ranges from $50 per metric tonne to $100 per metric tonne, depending on the transportation cost.
How cash costs affect share performance
Companies with lower costs often perform better than those that are more expensive during cycle downturns, because they have a larger cushion. On the other hand, those with higher costs often outperform in a cyclical uptrend as earnings soar, holding everything else constant. Investors considering a way to diversify investments in fertilizers with an international presence can consider the VanEck Vectors Agribusiness ETF (MOO).