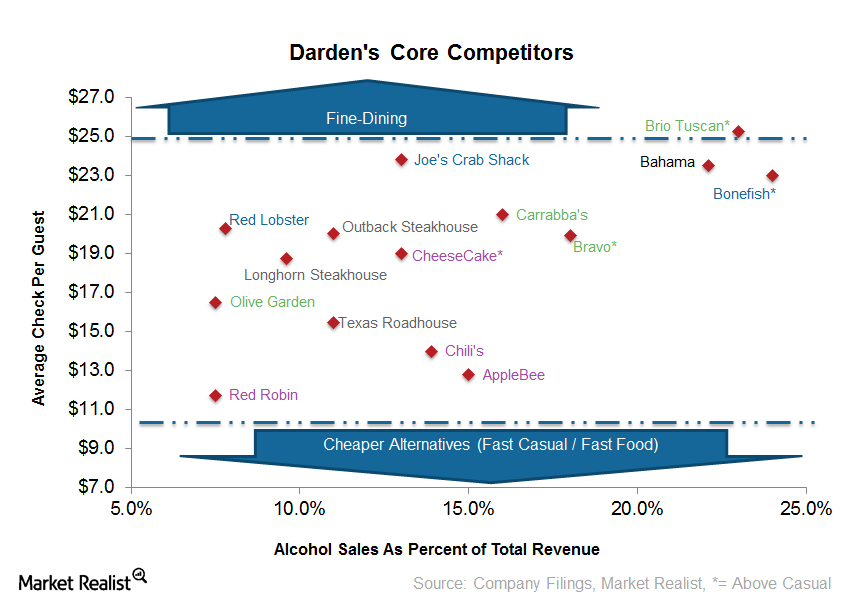 Darden analysis: Darden brands are losing guests to competitors
Darden's Olive Garden and Red Lobster brands are losing guests
Darden Restaurant Inc.'s (DRI) same store growth and expense breakdowns suggest the company needs to follow a different strategy. With some price cuts, guest count is falling for its Olive Garden and Red Lobster brands. Without a price cut, however, the company would have likely seen an even worse deterioration in guest count. As there's just a limited amount of food people can really eat, lower average check per guest should drive a higher guest count. So what's happening to Olive Garden and Red Lobster? Is this a micro (company-specific) issue, or is it more macro (industry-wide or economic)?
Factors for finding competitors
Article continues below advertisement
In search of the answer, we've pitted Olive Garden and Red Lobster against major competitors that are publicly traded. The main factors taken into account to find comparable competitors were service type (fast-food, fast-casual, or full-service), experience (casual, upscale, or fine dining), alcohol sales (whether alcohol was a significant portion of sales), average check per guest, and food style.
Olive Garden, LongHorn Steakhouse, and Red Lobster's peers
After reviewing several companies, we came up with the following brands held under publicly traded companies: Chili's, AppleBee's, Texas Roadhouse, Cheesecake Factory, Bravo (Cucina Italiana), Bonefish, Brio Tuscan, Carrabba's Italian Grill, Outback Steakhouse, and Joe's Crab Shack. With the exception of the Cheesecake Factory, Bravo Cucina Italiana, Brio Tuscan Grille, and BoneFish (which are casual-plus restaurants), we can throw every brand into the casual full-service dining experience box.
In the chart above, brands that are known to serve a variety of food are colored in purple, Italian in green, seafood in blue, steak in gray, and other in black.
Known for which food?
Article continues below advertisement
Texas Roadhouse (TXRH) is comparable to Darden's Longhorn Steakhouse brand since they're both known as steak restaurants in the casual space. Brio Tuscan and Bravo Cucina Italiana, held under Bravo Brio Restaurant Group Inc. (BBRG), and Carrabba's Italian Grill—owned by Bloomin' Brands Inc. (BLMN)—are all casual-plus Italian restaurants. These Italian brands aren't direct peers of Olive Garden, but Olive Garden's lower alcohol sales are a cause for the brand's lower average check.
AppleBee's, owned by Dine Equity Inc. (DIN), and Chili's, under Brinker International Inc. (EAT), serve varied styles of food. While none of Darden's brands are similar to them, they're nonetheless major competitors in the casual dining or chain spheres. The Bonefish brand, held under Bloomin' Brands (BLMN), and Joe's Crab Shack, under Ignite Restaurant Group Inc. (IRG), are somewhat comparable to Darden's Red Lobster brand.