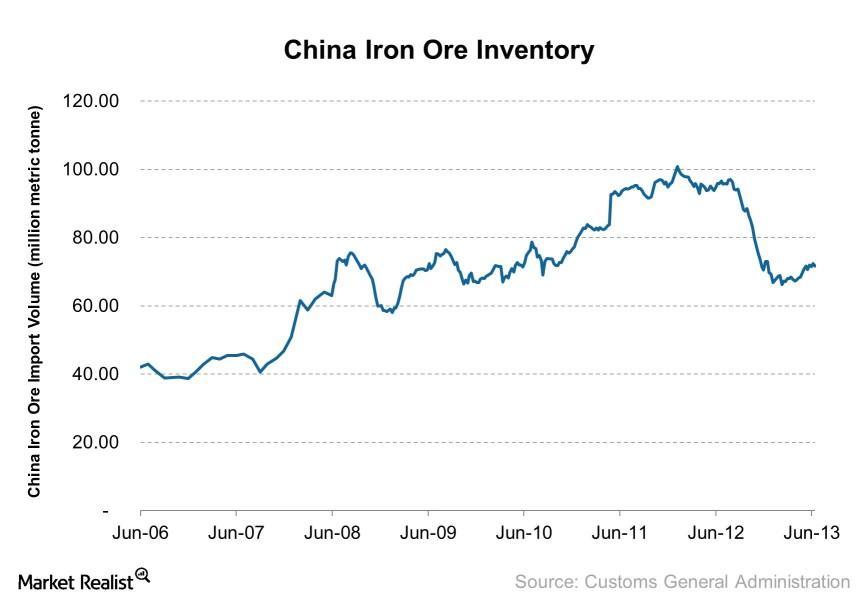 Why the low inventory-to-production ratio supports iron ore imports and shippers
By Xun Yao Chen

Nov. 21 2019, Updated 8:51 p.m. ET
Why inventory data is important
Iron ore inventory at Chinese ports reflects the safety net and the imbalance between iron ore supply and steel mill's demand. When inventory levels are high, they reflect possible overpurchase by importers, which may prompt them to cut back on imports in order to lighten up inventory in the near future. On the other hand, when inventory levels are low, importers may engage in restocking, which will aid iron ore shipments.
Restocking activity begins
Article continues below advertisement
On July 12, iron ore inventory at Chinese ports stood at 71.7 million mt (metric tonnes). While this is a slight decrease from the 72.4 million mt on July 5, inventory levels remain low. Inventory levels have been falling, as importers tried to lighten up inventory, while China's economy began to pick up pace mid-2012 due to economic stimulus. Before the decline, inventory levels have risen close to 100 million mt as importers took advantage of falling commodity prices.
Inventory-to-production at a record low
Inventory as a percentage of monthly crude steel production is also at a five-year low and appears to be bottoming. Historically, the figure has stayed near 150%. This means that even if crude production falls, importers may still continue to import iron ore, which is positive for shipping. If crude production doesn't fall from current levels, it leaves room for higher imports—if prices are favorable.
So while China's economy may slow down a little further in the coming months, the current inventory level leaves some cushion for further increases in dry bulk shipping demand. This is an encouraging piece of data for dry bulk shippers such as DryShips Inc. (DRYS), Diana Shipping Inc. (DSX), Eagle Bulk Shipping Inc. (EGLE), Knightsbridge Tankers Ltd. (VLCCF), and Navios Maritime Partners LP (NMM).