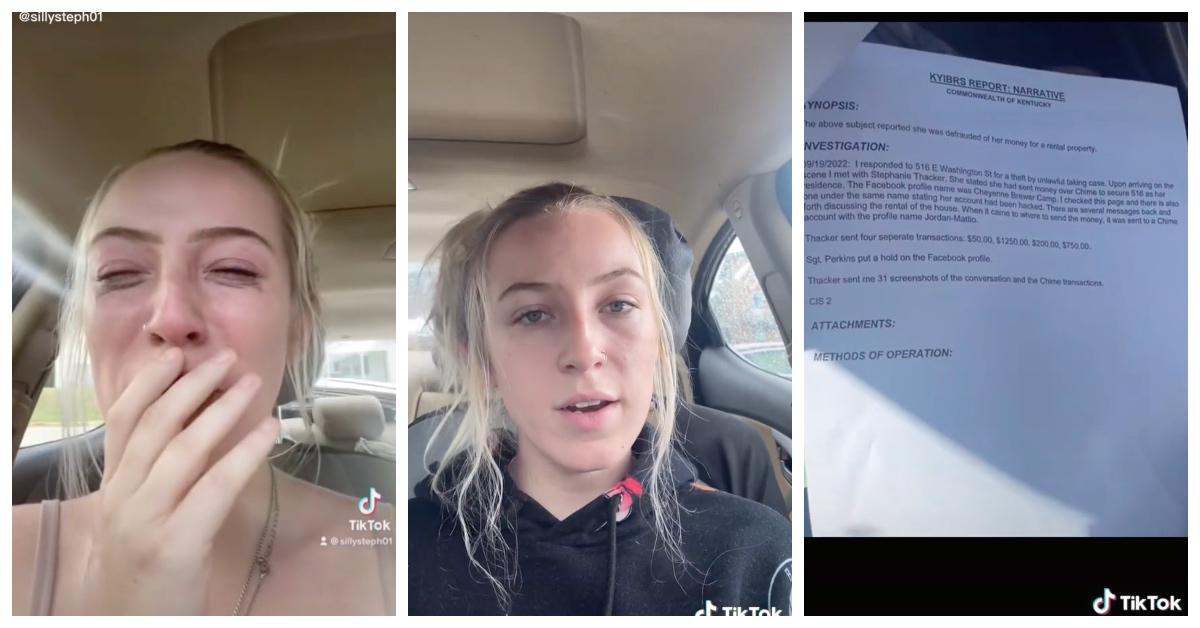 Homeless TikToker Falls Victim to Facebook Housing Scam, Loses Her Savings
Times are tough these days and many are having to make major adjustments in how they live and what they buy because of it. Some have even resorted to living inside their vehicles. TikToker @sillysteph01 has been living in her car for months now, working for DoorDash until she could save enough to upgrade her circumstances.
Unfortunately, a Facebook housing scam interfered with her plans, and her bank, Chime, wasn't much help.
Article continues below advertisement
Here's how TikTok user Stephanie Thacker got tricked into sending thousands of dollars to rent an apartment from her Chime bank account and how the banking institution responded after she filed a complaint.
If you're on the hunt for an apartment, don't fall for the Facebook housing scam.
Thacker has been documenting her homelessness journey for months, showing TikTokers what it's like to live in her car with her dog, Millie. In one of her TikTok videos, she says she has been working as a DoorDasher trying to save up for a place.
After finding an apartment through Facebook, she began working with a woman who appeared to be a legitimate landlord.
Article continues below advertisement
The TikToker says she was asked to make a payment for the following:
$50 application fee
$1,250 move-in cost
$200 stamp of approval on the lease
$750 second months rent
Before paying $2,250 to cover the initial move-in costs, Thacker says the woman emailed her a lease "that looked official" and explained that the payment was needed upfront so that she could "print off receipts and papers before coming."
Sadly, after charging her Chime account $2,250, she was left without the keys to an apartment — she had been scammed. Thacker then posted a follow-up TikTok video showing the police report she obtained and said she had filed a dispute with Chime.
Although she was warned by officials that "there probably wouldn't be justice for up to a year," she was hopeful Chime would help her out.
Article continues below advertisement
After the video went viral, garnering over 3 million views, Chime commented on it saying, "We take these types of things seriously. We're looking into this and just reached out to you via email!" Thacker later uploaded a video detailing the verdict Chime had reached on her case.
Apparently, the bank "concluded that no error occurred" and that the matter was considered "closed."
Article continues below advertisement
Although Thacker says she will now have to save up more in order to secure a roof over her head, her video has shed light on the housing scams that are playing out and the potential consequences of falling victim to them. It has also given a lot of unwanted attention to Chime and how it handles situations of this nature.
After Thacker revealed Chime's decision, many warned that if the bank didn't handle the matter accordingly, they would be taking their business elsewhere. Here's what a few others had to say.
Article continues below advertisement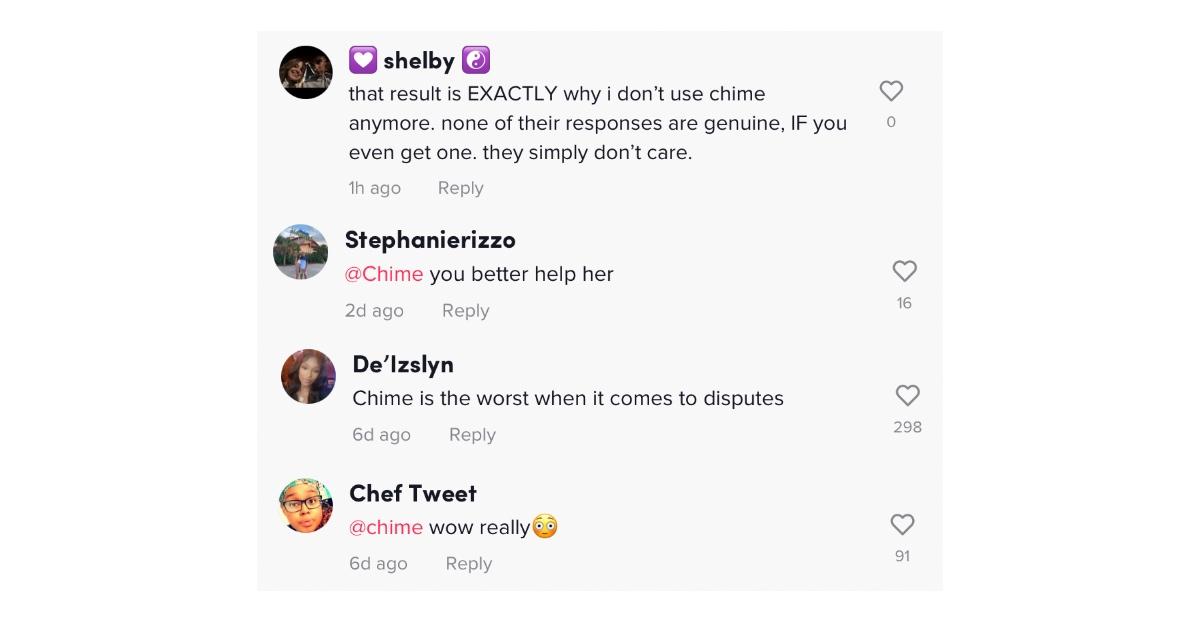 As a reminder, if you're on the market to rent an apartment, never send money to an unknown party or without first ensuring the person you're working with is a real landlord.