Budget Binders Are the Latest Money Saving Hack Taking Over TikTok
Do you prefer scrapbooks to online photo albums? Do you like bullet journals more than calendar and reminder apps? If so, you might want to learn how to make budget binders with cash envelopes, especially if you've seen all the videos about budget binders on TikTok.
Budget binders can help you track income and expenses, stick to a budget, and make progress toward financial goals.
Article continues below advertisement
Tom Drake, founder of the personal finance website MapleMoney, tells Sound Dollar that the budget binder system "makes the whole process more tangible."
"Budget binder involves manual budgeting and tracking of spending and possibly even cash envelopes to break out that budget," Drake adds.
And budget binder owners often use cash envelopes to set aside cash for future expenses.
Some people use zippered pockets for their cash envelopes.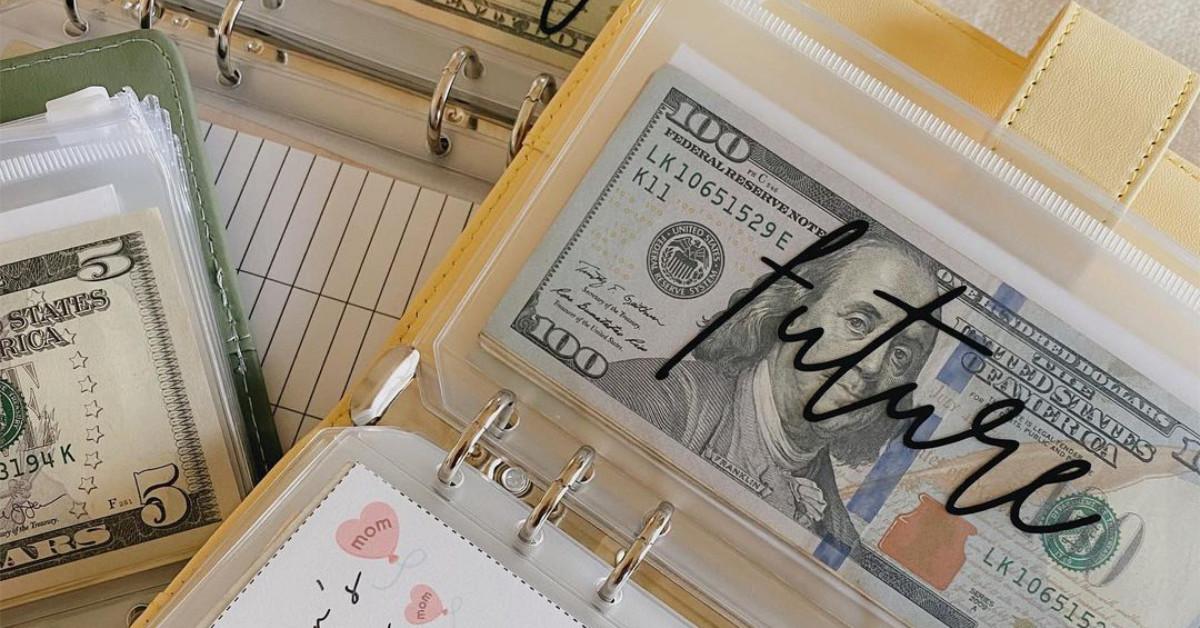 Jasmine Taylor, the TikTok user behind the popular Baddies and Budgets business, divides cash from each paycheck into zippered pockets, as she demonstrated in a video this June.
"I am a weekly paid employee, so I only cash-stuff one-fourth of my bill amount with every check. So, if a bill is $400, I'm putting [in] $100 every week," she explained in that video.
Article continues below advertisement
Taylor said she started cash-stuffing that way only after saving up enough money to cover one month of expenses.
Now, with money for the current month's bills already in the bank, she sets aside cash every week for the next month's bills.
Article continues below advertisement
"So, on the 1st of next month, I'll pull all of the money out of this binder, and I'll deposit it into my bill account," she said. "All of my bills will continue to auto-draft as they normally do. I know some of you guys are under the assumption that I go back and forth to the bank to pay my bills. That's not true. Don't overcomplicate the system. It's really rather simple. Once you get going and you get used to it, it becomes second nature."
You can make your own cash envelopes, too.
If you're especially crafty, you can make your own cash envelopes. A TikTok user named Nicole (@nicolebudgets) posted a tutorial for making 3.5-by-7-inch cash envelopes from glittery paper. After cutting and folding the paper, you laminate the envelopes and cut them out of the lamination sheets so that only one side opens. (Just make sure your cash doesn't fall out of that kind of envelope!)
Article continues below advertisement
However you create cash envelopes for your budget binder, the system can help you get your finances in order. Taylor told CBS News Chicago that she was broke and unemployed when she discovered cash-stuffing. Now she has a booming business with Baddies and Budgets, and she's sharing her financial education with others.
"Especially when you are low-income, poverty, people of color, we are taught to survive," she said. "You're raised on survival. You're not taught to thrive and build wealth."
Phillip Shaw, a certified financial planner with Goldstone Financial Group told CBS News Chicago that cash-stuffing is "a great thing for people who really need a budgeting process" but it isn't the safest way to keep money, and it's "not a great way to save for retirement or plan for the long term."
"You really need to be putting into other vehicles," Shaw added. "You need to [be] putting into your company's 401k, if you have one."