'WISH' Unfulfilled: Reddit & WallStreetBets Smash ContextLogic Stock
By Mohit Oberoi, CFA

Aug. 13 2021, Published 7:49 a.m. ET
ContextLogic, which is the parent company of e-commerce platform WISH, released its second-quarter earnings on Aug. 12. The performance was below par on almost all metrics. Traders on the WallStreetBets subreddit are getting increasingly disenchanted with the stock as it looks set to hit a new record low on Aug. 13.
Article continues below advertisement
While Reddit traders had initially pumped the stock and triggered a short squeeze, bears have been winning the argument lately. Although short squeezes can be a short-term price driver, ultimately a company has to justify the price action with its earnings.
WISH reported dismal earnings in Q2.
While e-commerce companies including Alibaba, Amazon, and Coupang also fell after their recent earnings, there was at least something to celebrate in their reporting. For WISH, on the other hand, it is hard to find a silver lining.
Article continues below advertisement
The company's revenues fell 6 percent YoY to $656 million. While other e-commerce companies are witnessing a growth slowdown, WISH is witnessing degrowth. Not only did ContextLogic's revenues fall but the company's net losses increased tenfold from $11 million to $111 million on higher costs.
Article continues below advertisement
The operating performance failed to instill confidence either. User retention fell in the quarter while the despite the company's expectation it would increase due to "more reliable logistics." Daily user activity and active buyers also fell for the company in the quarter. While WISH apportioned at least some of the blame on tougher YoY comps, the argument does not hold much weight.
Article continues below advertisement
WISH saw a 13 percent fall in app installs and a 15 percent fall in average time spent on the app in the second quarter. The comparisons are sequential so the tough YoY comps argument does not apply here. The company also talked about higher advertising costs on Android after Apple App store implemented privacy changes.
Why is WISH stock going down?
WISH stock is falling in response to the poor earnings. The company had a cash burn of $205 million in the quarter and ended the quarter with cash of $1.6 billion. Along with dismal earnings, the company provided depressing guidance. While it did not provide quantitative revenue guidance, it said that revenues fell 40 percent YoY in July.
Article continues below advertisement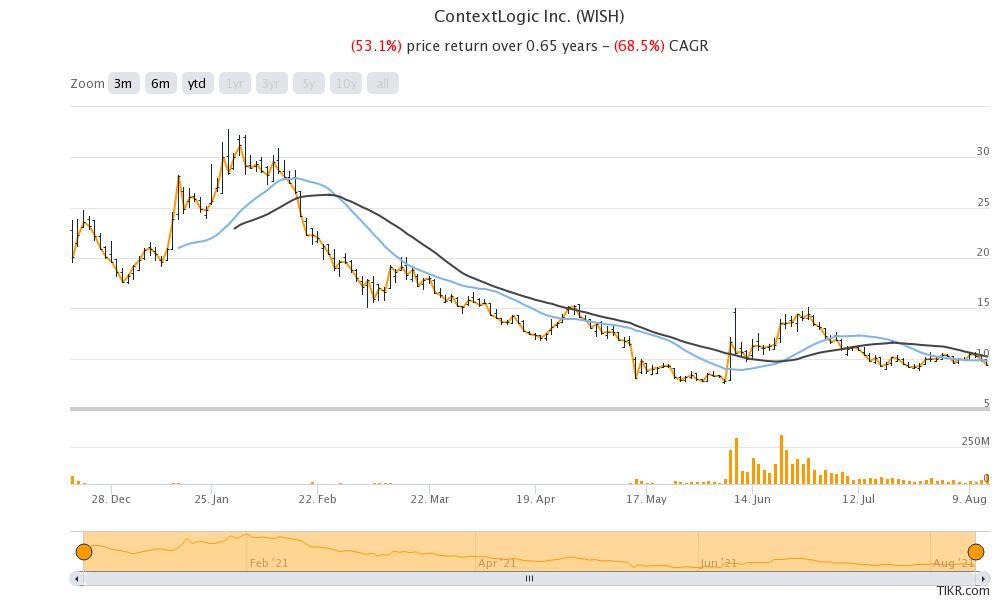 It expects revenues to fall in the third quarter and is forecasting an EBITDA loss between $65-$70 million. The company is now focusing on the retention of existing customers and is cutting down on advertising expenses.
Article continues below advertisement
What is WISH's stock forecast into 2025?
Meanwhile, WISH provided come commentary on the long-term outlook. It expects a sequential improvement in EBITDA in Q4 2021. However, it does not expect positive improvements from the changes it is implementing before the second half of 2022. Notably, the YoY improvement in the back half of 2022 does not excite much as it would come from a low base, just like we have a high base in 2021.
Meanwhile, as WISH stock heads towards a new low, investors should look at the long-term picture. If the company can improve its financial performance, it would go back up in the long term.
Article continues below advertisement
Reddit users on WallStreetBets had a heartbreak with WISH.
With most Reddit traders now sitting on a loss in WISH stock as it falls to a new low, there is growing disenchantment with the company. Many even raised a doubt on the business with a user by the name Atala-21 with 12,000 comment karma saying that they received a faulty product from WISH. Another user by the name Confident-Victory-21 called WISH a pump and dump.
All said, WISH's Q2 2021 earnings release would leave even the staunchest of bulls disappointed. The stock could fall a bit more as Wall Street analysts, most of which are bullish on the stock, could downwardly revise their ratings and target price on the stock.