What to Expect From NAKD Stock After Reddit-Driven Rally
There has been extreme volatility in penny stocks in 2021. In many cases, Reddit group WallStreetBets was instrumental in triggering a short squeeze. Naked Brands (NAKD) is among the stocks that were once the hottest topics on WallStreetBets. However, like most other so-called meme stocks, NAKD stock is down sharply from its peaks. Will the stock recover and rise above $1 in 2021?
Article continues below advertisement
Currently, Microvision (MVIS) stock is the most popular name on WallStreetBets. While NAKD stock isn't popular in the community anymore, it helped trigger a rally in the stock. The company capitalized on the rally and raised cash by selling shares.
WallStreetBets fueled rally helped NAKD stock
Most penny stocks that were pumped by WallStreetBets piggybacked on the rally and raised cash by selling shares at elevated valuations. While short squeezes can help trigger a short-term rally, there's a long-term impact. In this case, NAKD raised cash by selling shares at a higher price. Also, bears are wary of betting against meme stocks because they fear another short squeeze.
Article continues below advertisement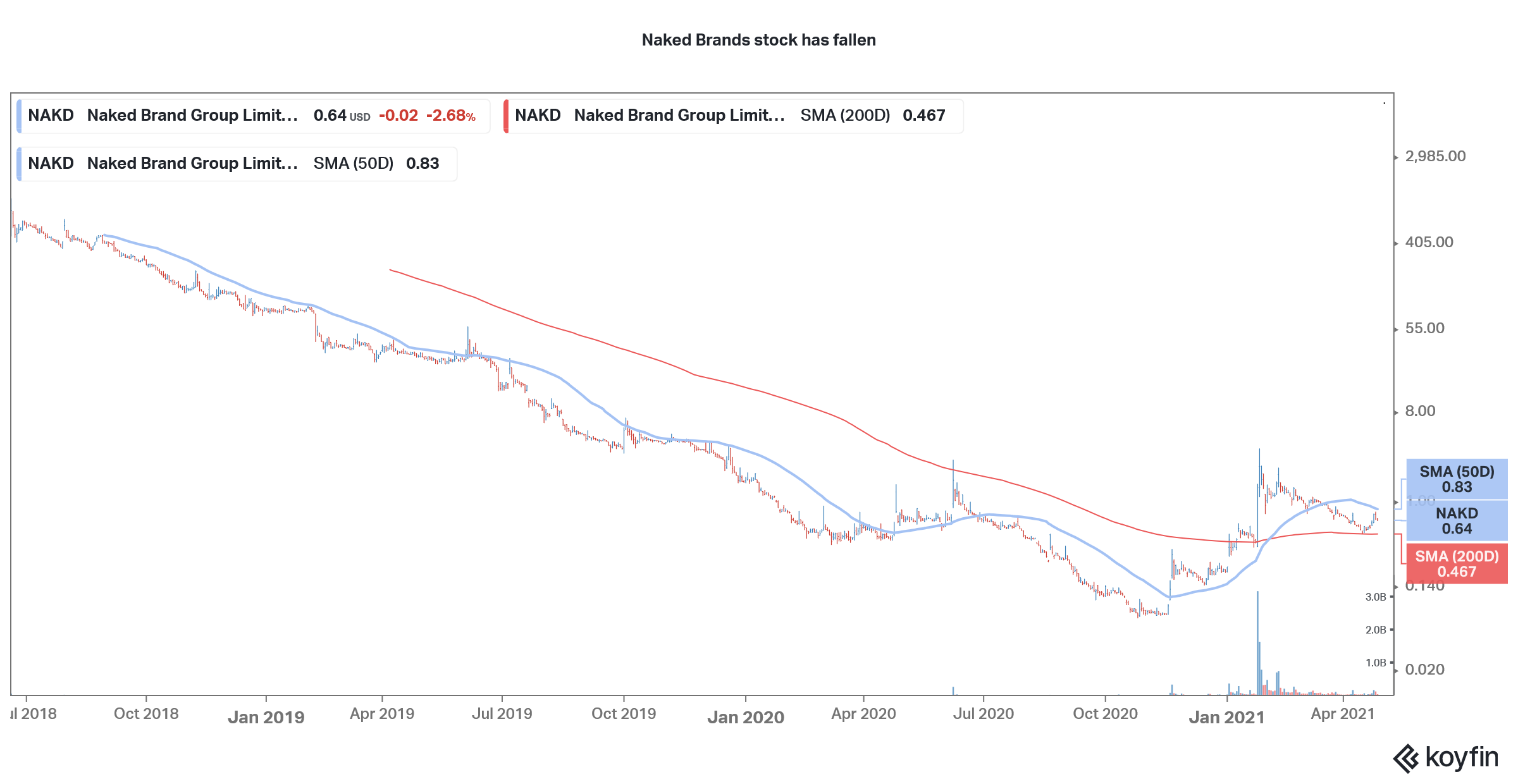 This would help NAKD stock lower its cost of capital in the medium to long term. The company also sold shares through a private placement at $0.93 and raised $100 million. Thanks to the capital raises, it's now a zero-debt company and has $270 million worth of cash on its balance sheet.
Article continues below advertisement
NAKD stock valuation
NAKD has a market capitalization of $411 million. The pro forma outstanding shares would rise after the warrants that it issued along with the private placement are exercised. However, since these are out of money, I won't take them into account. If we adjust the $270 million of cash, we get an EV (enterprise value) of $141 million.
Article continues below advertisement
Meanwhile, Naked Brands shareholders have approved the disposal of its Bendon brick-and-mortar operations. The company expects to sign a definitive agreement this week. After the divesture, NAKD can focus on e-commerce operations. It would get rid of the liabilities associated with its perennially loss-making Brendon retail operations.
Coming back to valuations, while NAKD stock might appear overvalued based on the current financials, it's a bet on the company's turnaround and pivot towards e-commerce operations. The recent fall in NAKD stock is mainly due to the sell-off in speculative growth names, especially in the tech sector.
Article continues below advertisement
NAKD stock should recover.
With an EV of only about $140 million, I think that NAKD stock is a worthwhile penny stock to bet on. The company is also looking at strategic acquisitions. It has some strong brands like Frederick's of Hollywood.
Earlier in April, Ault Global, a diversified holding company known for investing in undervalued assets, announced a 6.4 percent stake in the company. Also, at the current prices, NAKD trades much below the private placement that it made to accredited investors.
Article continues below advertisement
Retail investors can buy NAKD stock at a 31 percent lower price than what apparently sophisticated investors bought in the private placement. However, this shouldn't be the sole yardstick to buy a stock. Even the best investors, including Warren Buffett, end up making costly mistakes.
However, looking at the turnaround efforts that NAKD is making, it's a good penny stock to buy now. Like all other speculative penny names, it remains risky and investors should weigh their risk-return trade-off before making a decision.