Bitcoin Price Prediction: Will BTC Hit $100,000 in 2021?
Cryptocurrencies have become very popular over the last year. Bitcoin (BTC-USD) is the largest cryptocurrency by market cap and the most popular one too. After hitting a four-month high, Bitcoin prices have reversed sharply and are back below the psychologically crucial $50,000 price level. Meanwhile, many people want to know whether BTC prices can hit $100,000 in 2021. What's the prediction for Bitcoin?
Article continues below advertisement
Bitcoin and other cryptocurrencies have been very volatile over the last year. From hitting a trough in March 2020 to making a new all-time high in 2021, the cryptocurrency has whipsawed during the period. The volatility has also highlighted the riskiness associated with cryptocurrencies.
Bitcoin has seen increased adoption.
While cryptocurrencies, in general, are more volatile than stock markets, it doesn't take away the fact that their adoption has also increased. Financial companies like PayPal, Visa, and Goldman Sachs have embraced Bitcoin. Companies like Square and Tesla have also invested in Bitcoin.
Article continues below advertisement
However, the reason Tesla invested in Bitcoin might be a fallacy. The company cited lower yields elsewhere to justify its investment in cryptocurrencies. As Bitcoin's price action would reveal, it's anything but an alternative to Treasury bills and other short-term debt instruments where companies park their excess cash.
Article continues below advertisement
BTC price prediction
After the crash below $50,000, Bitcoin has broken below key support levels. However, it's still managing to hold above the 50-day, 100-day, and 200-day SMA (simple moving average). The 200-day SMA would be crucial for cryptocurrency.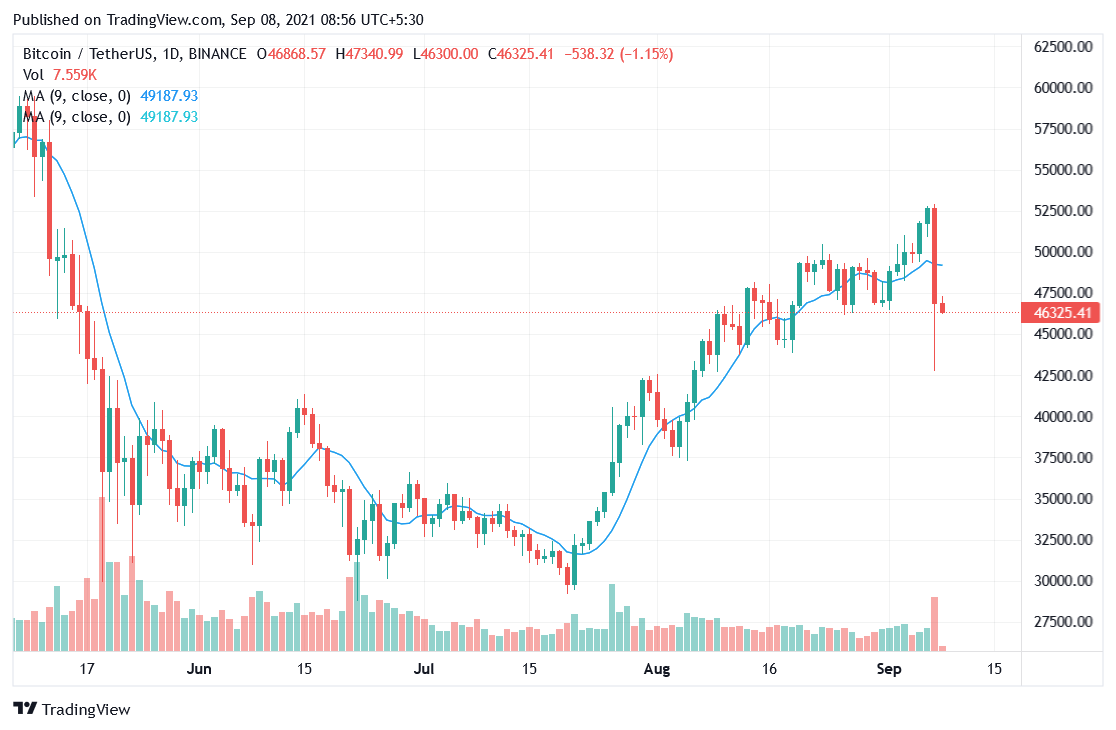 Article continues below advertisement
El Salvador and Bitcoin
The crash in Bitcoin happened when El Salvador became the first country to accept it as a legal tender. It's a watershed moment for the cryptocurrency market. We'll have to see if more countries allow Bitcoin as legal tender. Not many countries would be willing to cede control of their fiscal and monetary policies by allowing cryptocurrencies as legal tender.
Article continues below advertisement
Will Bitcoin reach $100,000 in 2021?
For Bitcoin to reach $100,000, it needs to go up just over 2x from these levels. Looking at the volatility in Bitcoin prices, that isn't a possibility that we can rule out. From a fundamental perspective, the continued geopolitical tensions, fading confidence in central banks amid endless money printing, and growing adoption of cryptocurrency are secular tailwinds for the cryptocurrency market.
Bloomberg Intelligence senior commodity strategist Mike McGlone predicts that if Bitcoin follows the price trajectory of Ethereum, it can cross the $100,000 price level. Lyn Alden predicts that Bitcoin prices would reach $100,000 as early as 2022.
Article continues below advertisement
"I think we're still in kind of the early-to-mid stage of its long-term trajectory," said Alden in an interview. She also said, "So that remains, I think, the best risk-reward as kind of a set-it-and-forget-it allocation."
Article continues below advertisement
Will Bitcoin prices crash again in 2021?
That said, it's worth noting that while Bitcoin could double and hit the $100,000 price level in 2021, it could also halve from these levels. At one point in 2021, it tumbled below $30,000, which was less than half of its peaks for the year.
Increased global scrutiny of cryptocurrencies and fears of an additional crackdown on cryptos in China are among the two risks that Bitcoin investors need to watch out for. On the bullish side, Bitcoin adoption by prominent companies could charge up BTC bulls.