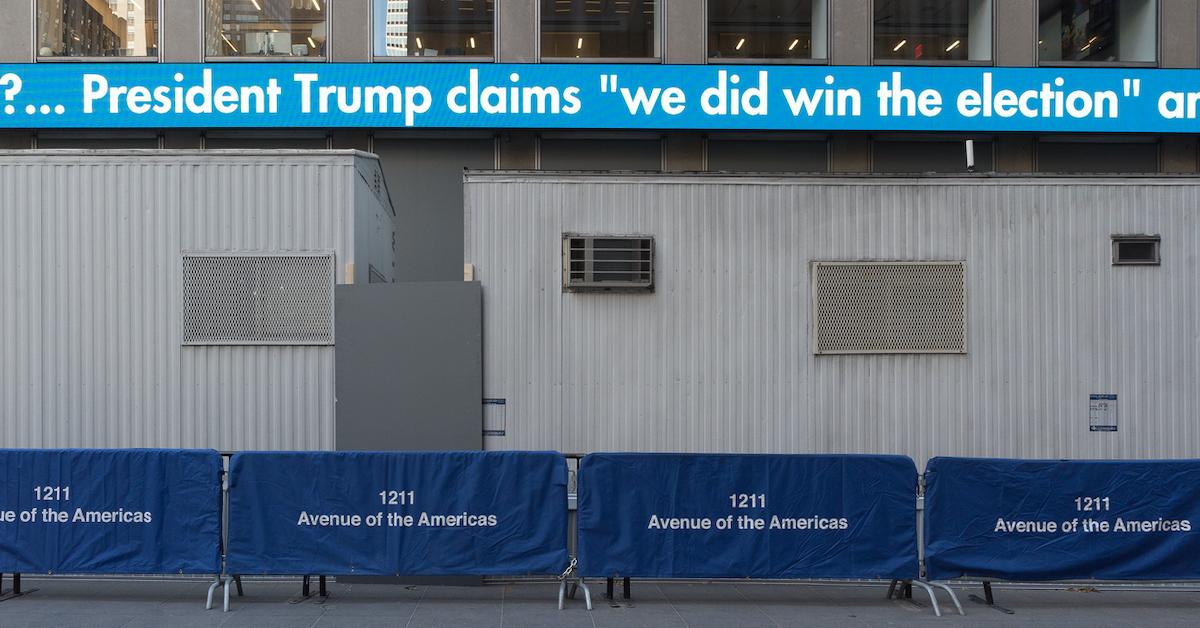 Who Owns Fox News and Why's Trump Attacking Them?
By Mohit Oberoi, CFA

Nov. 13 2020, Published 8:11 a.m. ET
Fox News, which was founded in 1996, is making news itself after President Donald Trump lashed out against the network. During his presidency, Trump has shared a cozy relationship with Fox News even as he has criticized other media outlets for his perception that they are biased against him. Who owns Fox News and why have they drawn President Trump's ire?
Article continues below advertisement
Many people's confusion over the current ownership structure of Fox News likely stems from Disney's acquisition of 21st Century Fox in 2019. Disney paid $71.3 billion for 21st Century Fox's assets and also assumed $19.2 billion of its debt.
Article continues below advertisement
Does Disney own Fox News?
However, while Disney bought 21st Century Fox, the Murdoch family retained control of the news business. In March 2019, Fox News became part of Fox Corporation. Fox Corporation is a publicly traded company. However, the Murdoch family holds a majority 39 percent stake in Fox Corporation.
Article continues below advertisement
Who are the Murdoch family?
The Murdoch family is led by Australian-American billionaire Rupert Murdoch, who is 89 years old. He inherited an Australian newspaper when he was only 22 and has since built a massive media empire and has grown into a media mogul.
Article continues below advertisement
The Murdoch family has majority stakes in News Corp. and Fox Corporation through which they own several newspapers including the New York Post, the Times of London and multiple newspapers in Australia. News Corp. also own the Dow Jones, which publishes the Wall Street Journal.
Earlier this year, Rupert's Murdoch's younger son James Murdoch resigned from News Corp's board of directors due to editorial differences. He was critical of the group's coverage of several subjects including its stance on climate change. Unlike the group, which has leaned towards the conservatives, James Murdoch aligns with scientific consensus on climate change.
Article continues below advertisement
Fox News and President Trump
While Fox News was seen as supportive of Trump, Rupert Murdoch wasn't always a fan of Trump. In 2015, he wrote on Twitter, "When is Donald Trump going to stop embarrassing his friends, let alone the whole country?"
Article continues below advertisement
However, Fox was among the conservative news channels that were most supportive of Trump throughout his presidency. That said, the bonhomie now seems to be ending. Fox News hasn't been very supportive of Trump's unsubstantiated claims that the recent presidential elections were rigged.
A recent post on the Intercept best explains the current dilemma for Fox News and Rupert Murdoch. "With Trump's defeat, the network and the family are at a crossroads, facing far more critical scrutiny and pressure than they ever have in the United States. Fox is in the position, at this moment, of state broadcasters in unstable countries where an unpopular leader has been voted out of power but refuses to accept the result."
Article continues below advertisement
Fox News has built its image as a conservative news channel. Now, it finds itself in uncertain territory as Trump was defeated in the elections. Trump has also fired a salvo against Fox News by suggesting that its ratings have fallen because it has abandoned its "Golden Goose."