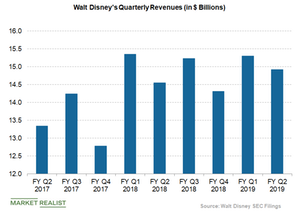 How the Fox Acquisition Benefited Disney
Disney-Fox acquisition completed
The Walt Disney Company (DIS) completed its much-awaited acquisition of the media and entertainment assets of 21st Century Fox for $71.3 billion in half cash and half stock on March 20. Disney also acquired Fox's debt of ~$19.2 billion.
Disney has also finalized its deal to sell Fox's 22 regional sports networks, which was a condition set by US regulators for the deal to move forward. Disney recently signed an agreement to sell 21 regional sports networks to Sinclair Broadcast Group for ~$9.6 billion ($10.6 billion after adjusting for minority equity interests). In March, the company sold its 80% stake in YES Network to the New York Yankees for $3.5 billion.
Article continues below advertisement
Fox's vital assets to add to Disney's revenue
The acquisition of Fox's assets added $373 million to Disney's total revenue of $14.9 billion, which was up 3% year-over-year, in the second quarter of fiscal 2019. Fox's assets gave Disney access to Indian media conglomerate Star India, which will help Disney grow in the booming Indian market. The acquisition also gave Disney a 60% stake in video streaming company Hulu. Recently, AT&T sold its 10% stake in Hulu to Disney, and Comcast also seems like it's planning to sell its 30% stake to Disney.
Disney's control of Fox's assets has also brought popular Fox titles such as The Simpsons to the Disney brand, a development that should further boost Disney's direct-to-consumer offerings amid the growing popularity of online streaming services.