Disney Might Soon Restore Its Dividend — But Should It Really?
2020 was a tough year for dividend investors as many companies suspended their dividends to control cash outflows. Entertainment stocks like Disney were among the worst affected by the COVID-19 pandemic and the company suspended its dividend in May 2020. When will Disney restore its dividend as the economic outlook now looks much brighter than 2020?
Article continues below advertisement
While the COVID-19 pandemic took a toll on Disney's earnings and it posted its first annual loss in over 40 years in the fiscal year 2020, its stock nonetheless surged to a record high on optimism over its streaming business.
Disney suspended its dividend in May 2020
In May 2020, while announcing its fiscal second quarter 2020 earnings, Disney announced that it would suspend its semiannual dividend. The company blamed the disruption—both operational and financial—from the COVID-19 pandemic for the dividend suspension. It said that the dividend suspension would help it save $1.6 billion in cash outflow.
Article continues below advertisement
Before the suspension, Disney was paying a semi-annual dividend of $0.88. When the dividend was suspended, the company's dividend yield was around 1.7 percent. Disney's dividend yield has averaged less than 1.5 percent over the last decade and is lower than the S&P 500's dividend yield.
Article continues below advertisement
When will Disney restore its dividend?
The last dividend that Disney paid was $0.88 in Jan. 2020. During the fiscal second quarter earnings call, Disney's CFO Christine M. McCarthy called the decision to suspend dividends "difficult" and said that the company would address the question of dividend restoration in the next six months.
During the company's fiscal fourth quarter 2020 earnings call in Nov. 2020, McCarthy said that the company has decided to forgo the semiannual dividend for Jan. 2021 also. She said, "Our capital allocation strategy will continue to prioritize investing in the growth of our businesses, particularly in the direct-to-consumer space."
Article continues below advertisement
McCarthy added, "However, we anticipate the payment of a dividend will remain a part of our long-term capital allocation strategy following the return to a normalized operating environment."
Article continues below advertisement
Should Disney really be paying dividends?
Disney was never a dividend aristocrat and its dividend yield has been quite tepid. Nonetheless, some investors do rely on dividends from the companies that they invest in. While Disney has expressed its intention to restore its dividend once the economic situation returns to normal, the question could be should it really be paying dividends?
Article continues below advertisement
Activist investor Dan Loeb wants Disney to keep the dividend suspended
Usually, activist investors put pressure on companies to increase the dividend or share buybacks. However, in 2020, activist investor Dan Loeb called upon Disney to keep its dividend suspended. "By reallocating a dividend of a few dollars per share, Disney could more than double its Disney+ original content budget," said Loeb.
Streaming service
Loeb sees the streaming business as a key driver for Disney and expects it to add billions of dollars in value for the shareholders. To be sure, Disney has outlined aggressive plans for its streaming service. At its investors day in Dec. 2020, the company said that by fiscal 2024 it expects Disney+ subscribers to be between 230-260 million. After adding ESPN+ and Hulu subscribers, Disney expects to have been 300-350 million subscribers by the end of 2024.
Article continues below advertisement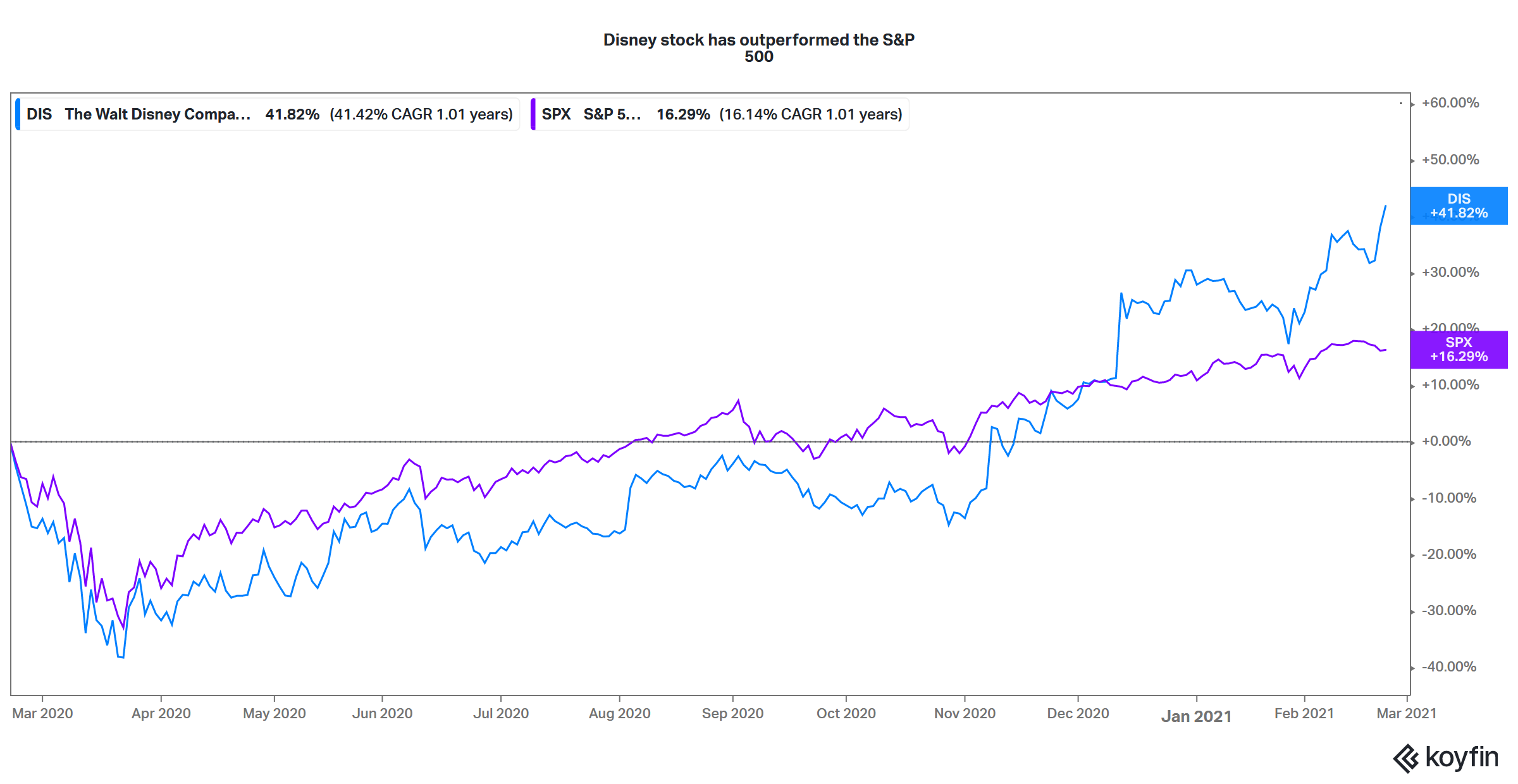 While streaming is a big earnings opportunity for Disney, it would also need investments in the short to medium term. Also, for Disney to return to pre-pandemic level profitability, its theme parks, that are still closed in many jurisdictions including California, would not only need to reopen but operate at a high capacity.
Looking at the investments towards streaming and the yet uncertain outlook for Disney's Parks segment, I would not expect a positive decision on dividends at least before the fourth quarter 2021 earnings call.