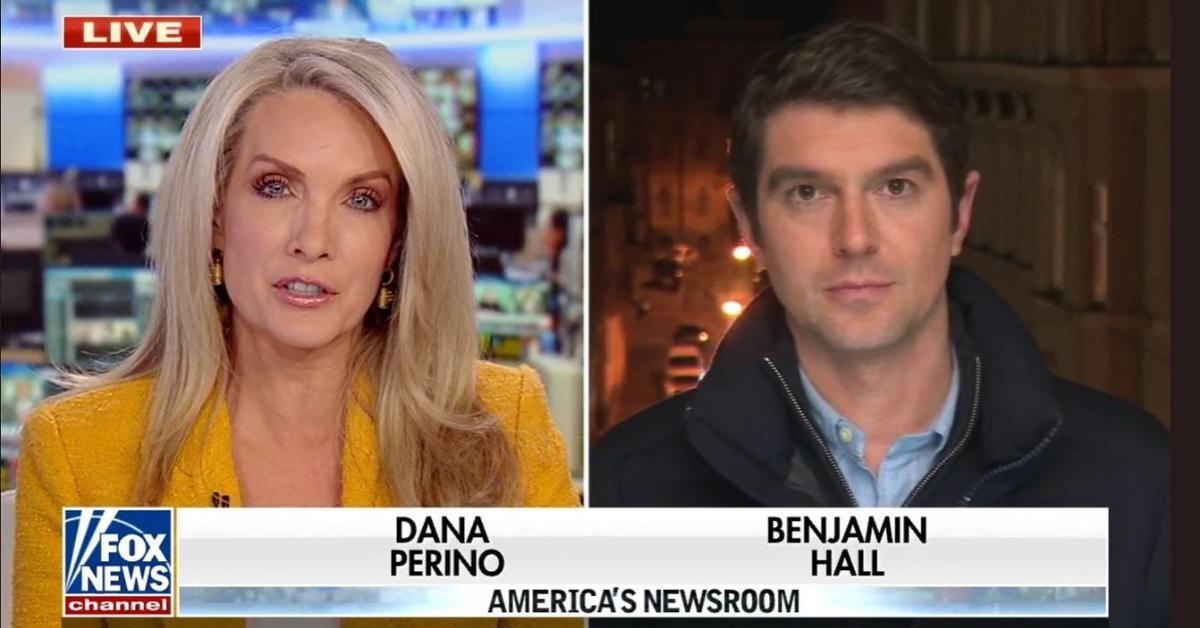 Update on Benjamin Hall: Fox News Reporter Injured in Ukraine
By Danielle Letenyei

Apr. 8 2022, Updated 11:02 a.m. ET
Fox News correspondent Benjamin Hall has been hospitalized in Germany since he was severely injured behind enemy lines in Ukraine. What happened to Hall and how is his recovery going?
Article continues below advertisement
Hall was in Ukraine covering the Russian invasion of the country when the vehicle he was riding in with two other Fox News correspondents was attacked outside the city of Kyiv on March 14, 2022. Cameraman Pierre Zakrzewski, 55, and Ukrainian consultant Oleksandra "Sasha" Kuvshynova, 24, were killed in the attack.
On March 21, Fox News announced that Hall had been extracted from the war-torn area, transferred to Poland, and then flown to Landstuhl Regional Medical Center in Germany.
Article continues below advertisement
Benjamin Hall shared an update on his injuries.
In a since-deleted post, Hall took to social media to share the extent of his injuries. He stated, "To sum it up, I've lost half a leg on one side and a foot on the other. One hand is being put together, one eye is no longer working, and my hearing is pretty blown..."
Article continues below advertisement
Although his injuries are life-altering, the Fox News correspondent seems to be in good spirits. He also commented in his post, "All in all, I feel pretty damn lucky to be here – and it is the people who got me here who are amazing!"
The nonprofit group "Save Our Allies" helped with Hall's rescue.
Fox News credited nonprofit organization "Save Our Allies" for helping rescue Hall from the frontlines. The group worked with the Pentagon, defense secretary Lloyd Austin, and military officials in Ukraine and Poland to get Hall out of the country, Fox News reported.
Article continues below advertisement
Sarah Verardo, a co-founder of Save Our Allies, told America's Newsroom co-host Dana Perino that Hall's extraction was led by a "special operations and intelligence veteran" and that Hall was tended to by military medical support during the transport.
"We have people on our team that are willing to go into harm's way to protect those from evil," Verardo told Perino in a March 21 interview. "And especially when we got that call for help from Fox, we could not move quickly enough to mobilize a multinational effort to secure Ben's extraction from a very dangerous combat zone."
Article continues below advertisement
What is Save Our Allies?
According to the Save Our Allies website, the group's mission is to rescue American citizens, permanent residents, special immigrant visa (SIV) holders, and other special populations from conflict zones and contested areas. The group was formed in Aug. 2021 as a collaborative effort between veteran support organizations The Independence Fund, No One Left Behind, and Mighty Oaks Foundation.
Save Our Allies' initial focus was protecting Afghan and Iraqi people who supported the U.S. forces during the Afghan War. In Dec. 2021, Save Our Allies funded the evacuation of 55 U.S. citizens from Afghanistan.
Article continues below advertisement
The group has raised over $358,000 for its campaign to assist with medical support and supply distribution to establish comfort and aid stations along the Poland-Ukraine border. "We felt this moral obligation to our wartime allies, and that happened not only in Afghanistan and continues to, but now we're doing the work with Save Our Allies in Ukraine," Verardo told Fox News.