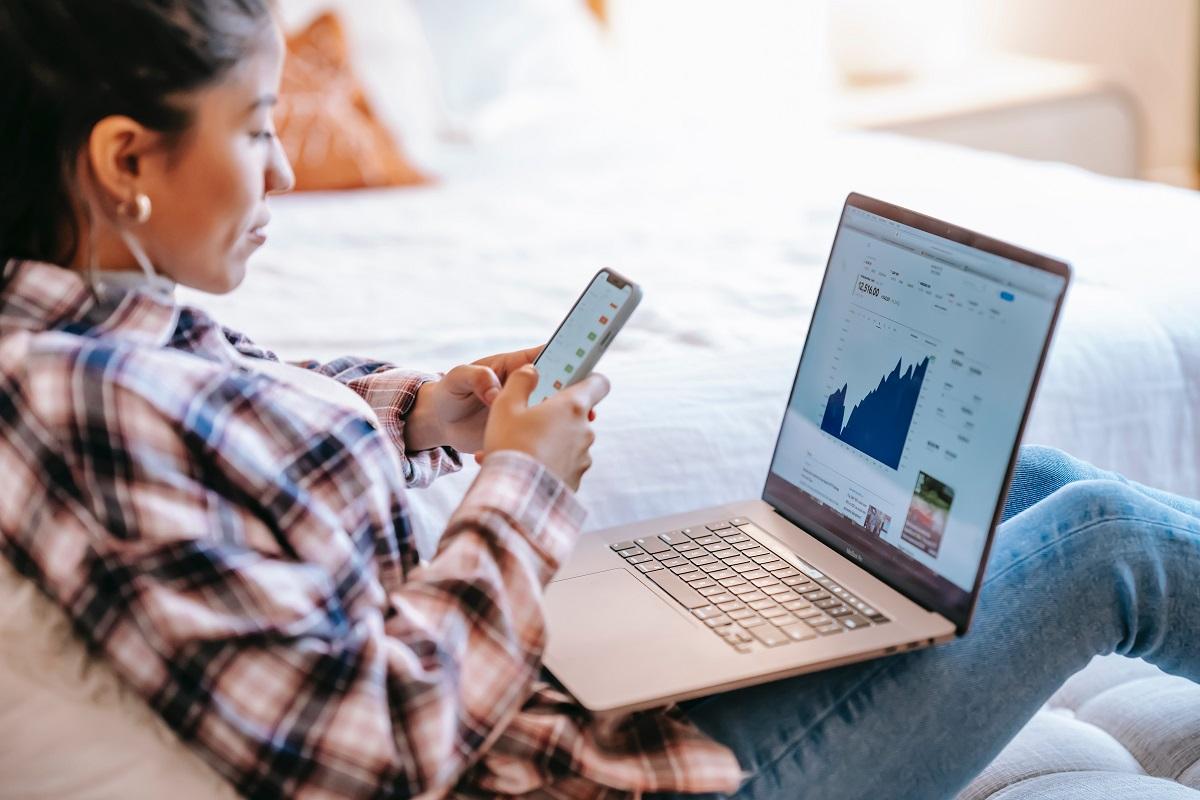 Investing in TQQQ Versus QQQ ETF: Which Is Right for You?
The ProShares UltraPro (TQQQ) and the Invesco QQQ have gained fame as cousin funds. They're also mentioned a lot on Reddit and other investor forums. What's the difference between these two popular ETFs? Is TQQQ or QQQ ETF a better investment for you?
Article continues below advertisement
Both are Nasdaq-related funds. They follow the Nasdaq 100 index, which is the benchmark of large technology companies. The list includes Apple, Amazon, Microsoft, Alphabet, Facebook, and Tesla.
Difference between TQQQ and QQQ ETFs
Although the funds track the same index, they have different structures. The Invesco QQQ fund is what Wall Street would call plain-vanilla ETF. It simply follows the Nasdaq 100 with the objective of delivering returns consistent with the benchmark.
Article continues below advertisement
The TQQQ fund seeks to beat the benchmark. TQQQ specifically aims to triple the daily returns of the benchmark. It means that if the Nasdaq 100 is up 0.5 percent for the day, then the fund should rise 1.5 percent.
The funds are different in other ways. Another notable difference is that TQQQ is leveraged, while QQQ isn't. Also, TQQQ uses derivatives to try to beat the benchmark, while QQQ doesn't.
Article continues below advertisement
The funds also differ in size. TQQQ has more than $10 billion in assets under management, while QQQ is managing a portfolio worth more than $150 billion.
TQQQ versus QQQ tax efficiency
Cost is something many investors pay close attention to, and that's true even when evaluating ETFs. TQQQ charges an expense ratio of 0.95 percent, while QQQ carries an expense ratio of 0.2 percent.
Article continues below advertisement
Besides the cost of investing in a fund, there's also the tax burden. Considering the prospects of a capital gain tax hike under the Biden administration, investors are alert about investment tax right now. ETFs are naturally tax-efficient. However, you can lower your tax bill with a longer holding and QQQ is more suited for that than TQQQ.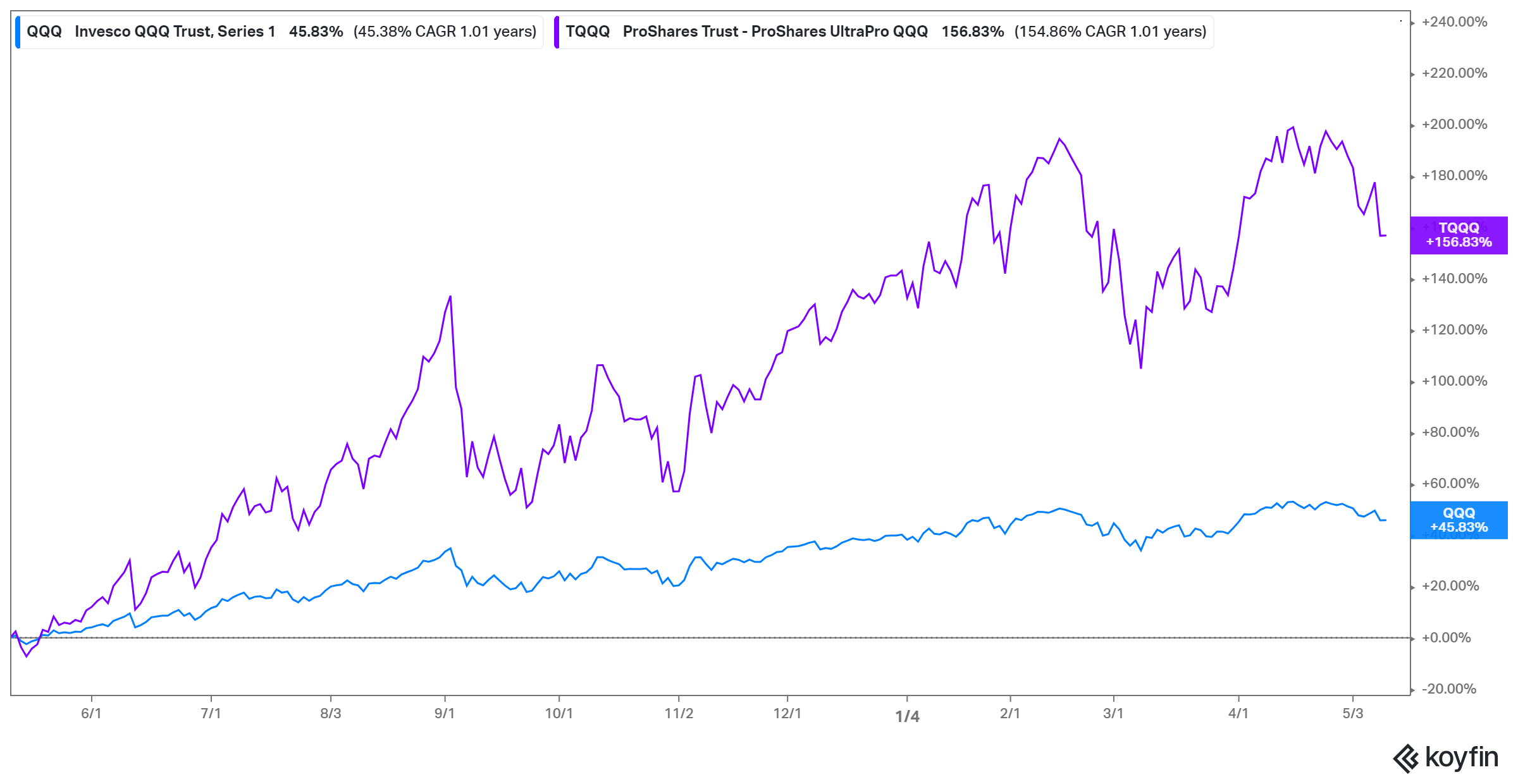 Article continues below advertisement
TQQQ and QQQ performance
Both of the funds have returned little more than 3 percent YTD, which is in line with the Nasdaq 100. However, TQQQ boasts returns of more than 150 percent in the past 12 months compared to 45 percent for QQQ. TQQQ boasts lifetime returns of more than 10,700 percent and outperforms the benchmark. QQQ's lifetime returns stand at about 630 percent.
How TQQQ and QQQ compare on dividends
Both funds make a quarterly distribution to their shareholders. TQQQ made its latest distribution in December 2020 and paid 0.0001415 per share. Meanwhile, QQQ made its latest distribution in April 2021 and paid 0.39468 per share.
Article continues below advertisement
Is TQQQ or QQQ a better investment?
Considering how tech stocks have been surging with the Nasdaq outperforming the S&P 500, it isn't surprising that many investors wonder whether TQQQ or QQQ is a better investment. To start, TQQQ will give you three times the returns of the benchmark index. That looks better compared to QQQ, which simply follows the index. Keep in mind that TQQQ's triple returns apply to the downside as well. It means that if Nasdaq 100 drops 1 percent, then the fund would be down 3 percent.
Article continues below advertisement
If you're a day trader or consider yourself an active investor, then you would be better off trading TQQQ shares. Meanwhile, QQQ shares will appeal most to passive investors looking for a fund they could buy and for long-term holding.
Should you buy TQQQ or QQQ ETF?
The funds offer exposure to the tech sector and have a track record of producing good returns. However, TQQQ is better suited for investors with a stomach for high risk because of its use of leverage and derivatives. QQQ would appeal to investors looking for a simple index fund— the kind that Warren Buffett recommends to ordinary investors.