Investors Shouldn't Speculate on Jiayin's NFT Rumors
NFTs (non-fungible tokens) are the hottest thing in markets now. There has been a frenzied rally in many stocks due to rumors that they plan to get into the NFT space. One of these stocks is the Chinese fintech company Jiayin (JFIN). Should you buy the stock on NFT rumors?
Article continues below advertisement
To be sure, such rumors and news aren't uncommon when markets are bullish on a theme. When the green energy theme was red hot in 2020, many companies entered the space and the stock surged. SPI Energy, which announced a subsidiary to produce electric cars, and DPW Holdings, which announced that it would put up electric vehicle charging points are two examples.
Bitcoin mining has been another hot space. Stocks have rallied on rumors or news of a company getting into cryptocurrency mining. The common thread between these companies is that most of them are small and obscure, which is the case with JFIN. Invariably, these stocks fall after the initial hype, which seems to be happening with JFIN on March 23.
Article continues below advertisement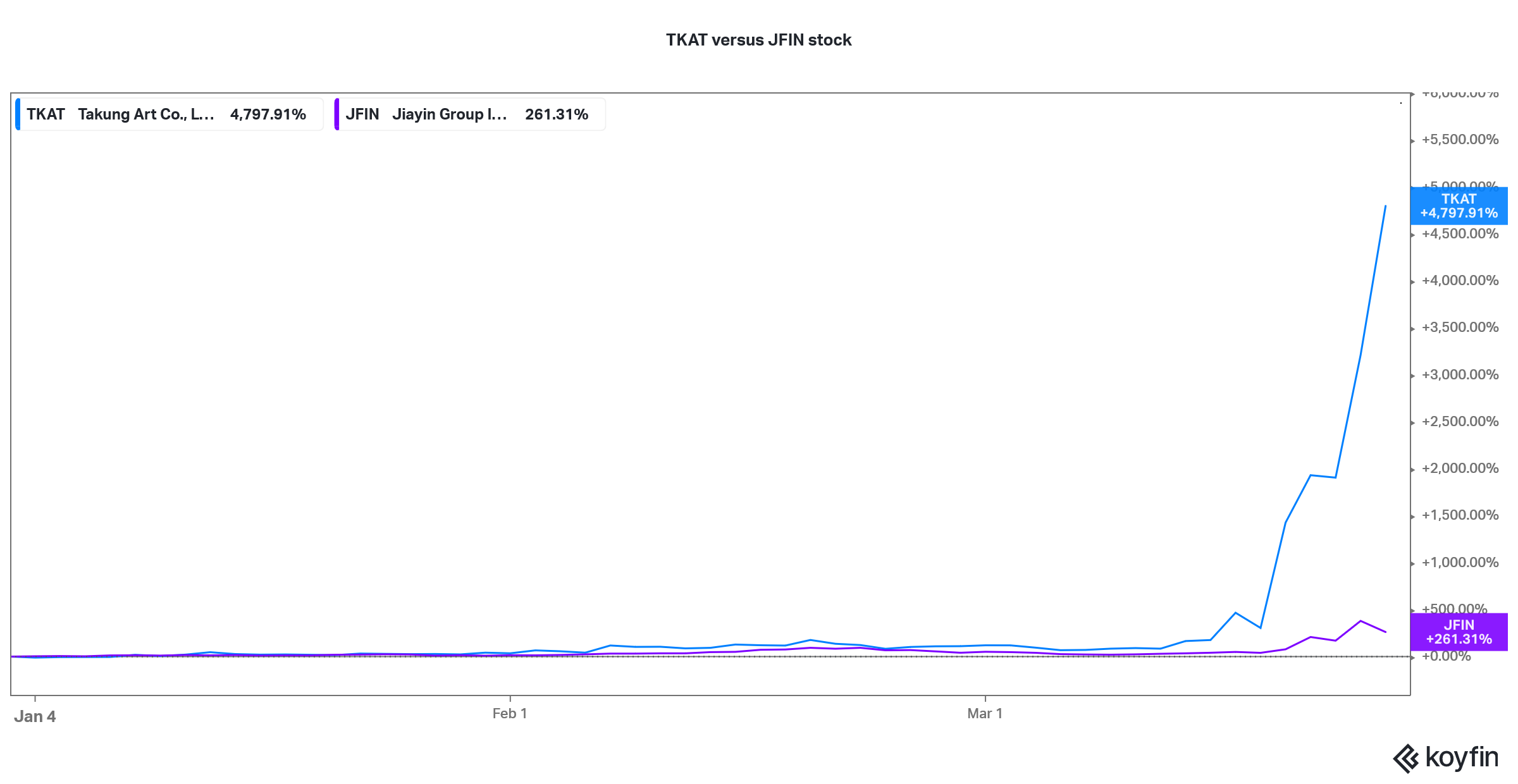 Some NFT stocks like JFIN
ZK International has announced that its subsidiary xSigma Corporation is designing an NFT platform on the Ethereum and Polkadot platforms. The company manufactures steel products. Currencyworks is another fintech company that has forayed into NFTs.
Article continues below advertisement
Then, there are companies like JFIN that are rumored to be getting into NFTs. Oriental Culture Holdings, Kuke Music Holding, and Takung Art are also rumored to be getting into NFTs.
Article continues below advertisement
Jiayin's stock news
There isn't any official news from Jiayin about its plans to get into NFTs. The most recent news from the company was on March 8 when it announced that it's changing its auditors from Deloitte Touche Tohmatsu to Marcum Bernstein & Pinchuk LLP.
Jiayin's stock forecast
Jiayin is a very small company by market capitalization and not many analysts cover it. According to the estimates compiled by CNN Business, only one analyst covers the stock and it has a buy rating with a target price of $5.82. The target price implies a downside of over 50 percent.
Article continues below advertisement
Are NFT stocks safe?
The opinions about NFT stocks are quite divided. Nadya Ivanova, the COO of L'Atelier BNP Paribas, advises investors to be cautious and points to some "really bad" tokens. She advises investors to use their discretion and research. "That applies to the physical art market as well - it's usually a space for the knowledgeable. Same thing with NFT art," said Ivanova.
Article continues below advertisement
Meanwhile, Nicholas Weaver, a professor of computer science at UC Berkeley, doesn't see any value in NFTs. "The ownership records themselves are the digital equivalent of Beanie Babies: cute little nothings that have no value beyond what someone else will buy them [for]," said Weaver in an email to Business Insider.
The market opinion about cryptocurrencies is also divided. While some like Warren Buffett don't see any value in them, others like Tesla CEO Elon Musk have endorsed them. Tesla and Square have invested in bitcoins and are sitting on huge gains.
Article continues below advertisement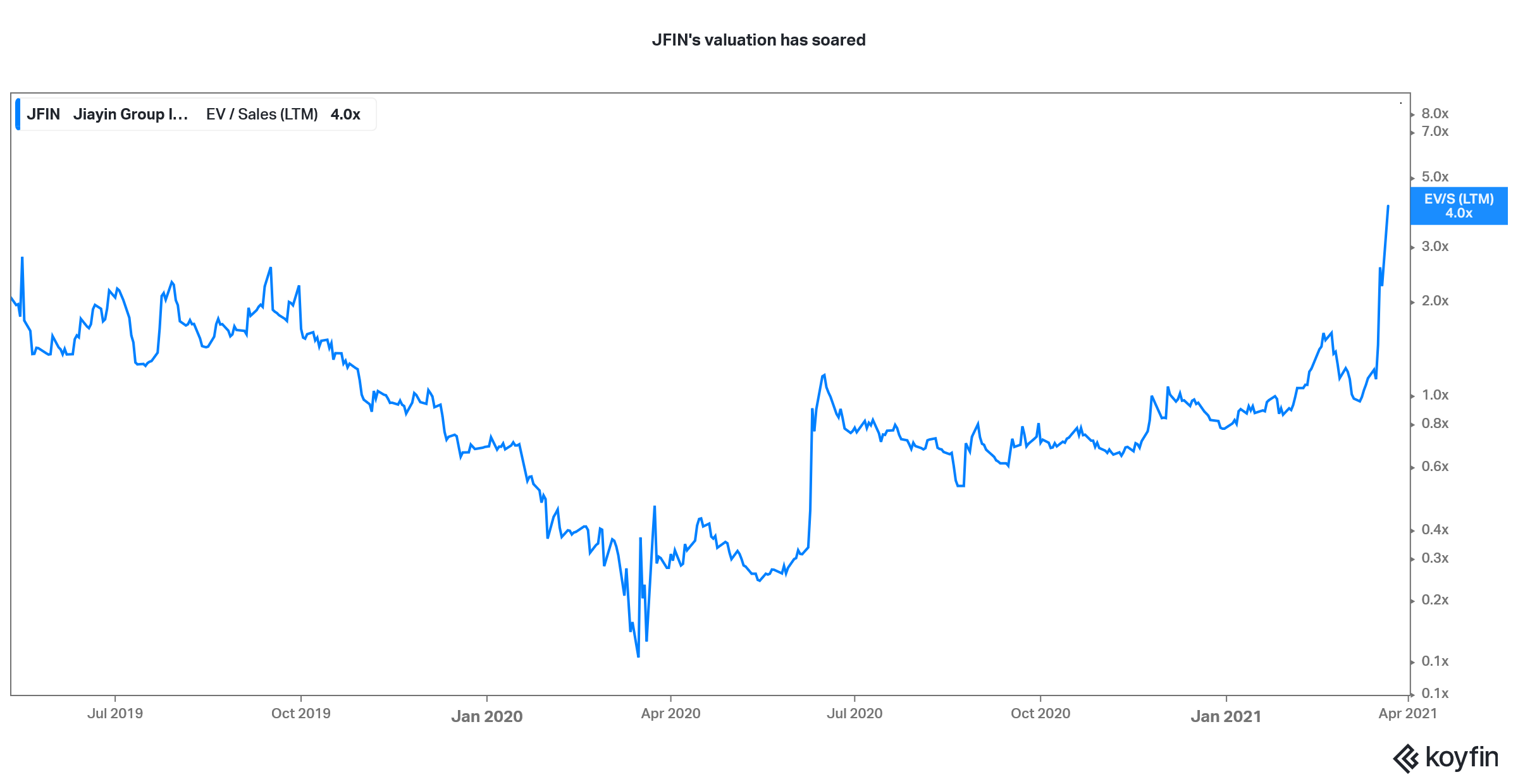 Is JFIN stock a good buy?
Jiayin's revenues fell 22.6 percent in 2019 and are expected to fall 45 percent in 2020. However, analysts expect its revenues to rise 11.9 percent in 2021. The company's net income also fell YoY in 2019 and analysts expect it to fall over 60 percent in 2020 before rising 46 percent in 2021.
The financials look weak based on the earnings volatility. Also, given the surge in valuations and the uncertainty about NFTs, I would avoid JFIN stock for now.