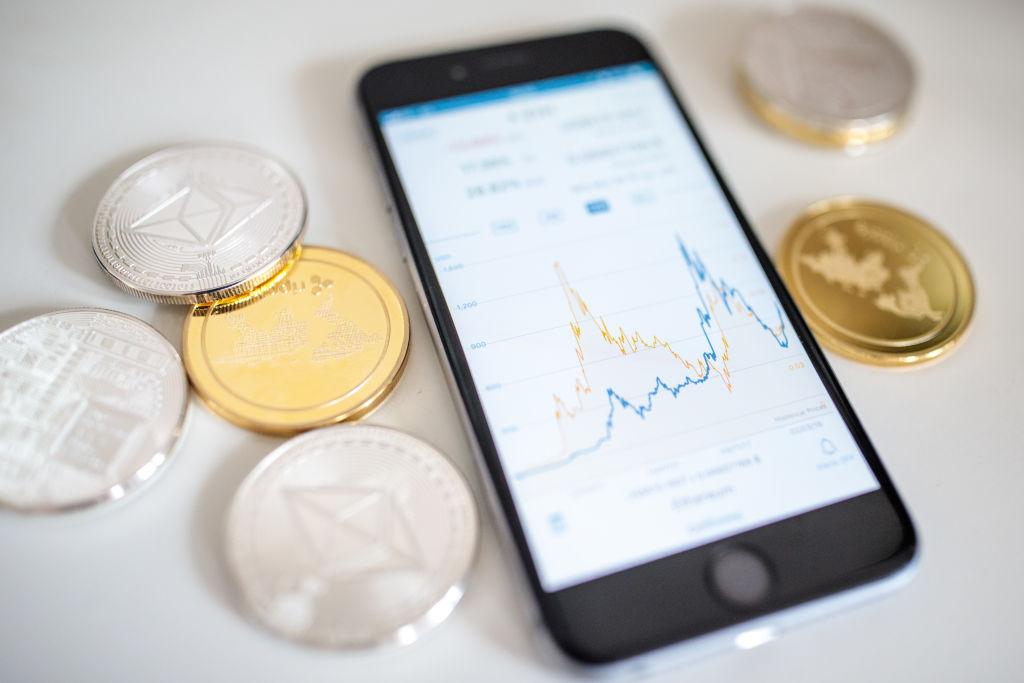 Top NFT Stocks to Buy into the Latest Crypto Trend
With NFTs gaining more traction in recent months, it makes sense that investors are looking to jump on board and profit off this latest trend.
Article continues below advertisement
NFTs, or non-fungible tokens, have dominated headlines. However, many investors are still unsure how to invest in them. The historical volatility of fungible crypto assets like bitcoin has kept more traditional investors on the sidelines.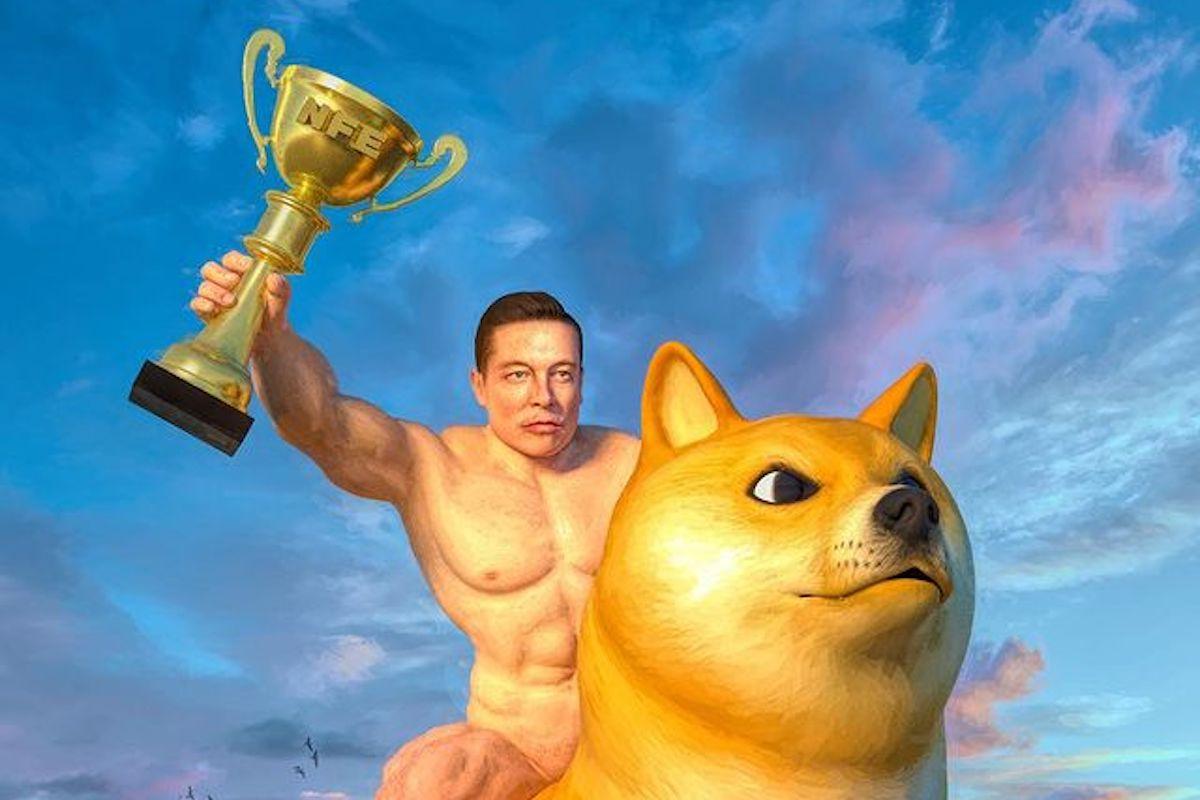 Article continues below advertisement
What is an NFT?
To understand what NFTs are, it's essential to know how they compare to fungible assets. Fungible assets are what most associate with the digital commerce space. Currencies like bitcoin and ethereum are the best examples of fungible assets. If you sell one bitcoin, you can purchase another bitcoin in its place. That replacement isn't the same as the original, but it will be identical in every way.
Conversely, a non-fungible token, or NFT, cannot be replaced. More common NFTs purchased recently are digital files such as art, music, and videos. Sure, anyone can replicate these files to be identical copies of the original. However, the blockchain the NFT was traded on keeps track of the ownership of that original file.
Article continues below advertisement
Prices for NFTs can range from as little as pennies to several millions of dollars. For instance, early this month, a piece by the artist Beeple, aka Michael Winkelmann was sold for $69 million.
Article continues below advertisement
How can I Invest in an NFT Stock?
Luckily, investors can buy into the NFT trend without purchasing any digital goods. To take advantage of the growing popularity of NFTs, companies have expanded into the NFT space.
These companies either already have established stocks or have recently announced IPOs. With the volatility of the digital currencies still unknown and the current limitations, investors can still get a piece and trade like the rest of their portfolio.
Article continues below advertisement
NFT stocks that look like good buys
The hype surrounding NFTs is very reminiscent of the early days of cryptocurrencies. And if the past few years of cryptocurrencies indicate how NFTs will be fair, the outlook looks pretty positive.
Many of the companies dealing in the EFT space are not exclusively tied to it. So be sure to use caution when choosing which EFTs to buy.
Article continues below advertisement
Oriental Culture Holding Ltd (OCG)
OCG provides an online platform for collectors, artists, dealers, and owners to trade art. Despite a recent drop in price, it has rebounded over 150 percent in growth YTD.
Article continues below advertisement
ZK International Group Co Ltd (ZKIN)
ZK International is a China-based engineer, manufacturer, and supplier of stainless steel and carbon steel pipe products. However, earlier this month, they announced their subsidiary xSigma Corporation is designing an NFT platform on the Ethereum and Polkadot platforms. This news has helped ZKIN shares grow nearly 350 percent YTD.
Currencyworks Inc (CWRK)
Already an established blockchain fintech company, Currencyworks announced on March 12 that their existing NFT platform will begin to accept bitcoin and ethereum as payment methods.
Article continues below advertisement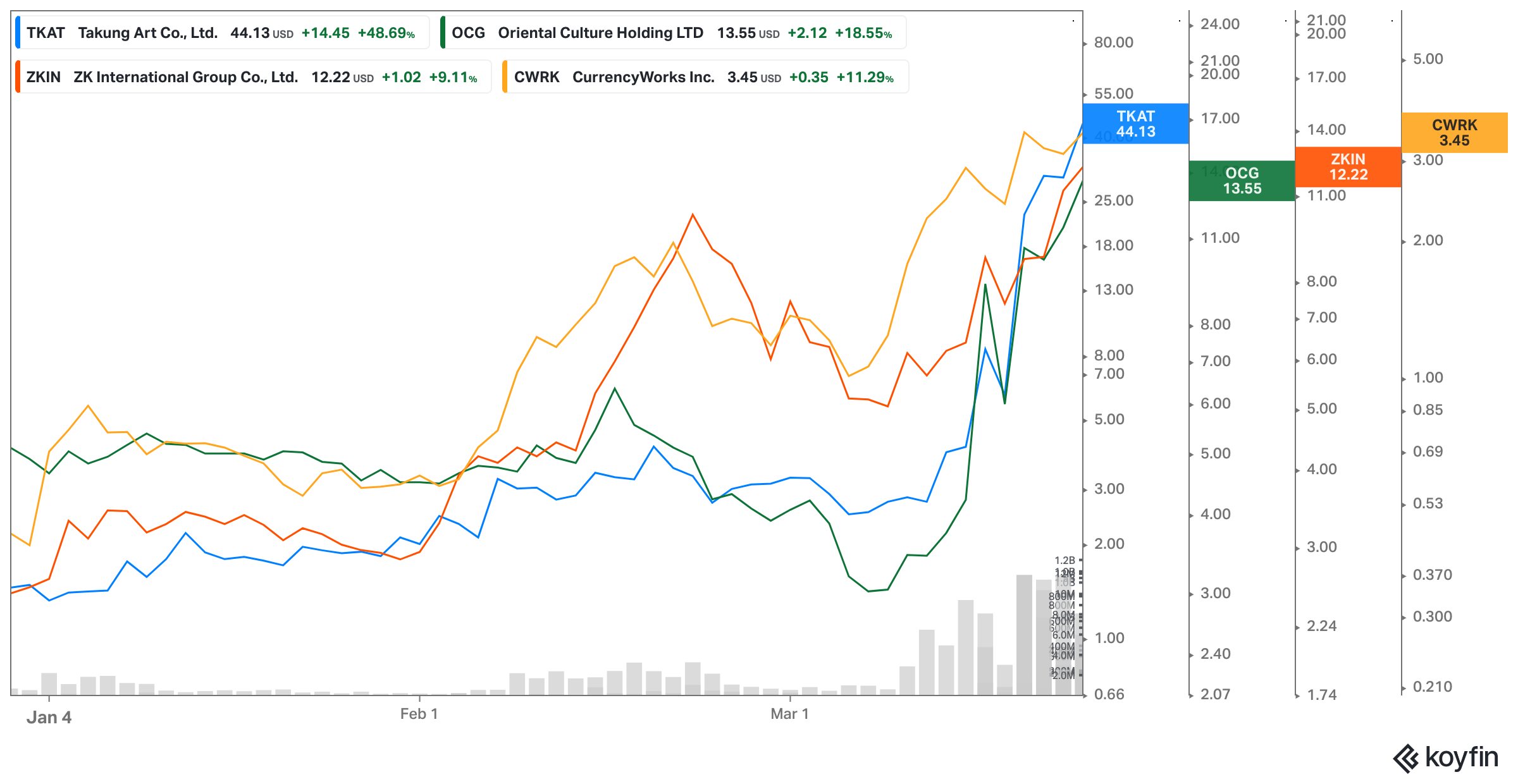 With 80 percent of the cryptocurrency market held in either bitcoin and ethereum, this news has helped CWRK grow over 700 percent YTD.