Opendoor (OPEN) Stock Is Dropping—Buy the Dip or Wait?
Opendoor (OPEN) stock fell 13 percent on May 12 and is now down 61 percent from its 52-week highs. The company went public in 2020 through a reverse merger with Social Capital Hedosophia Holdings Corp. II (IPOB), a SPAC sponsored by Chamath Palihapitiya. Why is OPEN stock dropping and should you buy the dip?
Article continues below advertisement
To be sure, all of the stocks that have gone public over the last year have tumbled badly, which has led to the underperformance of Renaissance IPO ETF in 2021. However, OPEN stock is among the worst performers.
What happened to Opendoor Technologies?
Opendoor Technologies stock tumbled on May 12 after it reported its first-quarter earnings. While its revenues were ahead of the guidance and it gave better-than-expected guidance for the second quarter, markets didn't like the massive loss in the quarter. Its net losses swelled to $270 million in the quarter from $62 million in the same quarter in 2020.
Article continues below advertisement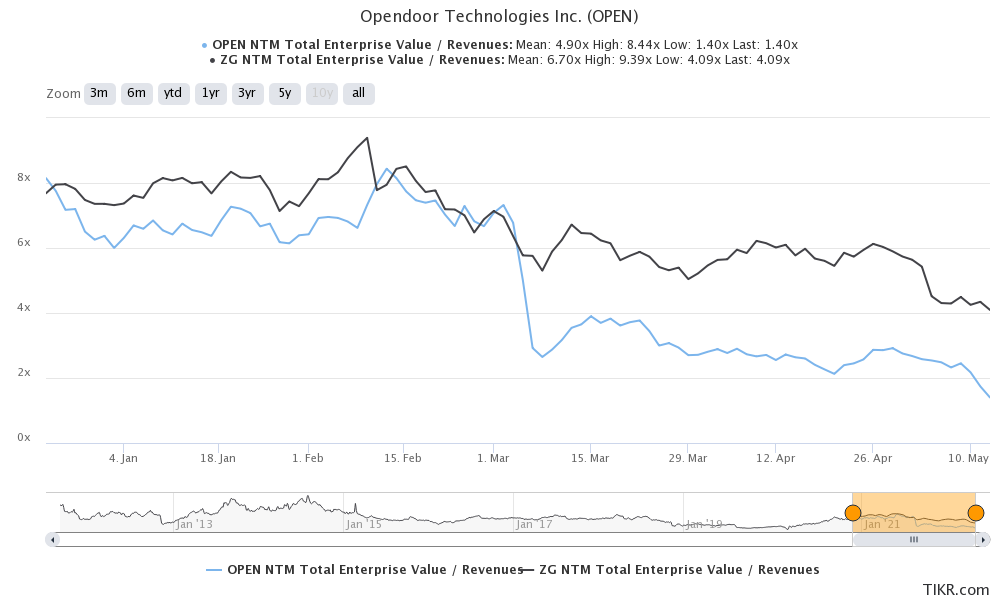 Opendoor stock valuation
Opendoor trades at an NTM EV-to-sales multiple of 1.4x. In contrast, Zillow trades at an NTM EV-to-sales multiple of 4.1x. As I noted in a previous article, OPEN stock looks undervalued. However, the stock has been out of favor with markets amid the sell-off in growth companies.
Article continues below advertisement
Opendoor stock forecast
According to the estimates compiled by TipRanks, Opendoor has an average target price of $35.25, which is a premium of 132 percent over the next 12 months. The stock's lowest and highest target prices are $25 and $42, respectively. After the slump in its stock price, Opendoor is trading almost 40 percent below its lowest target price.
Article continues below advertisement
Among the five analysts covering Opendoor stock, four have a buy rating, while one analyst has a hold or some equivalent rating. None of the analysts have a sell rating on Opendoor. While analysts have a bullish forecast for OPEN stock, investors have been wary of growth names amid rising inflation and bond yields.
Opendoor stock on Reddit
A few weeks ago, Clover Health, which also went public with one of Palihapitiya's SPAC, was very popular on Reddit group WallStreetBets. While Opendoor isn't as popular, a post on WallStreetBets, which was upvoted over 100 times, called the stock undervalued. The post said that Opendoor's online home flipping platform is a good alternative to buying a home through a broker.
Article continues below advertisement
Opendoor stock is a good buy.
Opendoor Technologies stock is a good buy at these levels. With the increasing pace of digitization, online home buying and selling would also receive an impetus. The U.S. real estate market is worth $1.6 trillion annually and less than 1 percent of real estate buying and selling happens online. This is where companies like Opendoor can fill the gap.
The stock is now available at attractive valuations. If you can withstand the short-term volatility and want to bet on the digitization of the U.S. real estate market, Opendoor stock looks like a good bet. It could be worthwhile buying the dip in OPEN stock now.
What price to buy OPEN stock
Opendoor looks like a good buy at the current price level near $15. If the stock falls more, I would buy more stock and hold for the long term.