'Shark Tank' Product RokBlok Put an Inventive Spin on the Traditional Record Player
What's the update on "Shark Tank" product RokBlok? Learn about the wireless record player that wowed Robert Herjavec in the ABC show's ninth season.
What's the update on RokBlok — the Shark Tank product seen in Season 9 of the ABC reality show?
If you watched that episode, you saw inventor Logan Riley pitch what he called "the world's first infinitely portable, wireless record player," a wooden block that steers itself around the surface of a vinyl record and plays the audio from an integrated speaker or from a connected Bluetooth device.
Article continues below advertisement
Article continues below advertisement
That Shark Tank appearance fulfilled a dream for Riley, as he told CNBC ahead of the episode. "After years of watching Shark Tank on TV and dreaming that I would one day have a chance to pitch one of my crazy ideas to the Sharks, I can't tell you how exciting (and, frankly, terrifying) it was to step into the tank," he said at the time.
Here's how it all went down.
Robert Herjavec made an unconventional offer for RokBlok on "Shark Tank."
On the show, Riley — a San Francisco entrepreneur who worked for Apple and Pandora — sought $300,000 for a 15 percent stake in RokBlok, having raised $350,000 on Kickstarter and had $60,000 in pre-order sales.
Mark Cuban didn't know if there was a big enough market, though, and he didn't like working with "perpetual investors," so he pulled out of negotiations. Barbara Corcoran did too and said that it was too early to invest in RokBlok, since the product didn't have customer feedback.
Article continues below advertisement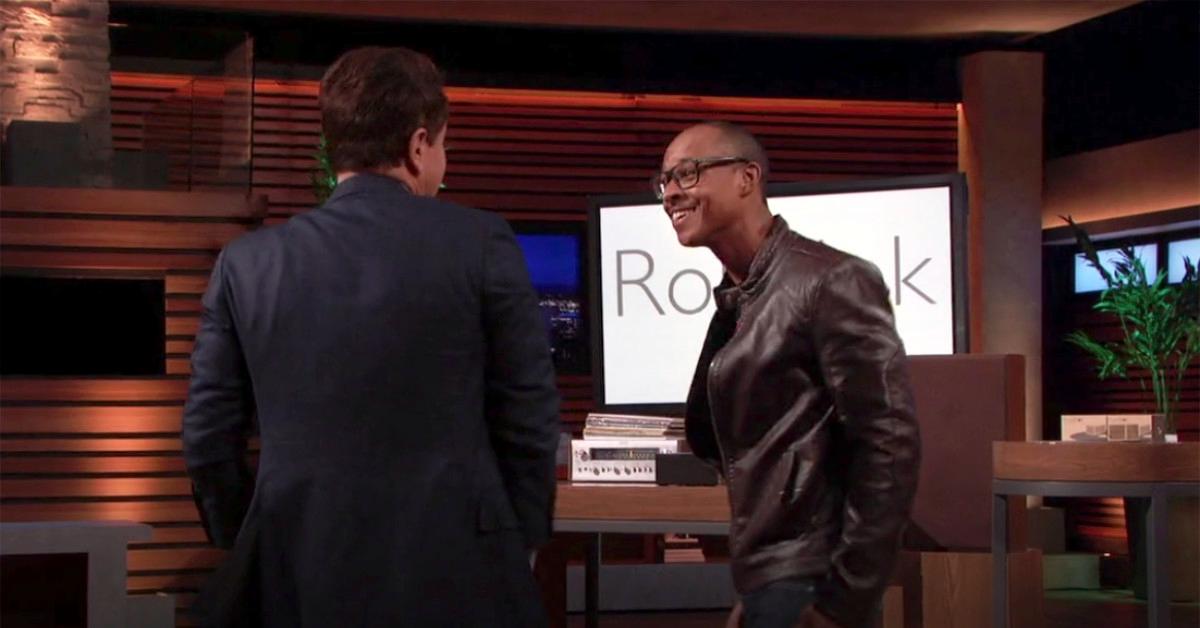 Robert Herjavec, however, was all in on the product. Herjavec offered a deal he admitted was a "little bit different." Riley would sell RokBlok to Herjavec for $500,000, and Herjavec would also give Riley royalty payments and a two-year, six-figure contract to continue developing RokBlok and other products.
Article continues below advertisement
Article continues below advertisement
And Riley happily accepted the deal. "Robert understood me," the entrepreneur said in a post-pitch confessional. "He understands that I want to continue creating other products, and he knew that this deal was going to be a way for me to have skin in the game at RokBlok but still create other things. I couldn't have asked for anything more."
RokBlok is still accepting orders, but the product is currently out of stock.
The RokBlok website is up and running and taking reservations for the next batch of units, scheduled to ship in "early 2022." The website also says that customers can get $10 off their orders and two "limited-edition bonus gifts" for their patience.
Article continues below advertisement
Article continues below advertisement
Unfortunately, RokBlok got some negative reviews after launch. Kickstarter commenters complained about "tinny" and "abysmal" sound quality and inconsistent speeds, and a YouTuber showed the product damaging a vinyl record, as Daily Dot reported in 2018.
Article continues below advertisement
By 2020, however, there was a "new and improved" RokBlok model, according to Mashable. And Riley told Entrepreneur's Handbook in 2018 that 5 percent of customers had received a defective RokBlok, adding that he "reached out to everyone who got a bad unit."
It isn't clear what happened to Riley since then, though. He hasn't tweeted since 2018, his Pink Donut website only shows projects that are multiple years old, and Shark Tank Blog reports his deal with Herjavec never closed. He did tell Entrepreneur's Handbook, though, that he had "a few hundred more ideas," so perhaps Shark Tank fans will see his next invention soon.