NOG Stock Forecast: Can Northern Oil Rise Even More?
Northern Oil & Gas (NOG) stock has been on a fire in 2021 and is up 115 percent YTD. The stock has outperformed the S&P 500 by a wide margin. What's the forecast for NOG stock in 2021? Will it rise more or will investors be better off booking profits in this energy name?
Article continues below advertisement
The energy sector has outperformed in 2021. The Energy Select Sector SPDR Fund (XLE) is up 47 percent YTD, while the SPDR S&P Oil & Gas Production ETF (XOP) is up almost 65 percent. Both of these ETFs are outperforming the broader markets in 2021.
Why NOG stock is rising
NOG stock has been rising due to the broader uptrend in energy stocks. Most of the energy stocks are up sharply in 2021, which is a reversal of fortunes for the sector that was battered in 2020 as WTI futures briefly turned negative.
Article continues below advertisement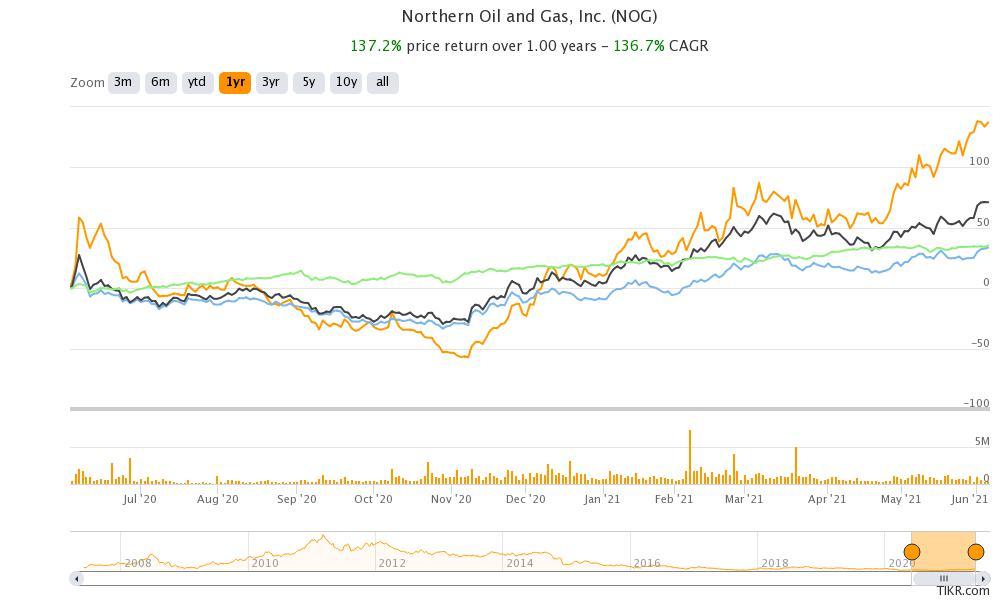 However, 2021 has been a different ballgame for the energy industry. Energy demand has rebounded from the 2020 lows as the global economy continues to recover. On the supply front, despite their usual differences, OPEC+ hasn't been in a hurry to raise production.
Article continues below advertisement
NOG announced a dividend
NOG stock has been outperforming its peers in 2021, which is due to company-specific factors. The company posted better-than-expected earnings for the first quarter of 2021 and announced a dividend for the first time in its history. The dividend is low and its dividend yield is a pale shadow of the generous yields that some of the bigger energy companies pay.
Article continues below advertisement
However, the dividend announcement is a sign that the company has turned around its business. NOG has raised a lot of capital by selling shares, which has strengthened its balance sheet. It has also de-risked the balance sheet by repaying all near-term maturities.
Northern Oil & Gas stock forecast
Wall Street is overweeningly bullish on the stock and all 10 analysts have rated it as a buy or some equivalent. Northern Oil & Gas stock has a median target price of $20, according to the estimates compiled by CNN Business. The target price is a premium of 5.9 percent over the next 12 months. Analysts' target prices haven't kept pace with the steep upwards price action over the last month.
Article continues below advertisement
NOG stock looks undervalued.
Truist expects Northern Oil & Gas to generate free cash flows of $150 million in 2021. This would mean a free cash flow yield of over 13 percent, which looks very healthy. The stock trades at an NTM EV-to-EBITDA multiple of 4.22x, which looks somewhat undervalued.
Article continues below advertisement
If energy prices maintain the momentum, Northern Oil & Gas can see even better days in 2021. In the recent quarter, the company's earnings took a hit due to hedging losses. However, most of its production for 2022 isn't hedged, which bodes well looking at the current commodity price environment.
Is it risky to invest in NOG stock at these levels?
Investors are bound to be apprehensive about buying a stock when it has already run-up. Also, NOG stock is trading near its 52-week highs. That said, I find the stock attractive given the positive outlook for the energy sector. Northern Oil & Gas has an increasing production profile and the balance sheet looks healthy, which makes it an attractive energy stock to buy now.